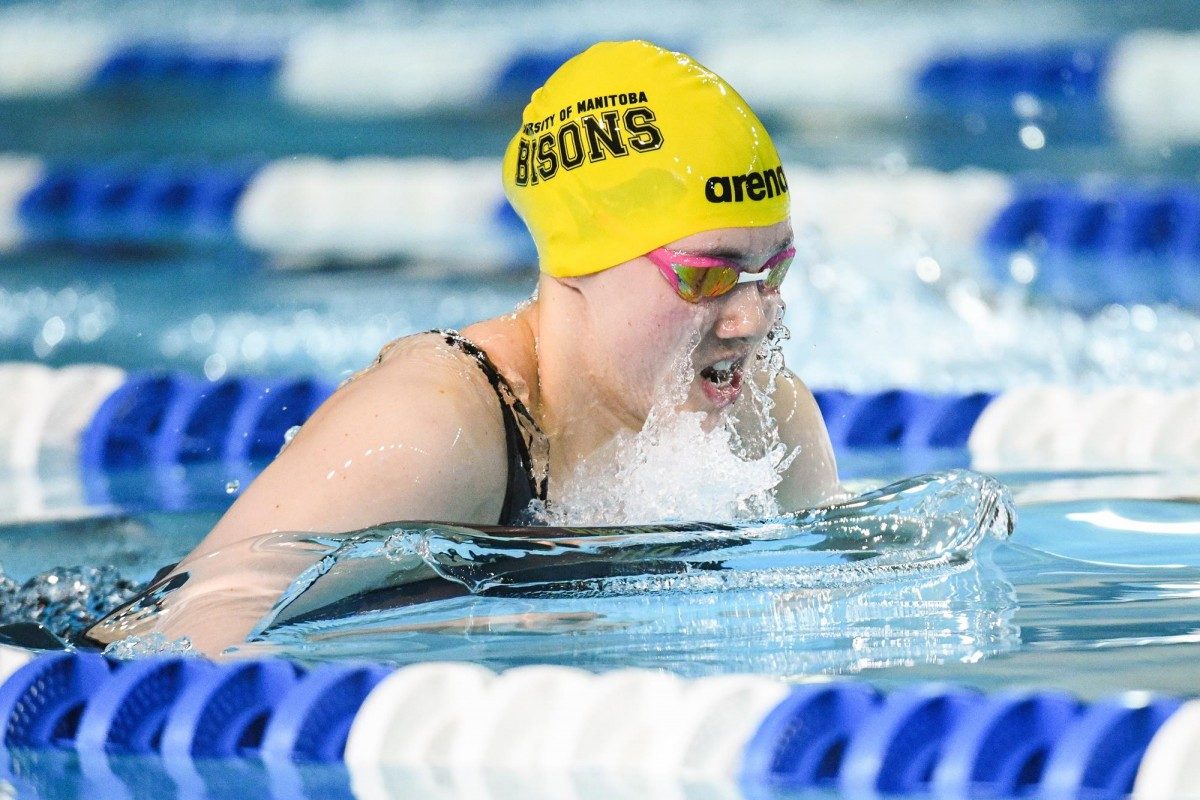 Bison swimmer delivers poignant message, words to live by
Three lessons learned from Kelsey Wog
March 27, 2018 —
If you get the chance to meet Kelsey Wog away from the pool, you won't be struck by her fierce competitiveness or find any hint of arrogance in her personality. What you'll notice immediately is her quiet nature and humble disposition despite all she's achieved in her young career.
On the morning of March 23, the University of Manitoba celebrated its 2018 U SPORTS National Champions, the Bison women's hockey team and Kelsey Wog's most recent achievements, three gold medals from the U SPORTS Swimming Championships in the 200, 100 and 50-metre breaststroke events. Wog also picked up an fourth medal at those championships, a silver in the 200 individual medley (IM).
That morning we were struck by Kelsey Wog's extraordinary message. It was delivered with a vulnerability that was relatable whether you're a swimmer or not. It was a message that we can all learn from.
After congratulating her fellow student-athletes on a job well done, Kelsey Wog shared three of the most important lessons she's learned through the years.
"First, if the results are not coming do not let it be discouraging. If you keep persisting to be better than you were yesterday the results will come but sometimes it requires patience."
Wog continued, "Second, the lows make the highs even higher." Struggling to find her words, Wog continued, "In 2016 I had an amazing year and had swam personal bests. In 2017 I did not. I struggled at trials and then at the FISU games I hit an all time low. At that moment in time, I was grateful to have my family and friends close by to help me get through it because I cannot do it alone. It is important to embrace great performances and learn from the less great ones."
Kelsey's third lesson was perhaps her most poignant. She's determined to embrace her position as a role model for upcoming young athletes. "We need to inspire a new generation. This is such a cool time to be in the sport of swimming in Canada because of all the amazing female swimmers. I am proud to be a female and I hope that my success in sport and also the women's hockey teams success can help inspire a new generation of young girls to get out there and participate in sport. It helps build confidence and makes you feel like you are a part of a something. Sport has helped me become the strong confident girl that I am today and I hope for others to learn that too."
At the closing of her message, cheers erupted in UMSU University Centre for the 19 year old. Now in the Bison off-season, Kelsey Wog continues to train and is looking push thresholds as she prepares for the Canadian Swimming Championships in Montreal in April.