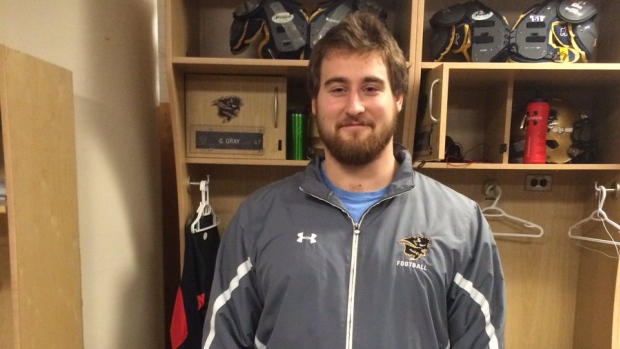 Bison offensive lineman Geoff Gray signs as priority free agent with NFL's Green Bay Packers
May 1, 2017 —
Geoff Gray had an impressive 2016 season with the Manitoba Bisons as conference football award winner and national finalist during his fourth year and now the 22-year-old has signed as a priority free agent with the Green Bay Packers. He is the second U of M Bisons player to get an NFL spot in as many years after defensive lineman David Onyemata signed and played with the New Orleans Saints in 2016.
"I'm excited to join the Packers. Several team teams came on strong and made good offers but I had to go with my gut, and Green Bay seemed like the right fit for me," Gray said.
As he told the CBC at the Bison spring training camp:
"It's nothing that I ever really, like, thought about ever happening going into it," Gray said.

"It's not that I doubt myself, it's just that I don't think about it one way or the other. I just go along playing football, training and doing what I do, and I don't really think about the consequences of it down the road. I never did," he said.

"I just kind of went along doing my thing and it just seems to work out well."
The 6'6″, 310 lbs. offensive lineman finished his fourth playing season at Manitoba in 2016 and started all eight league games for the Bisons. The Winnipeg native was selected and played in the prestigious East-West Shrine Game in January 2017 and received praise before and after the Shrine Game from numerous NFL scouts and media.
In his four year Bison playing career (2013-16), Gray has been incredibly durable on the offensive line, as he has not missed a game so far by playing in all 32 conference regular season games.
"On behalf of the Bison Football program, we are obviously very excited and happy for Geoff as he signs with the Green Bay Packers," says Brian Dobie, Bison Football head coach. "This is the second year in a row, and third overall, where a Bison has generated a NFL opportunity. Bison Football is very proud today."