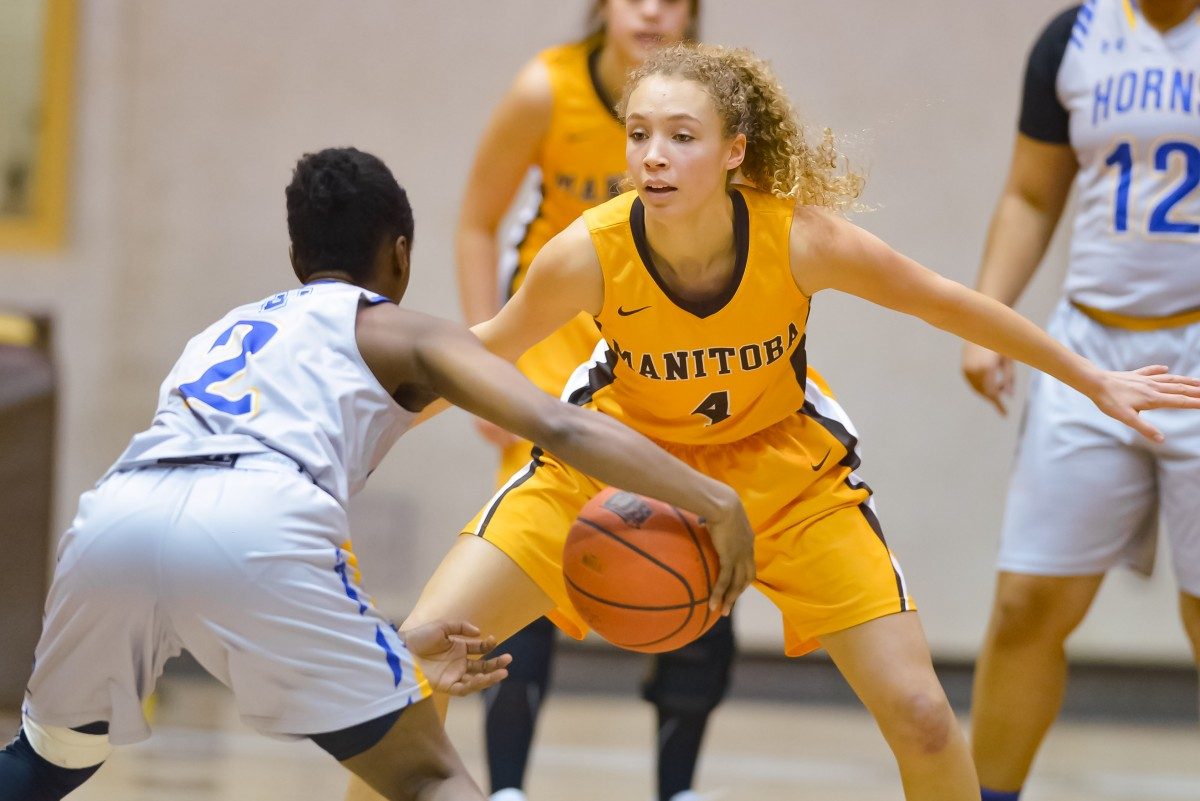 Bison hoopsters ready for first homestand of the season
Basketball home openers tip off Friday, Nov. 2
October 29, 2018 —
Investors Group Athletic Centre is the place to be Friday night as the Bison men's and women's basketball teams play their first home games of the 2018-19 season.
Following a strong opening weekend in Brandon that saw the Bison women sweep the Bobcats for a 2-0 start and the men with a split to go 1-1 to kick-off the season, the herd turns their focus to the Mount Royal Cougars Friday, November 2 with the women tipping off at 6:00 p.m. and the men at 8:00 p.m.
Friday is also Alumni Night and the Bisons are eager to welcome all U of M alumni to come out and cheer them on. Join Billy for an action-packed evening of Canada West basketball and the chance to win prizes and giveaways all night.
Tickets for U of M alumni are $5 while regular tickets are $10 at the door. U of M students and fans 17 and under are free.
For full schedule information, visit gobisons.ca
---
Women's Basketball Preview
Last season, the Bison women's basketball team made it back to the playoffs for the first time since 2009. And while fifth-year head coach Michele Sung was happy with the progression her squad made, she also knows that in order to advance further in the post season, continued growth is necessary.
"For us to have success, I still think we need to find ways for our best players to get better and our core players and returning players to continue to push them."
"If we think that we're going to be at the same spot at the end of this season with we what we did last year, we're not going to be, so that's been an important theme for us. We have to continue to get better, and it doesn't matter what your role is, everyone has room to do that."
For the full story and more women's basketball news, visit gobisons.ca.
Men's Basketball Preview
Head coach Kirby Schepp has steadily brought the Bisons back into national contention over his nine years at the helm – including four straight trips to the post season and a Final 8 birth in 2016-17. He'll look to lead Manitoba back to the Promised Land this year with a roster that's filled with potential.
Leading the way is fourth-year point guard Rashawn Browne – who transferred from the states last season and was a key part of Manitoba's offence with 12.8 points per game and 6.8 assists per game. With 2017-18 conference scoring leader Justus Alleyn now graduated, Browne will be looked upon to pick up the slack.
Providing key balance in the back court will be 2018-19 recruit DJ Jordan Jr., who most recently suited up with the Brandon Bobcats in 2015-16, where he averaged 17 points per game. He's scored more than ten points in three of Manitoba's first five pre-season contests and is meshing well with the team so far.
"Any time a player comes in from a different program and different culture, there's going to be some adjusting that needs to happen. He seems to be doing pretty well," Schepp said of the guard.
For the full story and more men's basketball news, visit gobisons.ca.