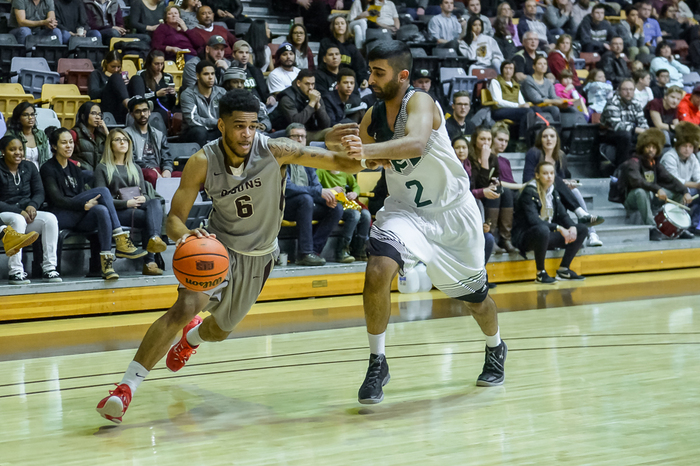 Bison hoop dreams back on home court this weekend
Bison basketball teams host Regina Cougars in home opener
October 31, 2017 —
The Bison men's and women's basketball team will lace up for the last of the sports to get underway at home this season. On Nov. 3, the herd will take on prairie rival Regina Cougars in the first of a back-to-back night of basketball action. Friday tip-off for women will be at 6:00 p.m. and 8:00 p.m. for the men. All games will be at Investors Group Athletic Centre.
Tickets are $10 at the door while U of M students and fans 17 and under are free. For full schedule and ticket information visit gobisons.ca.
Men's Basketball: Justus Alleyn Will Lead Younger Basketball Bisons into Battle
By Scott Taylor
Last season, head coach Kirby Schepp took a talented basketball team that got off to a slow start all the way to the Canada West championship and a spot in U SPORTS' Final Eight in Halifax. This year, with some younger starters and a few outstanding recruits, Schepp is planning to coax the new-look Bisons back to the National Championship.
Last year was quite a remarkable one for the Bison men's basketball team. After finishing 12-8 in the regular season, they stunned the world in the playoffs, taking our powerhouses UBC and Calgary on their own floors, going 5-1 in the process in the post-season. That meant, the Bisons qualified for the U SPORTS championship for the first time since the 1985-86 season. That's right, it had been 30 years since the Bisons had a chance to play for a national men's basketball title. In eight years at the helm, Schepp had completely re-built a Bisons basketball program that had fallen on hard times. Now, the team was back on the national stage and the head coach doesn't want that to change this season.
Women's Basketball: Optimism with great mix of veterans and youth for Bisons
By Carter Brooks
The 2017-18 school year is here, and with it, the Bison women's basketball team filled with more energy and optimism than has been seen in recent years. The Bisons currently boast a slew of strong and developing young players. Many of those athletes sparked the team's growth last season when five key contributors missed most, or all of last year.
The 2016-17 season could have easily been a write-off. Fortunately fifth year forward and captain, Rebecca Potter put together her best year as a Bison as a going-away gift. A hard working and motivated freshman class also provided energy and confidence. The trio of Taylor Randall, Brittany Parisien, and Keziah Brothers played important roles in helping develop a new competitive culture around the team.
Second and third year players also responded well to the opportunity and helped the team grow greatly. Emma Thompson and Nicole Konieczny provided talent and leadership while working with the younger players.
The silver lining to the injuries of 2016-17 was that the team developed leadership in each class of players. Welcoming back the experienced guard Jenilyn Monton, and forwards Claire Harvey and Montana Kinzel is sure to complement a maturing cast. Head Coach Michele Sung (nee: Hynes) has also continued with her recruiting, showing why the 2017-18 version of this team will have more depth than any previous year.