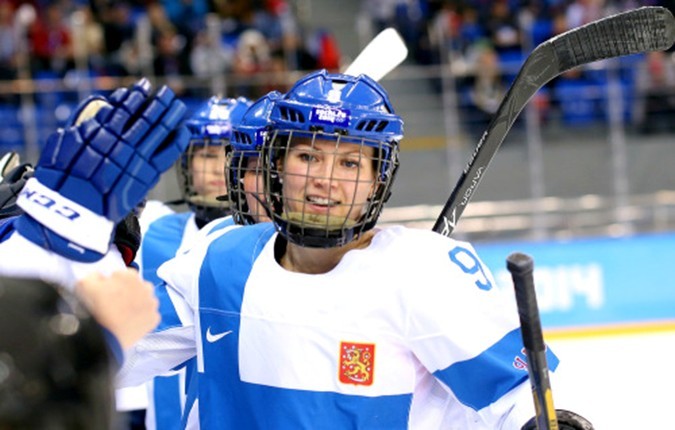 Bison player captures bronze with Team Finland
Third consecutive Olympics for Venla Hovi
February 21, 2018 —
Manitoba Bison women's hockey star, Venla Hovi, had a highly successful Olympic run in PyeongChang with Team Finland, capturing a bronze medal on Feb. 21 against the Olympic athletes from Russia team with a 3-2 win.
Hovi previously won a bronze medal in 2010 in Vancouver and finished fifth place in 2014's Russia games. She has been part of the Finnish women's hockey program since 2006-07 and has played in numerous tournaments over the last decade.
Hovi continues to make an impact at the U SPORTS and Canada West conference level throughout her three-year career with the Bisons.
She earned her first conference selection as 2016-17 Canada West Second Team All-Star. Hovi has averaged almost a point a game production with 50 points in 51 conference regular season games. In addition, she has added 17 points in 13 playoff games.
"Venla has worked extremely hard over the last three years to realize her dream of playing in a third Olympics," said Bison women's hockey head coach Jon Rempel. "The amount she has taken on and the sacrifices she has made are impressive and our players, staff and entire Bison program are very proud of her."
The 2018 Olympic Games took place from Feb. 9-25.