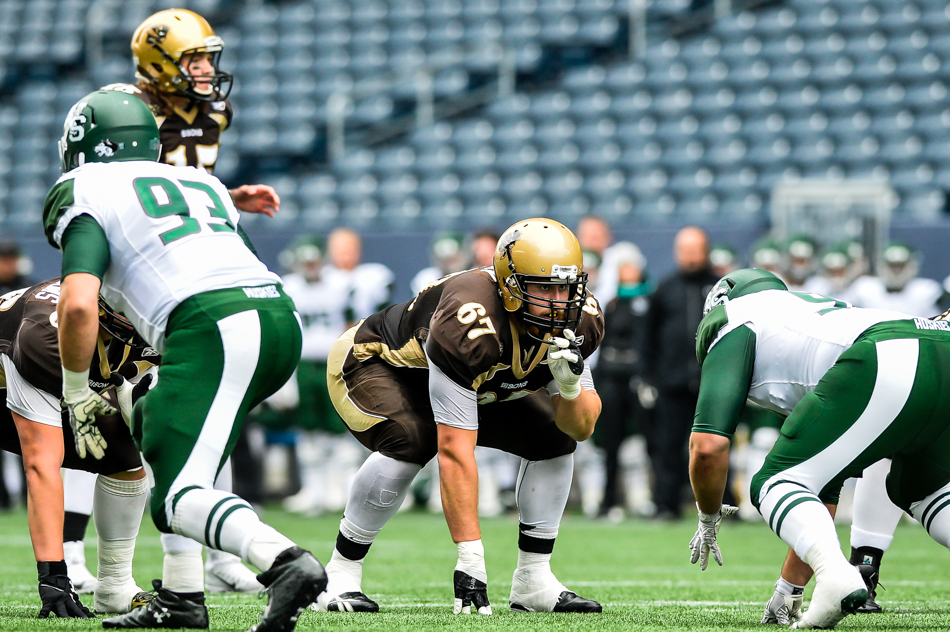 Bison Football player recognized as one of the Top 8 Academic All-Canadians in the country
Geoff Gray to be honoured for top 8 academic achievement in 2016-17
November 10, 2017 —
As a member of the Bison football team and Faculty of Engineering student for four years, Geoff Gray learned to balance, juggle, sacrifice but ultimately dedicate himself to his team and his studies. In each of the four years Geoff Gray achieved Academic All-Canadian status, an honour giving recognition to student-athletes who maintain a minimum grade point average of 3.5 (80%). This alone is an achievement to be proud of but Gray managed to take that to the next level.
Each year, one male and one female athlete are selected from each of the four U SPORTS conferences to make up the country's Top 8 Academic All-Canadian list. Gray was selected as the Canada West conference's male student-athlete after registering a remarkable 4.42 GPA in his fourth year.
"I am grateful to receive these prestigious accolades. It is especially meaningful to be recognized for success in academics in addition to sports," said Gray.
You could say that Geoff Gray's fourth year at U of M was life-changing. At 23, he was recognized as the Canada West Outstanding Down Lineman of the year and selected as a U SPORTS Football First Team All-Canadian.
He went on to play in the prestigious East-West Shrine Game and attracted the attention of a number of NFL scouts. Today, Geoff Gray finds himself on the practice roster of the New York Jets football team.
Her Excellency the Right Honourable Julie Payette will celebrate this year's elite group at a later date to be determined. In 2013, the Right Honourable David Johnston, former Governor General of Canada, founded the Governor General's Academic All-Canadian Commendation. Geoff Gray is the thirteenth Bison student-athlete to be honoured as one of the Top 8 Academic All-Canadians.
Previous Manitoba Bisons selected for U SPORTS Top 8 Academic All-Canadian:
2016-17 Male: Geoff Gray – Football
2013-14 Female: Brittany Habing – Women's Volleyball
2009-10 Male: Thomas Hall – Football
2006-07 Female: Katie Davidson – Women's Volleyball
2004-05 Male: Paul Deniset – Men's Hockey
2001-02 Male: Joey Mikawoz – Football (GPAC)
1998-99 Female: Nadia Melon – Women's Volleyball (GPAC)
1997-98 Female: Kathy Hrehirchuk – Women's Volleyball (GPAC)
1996-97 Female: Amanda Mlodzinski – Women's Swimming (GPAC)
1995-96 Female: Jackie Honey – Women's Track and Field (GPAC)
1995-96 Male: Mel McManus – Men's Track and Field (GPAC)
1994-95 Female: Renelda Friessen – Women's Volleyball (GPAC)
1994-95 Male: Wayne Weathers – Football and Wrestling (GPAC)