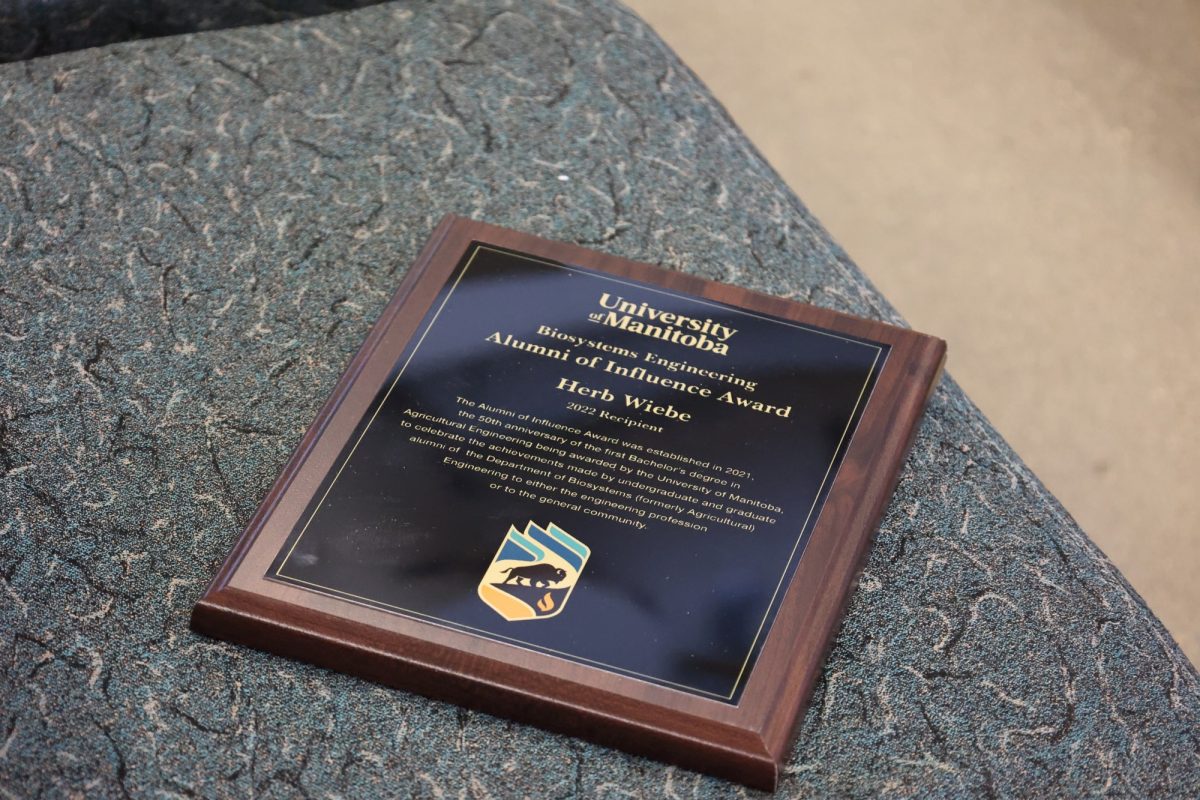 Biosystems engineering alumni honoured for achievements
November 15, 2022 —
The Biosystems Engineering Alumni of Influence Awards were established in 2021, the 50th anniversary of the first Bachelor's degree in Agricultural Engineering being awarded by the University of Manitoba. The Alumni of Influence Awards are intended to help us celebrate the achievements made by alumni of the Department of Biosystems (formerly Agricultural) Engineering who graduated from either the undergraduate or graduate programs. Separate awards will be selected for those alumni who graduated prior to 1995 from the Department of Agricultural Engineering and those who graduated after 1995 from the Department of Biosystems Engineering. Recipients of these awards are selected by the Department of Biosystems Engineering Alumni Awards Committee.
Recipients for 2022
Undergraduate (pre-1995): Herb Wiebe
After graduating from the U of M in 1976, Mr. Herb Wiebe moved to Bangladesh to apply his agricultural engineering skills to support the communities there with the Mennonite Central Committee (MCC). From 1976 to 1979, Herb was responsible for coordinating the planning, installation, operation, maintenance, and water management activities related to irrigation development utilizing ground water abstracted with diesel powered engines. He was responsible for organizing user groups, supervising well installation, managing extension services associated with these tube well schemes, and fulfilling a general liaison function on behalf of the user groups (with commercial banks, government extension services and private sector repair services). In 1981, Herb joined the water resources consulting firm Northwest Hydraulic Consultants Ltd (NHC). For the majority of his career (1981 to 2003), Herb continued to work extensively on irrigation, drainage, and protection from river and coastal erosion and floods in southern Asian, predominantly in Bangladesh. In 2003, Herb returned to Canada and became the branch manager of the Edmonton office of NHC. His role expanded in 2007 to become the Canadian President of NHC. As the President he continued to lead NHC as an independent, employee-owned firm through a period of consolidation within engineering consultancy. Throughout his career, he has mentored and supported younger engineers to find their own success in engineering. In his leadership role, he has ensured that opportunities he has provided throughout his career are available to the younger engineers at NHC.
Undergraduate (1995-present): Diana Nicholson
After graduating from the U of M in 2006, Diana worked as a Biosystems Engineer with Samson Engineering in Brandon (2006 through 2008), as a Water/Wastewater Engineer for AECOM in Winnipeg (2008 through 2010), as a Water Sanitation Specialist with Doctors Without Borders (2012 through 2017), as a Project Manager and Estimator with Nelson River Construction Inc in Winnipeg (2015 through 2021) and as Director of Engineering with Cypher Environmental Ltd in Winnipeg (since April 2021). While in Grade 10, Diana had the opportunity to attend a conference promoting engineering as a career for women. One of the speakers described her work in underdeveloped countries working in water and sanitation. This became Diana's inspiration and motivation. While still an undergraduate student, Diana volunteered with Engineers Without Borders in Indonesia and worked with Aboriginal and Northern Affairs Canada (managing the wastewater-monitoring program for all of the reserves in Manitoba).
Diana realized her goal of working in underdeveloped countries when she started a position with Doctors Without Borders as a Water Sanitation Specialist. She is unafraid to go where her expertise is needed and to work with people in crisis, including those surrounded by disease, disaster and armed conflict. She worked in turbulent refugee camps in Chad, South Sudan and Central African Republic, and to the frontlines of the Ebola outbreak in Sierra Leone. As a Water Sanitation Specialist, Diana designed and built structures to bring clean water – along with hope and dignity – to communities in turmoil. In 2016, Diana was named the recipient of the University of Manitoba's Outstanding Young Alumni Award. She was an invited special guest speaker at the 2017 Canadian Society for Bioengineering awards banquet held in Winnipeg (July 2017). She provided a gripping presentation of her experiences with Doctors Without Borders – particularly her work on the frontlines of the Ebola outbreak in Sierra Leone including the flood of emotions she experienced when she believed she had contracted Ebola.
Graduate (pre-1995): Digvir Jayas
Digvir graduated from the UofM with an M.Sc. degree in 1982. After completing his PhD from the University of Saskatchewan, he was recruited to come back to the University of Manitoba as an Assistant Professor in 1985. Digvir quickly rose through the professorial ranks and briefly served as Head of the Department of Biosystems Engineering before moving on to various administrative positions within the University of Manitoba community: i) Associate Dean, Research in the Faculty of Agricultural & Food Sciences, ii) Associate Vice-President, Research, iii) Vice-President, Research & International. In total, Digvir has contributed to the leadership of the University of Manitoba within "research" portfolio for 20 years. Digvir is a former Tier 1 (Senior) Canada Research Chair in Stored-Grain Ecosystems. He conducts research related to the drying, handling and storing of grains and oilseeds and the digital image processing for grading and processing operations in the agri-food industry. He has collaborated with researchers in several countries and has had significant impact on the development of efficient grain storage, handling and drying systems in Canada, China, India, Ukraine and the United States. He has authored or co-authored over 900 technical articles in scientific journals, conference proceedings and books about the storing, drying, handling and quality monitoring of grains (taken from U of M website). He has secured more than 29 million dollars of research funding during his career. Digvir has been recognized by his peers on many occasions; some awards include the John Ogilvie Research Innovation Award from CSBE (2019), the K.Y. Lo Medal from the Engineering Institute of Canada (2019), the Order of Canada (2018), the Sukup Global Food Security Award from ASABE (2017), Alumni Achievement Award from the University of Saskatchewan (2012), the Brockhouse Canada Prize from NSERC (2008), the Dr. John M. Bowman Memorial Winnipeg Rh Institute Foundation Award from the University of Manitoba (2008) among many others listed in his curriculum vitae. Digvir was named a Distinguished Professor at the University of Manitoba in 2004 in recognition of outstanding distinction in research and in scholarship, and of a significant record in teaching. Digvir has supervised 54 MSc students and 26 PhD students. Three of his former PhD students are current academic staff members in the Department of Biosystems Engineering, University of Manitoba. Others hold professorial positions at other universities in Canada and around the world.
Graduate (1995-present): Warren Blunt
Warren graduated from the University of Manitoba's Department of Biosystems Engineering three times: with a B.Sc. in 2011, with an M.Sc. in 2013, and with a Ph.D. in 2019. Starting as an undergraduate summer student, Warren has now worked for more than 10 years at the interface of engineering and microbiology to develop microbial bioprocesses for production of renewable bio-products (chemicals, fuels, and polymers). Warren performed exceptionally well as a research assistant in the Bio-fuels and Bio-products Research group over seven years. Warren's work on the production of third generation biofuels from locally grown hemp feedstock using specific bacterial communities won him the second-place prize in the Applied Sciences category of the annual Poster competition at the University of Manitoba. This led him to being selected as the point person on an ongoing research collaboration between the UofM and a research team at Scion, a crown research organization, in New Zealand. He traveled to Rotorua, New Zealand to further foster this relationship and receive training on an innovative analytical instrument to be integrated into our labs at the University of Manitoba. This integrated system was the first of its kind to be used in the biofuels research area and presents the first time Scion has provided this know-how to a partner in North America. During his postgraduate studies, Warren received the NSERC Michael Smyth Foreign Study Scholarship to continue his work with Scion, this time in the bio-polymers space for an additional 4 months. Warren currently works as an Assistant Research Officer for the National Research Council's Aquatic and Crop Resource Development Centre (Fermentation/Bio-products team) in Montreal, Quebec. He is responsible for development, management and delivery of internal, collaborative, and client-based services, supporting the Industrial Biotechnology and Sustainable Protein Production programs. Warren also holds the position of Adjunct Professor in the Department of Biosystems Engineering since 2020.