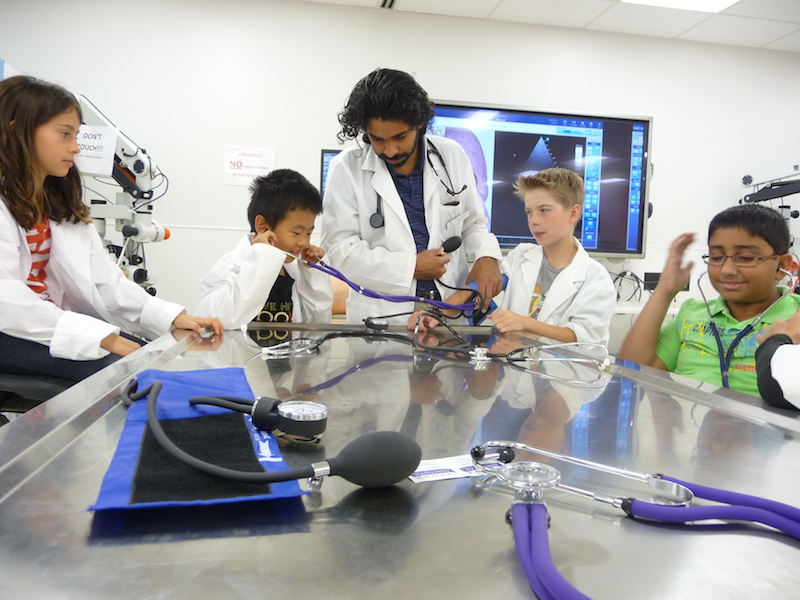 Biomedical Youth Camp engages youth in science, health workshops
July 21, 2015 —
A free week-long educational science camp kicked off Monday at the U of M's Bannatyne Campus. The annual Biomedical Youth Camp (BYC) – now in its ninth year – hosts students in Grades 6 to 12 who may not otherwise have the financial means to attend summer programs.
This year approximately 100 youth have enrolled in the BYC which runs until Friday, July 24. A total of 15 students have registered through the Health Careers Access Program – a University of Manitoba program exclusive to Aboriginal (Métis, Status, Non-Status, Inuit) residents of Manitoba with a strong interest in becoming a health professional.
The Faculty of Health Sciences-hosted event gives budding scientists the chance to experience a typical day through the eyes of a doctor, researcher, scientist, or health professional, by carrying out various hands-on activities in labs, using real laboratory tools and equipment.
Students will have the opportunity to attend up to 10 of the 15 workshops scheduled for the week. Some of the kids are already buzzing about the dentistry workshop, where they get to be a "dentist" for the day, using their thumb to create a ceramic impression. This activity illustrates how a dentist would take an impression of patient's teeth and use it to make false teeth or molds for night guards or bleaching trays.
A pharmacy session has the "pharmacists-in-training" look at the efficacy of antacid pills using tablets covered with different coatings that regulate the drug's release, as well as testing UV-blocking creams to see which is the most efficacious.
This is the first camp headed by new Biomedical Youth Program Director James Gilchrist, professor of oral biology in the College of Dentistry, Faculty of Health Sciences.
"One of the things we tried to incorporate within the program is periods of continuity," says Gilchrist. "The students build on what they've learned earlier in the day or week. We're attempting do to that over the lunch hour by showing videos that refer to workshops the kids will participate in during the camp."
In addition to the noon hour video, Gilchrist explains the morning and afternoon workshops are also meant to build off one another: "For example, a group did a med physiology workshop in the morning – looking at the heartrate, blood pressure measurements – and in the afternoon they go to the simulation learning facility where they're expanding on that learning."