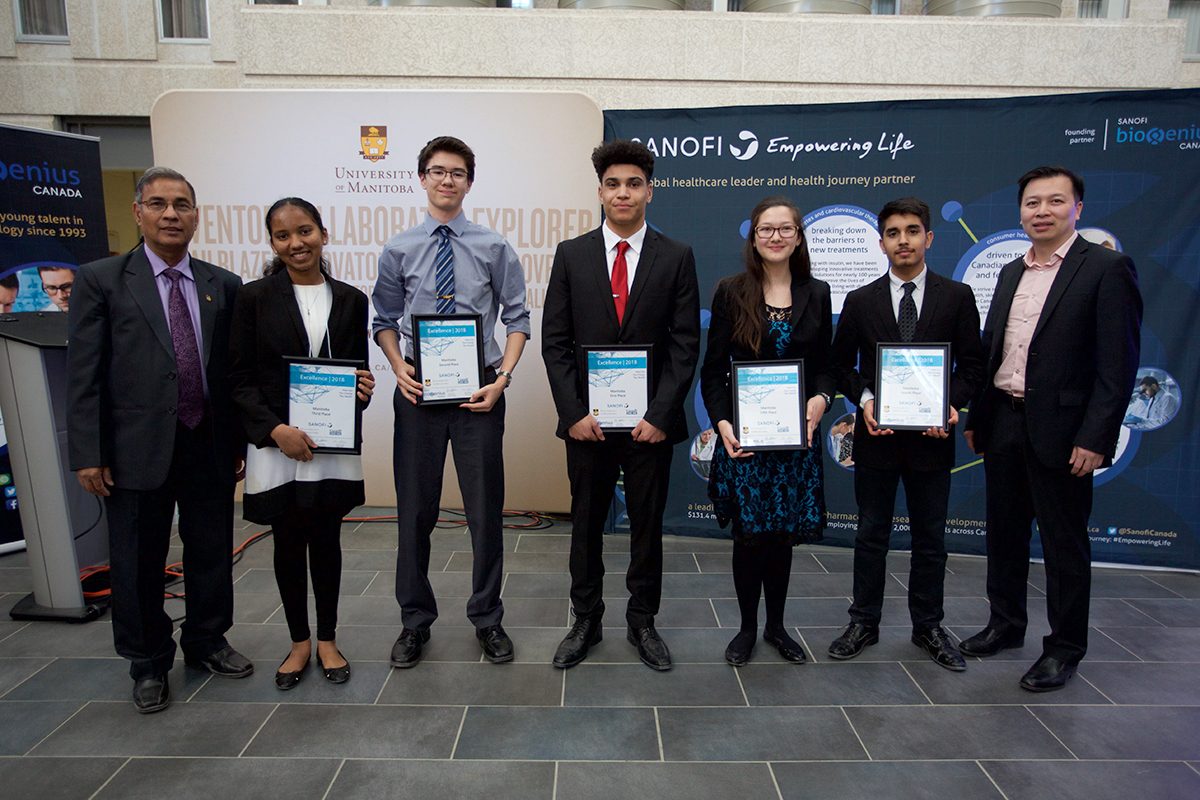 Biodegradable plastic research wins Sanofi Biogenius provincial science competition
April 23, 2018 —
Fort Garry campus played host to many rising research stars-in-the-making at this year's Sanofi Biogenius Canada (SBC) Manitoba competition on April 18.
Jacob Harvey, a Grade 12 student from Grant Park High School, earned top honours at this year's edition of the prestigious Sanofi Biogenius Canada competition.
Jacob was chosen by judges for his research project examining the production of biodegradable, environmentally-friendly plastic, which was realized with the support of mentor Biosystems Engineering Professor Nazim Cicek, Faculty of Engineering.
"Jacob is just one shining example of the endless possibilities in the field of biotechnology," said Digvir Jayas, Vice-President (Research and International) and Distinguished Professor at the U of M. "These students are the next generation of scientists and engineers who will pick up where we leave off and take knowledge and technologies even further."
One of the country's most prestigious science competitions, Sanofi Biogenius Canada pairs exceptional young students with academic mentors to pursue real-world research projects, and participants have produced many promising scientific breakthroughs.
"The level of scientific research accomplished by the students in this competition is simply inspiring, " said Niven Al-Khoury, President and CEO of Sanofi Canada. "Sanofi Canada is proud to be a founding member of Sanofi Biogenius Canada as it is a key scientific competition that nurtures young minds and empowers great talent and discoveries in science for the future of health in our country and beyond. With a 25-year history, this competition stands out as a model of collaboration thanks to the ongoing support of dedicated academics as well as the private and government sectors across the country."
Second prize went to Stephen Cheng, a student at Vincent Massey Collegiate, for his project: "A novel drug therapy used to reduce cell motility in pediatric Sonic Hedgehog medulloblastoma tumours."
Third prize went to Madhumita Chandrasekaran of Acadia Junior High School for her project: "A novel approach to efficiently recycle used diapers to optimize plant growth."
Jacob receives a cash prize of $2,000, a portion of which will go to Grant Park High School. Runners-up in this year's SBC Manitoba regional competition were also awarded cash prizes ranging in value from $750 to $1,500.
Jacob will now progress to the Sanofi Biogenius Canada 2018 National Final in Toronto, taking place in May. There, winners of all eight regional SBC competitions will present their work to a panel of Canada's pre-eminent scientists for a chance at winning the top prize: $5,000 and a place at the 2018 International BioGENEius Challenge in Boston this coming June.
About Sanofi Biogenius Canada (SBC)
Sanofi Biogenius Canada is a national science research competition open to high school students, which, since 1992, has helped over 5,000 young Canadians pursue real-world scientific research projects that have been the launch pads to future studies and careers. Coordinated by Partners In Research, the initiative's lead sponsor is Sanofi Canada.
For more information, please visit biogenius.ca, or follow SBC on Facebook (facebook.com/SanofiBiogenius) or Twitter (@biogeniusca) using the hashtag #SBC2018.
Research at the University of Manitoba is partially supported by funding from the Government of Canada Research Support Fund.