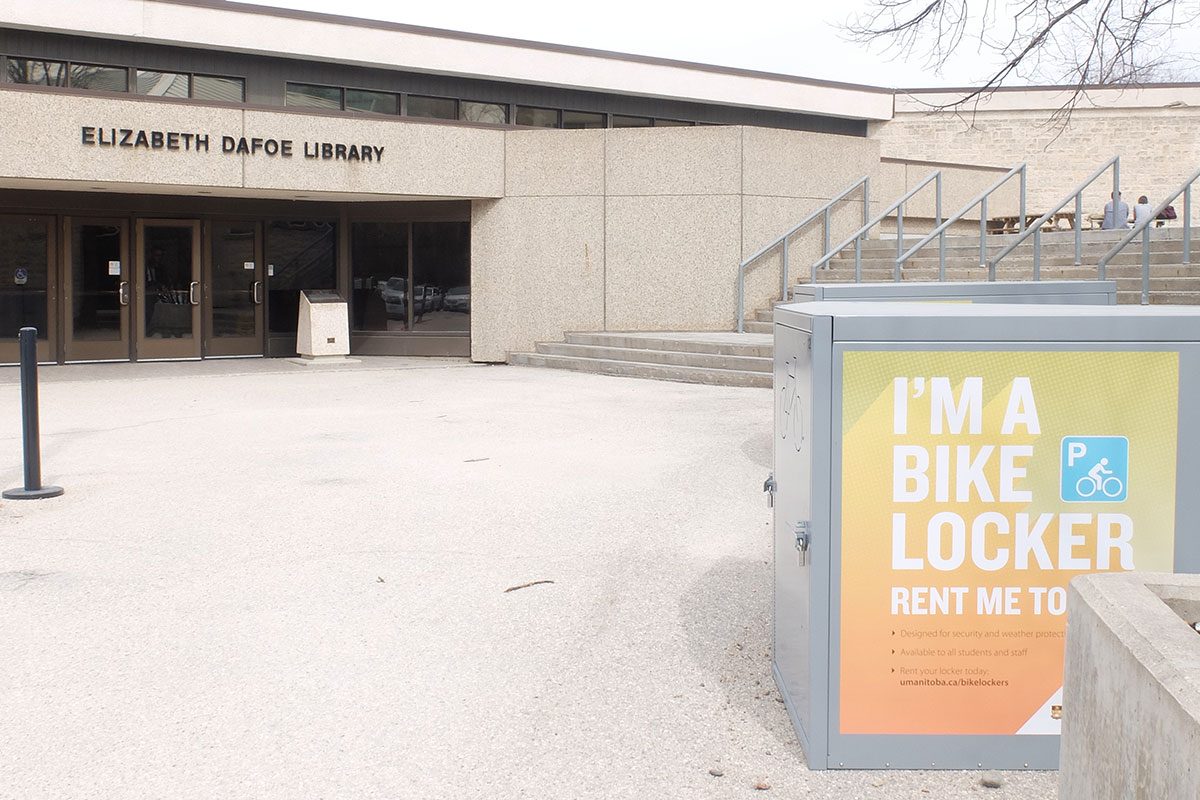 Bike lockers roll on to Fort Garry campus
May 18, 2017 —
Sixteen sleek new bike lockers have recently been installed on Fort Garry campus. The lockers will provide cyclists with a personal, weather protected and secure enclosure for storing their bicycle. Lockers are available for rental periods of four to 12 months from Parking Services and are offered on a first-come, first-served basis.
The bike lockers were designed and manufactured locally to meet the needs of Winnipeg cyclists in all seasons.
Lockers can accommodate a variety of bike sizes and can be found outside Extended Education, EITC, Fletcher Argue, and the Science Complex. To request a bike locker, visit umanitoba.ca/bikelockers and complete the Locker Request Form.
For other bike parking options, staff and students on Fort Garry campus can subscribe to use the University Parkade Bike Station, an enclosed, weather-protected facility for up to 100 bikes.
Visit Parking Services at 423 University Crescent to register to access the facility.
On Bannatyne campus, the university bike cage is located along the west side of Dentistry. Staff and students can access the cage by visiting Physical Plant, Rm S013 in the Medical Services Building to have their card coded.
Staff and students can also access Health Sciences Centre (HSC)'s indoor bike garage in the Emily St Parkade, or HSC's outdoor bike cage at 707 McDermot by visiting the HSC Parking Services Office at 720 McDermot Ave, Level 1.
For those looking for short-term bike parking close to their destination, locate campus bike racks using the Fort Garry bike parking map and Bannatyne campus bike parking map.
Follow these bike locking tips to reduce chances of bike theft:
Lock the frame of your bike and one wheel to an anchored bike rack using a solid steel U-lock.
Lock any additional quick release parts, including your second wheel and seat, with another U-lock or a double-end cable lock.
Register your bike with City of Winnipeg Community Services Bicycle Recovery Section.
Please report bike theft or suspicious behaviour to Campus Security Services and Winnipeg Police.
Shower passes
Staff can now purchase a shower-only pass at Max Bell Centre on Fort Garry or Joe Doupe Centre on Bannatyne campus. Purchase day pass access for $2, or monthly pass access for $10. Visit Frank Kennedy Centre or Joe Doupe Centre for further details.
For more information on bike parking, other transportation options to campus, and upcoming events such as the 2017 Commuter Challenge, visit umanitoba.ca/sustainability.