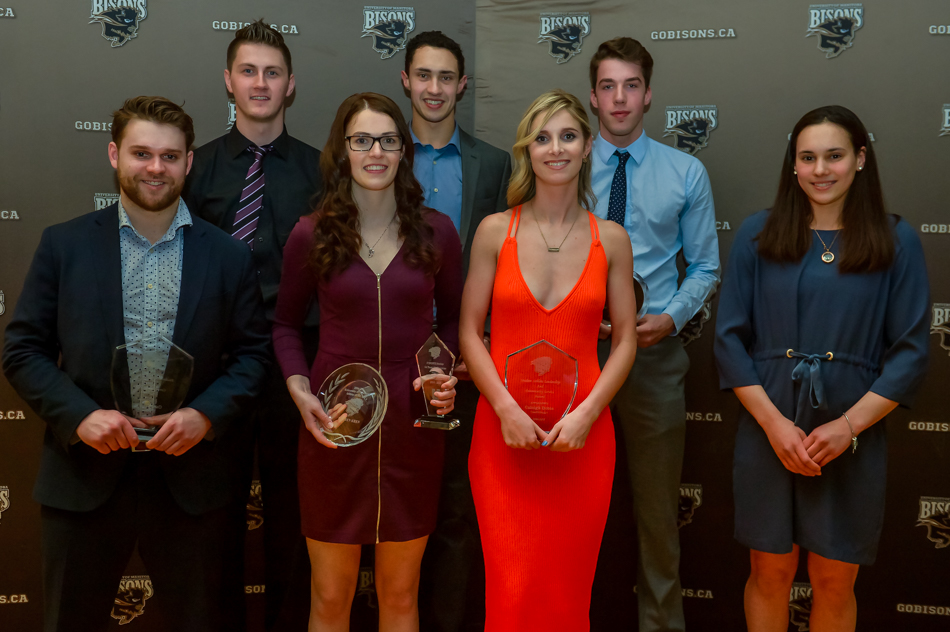 Big year for Bisons
Bison sports wrap up year with countless highlights at the annual Brown & Gold Banquet
April 3, 2017 —
The Manitoba Bisons varsity teams finished another successful season that had two teams reach the Canada West conference championship final and qualify for a national championship appearance.
Five of the eight teams in fall and winter team sports qualified for post-season. On top of team success, there were numerous individual national medals plus major U SPORTS and conference award winners along with international recognition during the year.
Bisons Lauryn Keen (women's hockey) and Devren Dear (men's volleyball) were named as Bison Sports Female and Male Athletes of the Year.
Keen, an Agricultural and Food Sciences student athlete, was the first-ever Bison to be named Canada West Women's Hockey Outstanding Player of the Year in the 20 year history of the university program. She captured the Canada West conference women's hockey scoring title with 34 points (nine goals, 25 assists) and became the second Bison to accomplish this feat. Keen was later named to the U SPORTS All-Star First Team All-Canadian.
Dear, a fifth-year men's volleyball star and arts student athlete, was named as 2016-17 U SPORTS Men's Volleyball First Team All-Canadian (first time as an All-Canadian). Dear led his team to the Canada West Final Four Championship and U SPORTS National Championship where the team earned the 5th spot in the country.
Coach of the year honours went to Garth Pischke. Pischke was selected for the fourth time as Bison Sports Coach of the Year in the 16th year history of the award. He leads coaches with his fourth time with this award.
The Bison Female Rookie of the Year comes from the women's swimming program as breaststroke specialist Kelsey Wog earned U SPORTS and conference recognition in her first season at Manitoba. Wog four medals including one gold and set a personal best in the 100m breaststroke at the 2017 USPORTS Swimming Championships: Gold (women's 100m breaststroke); Silver (women's 50m breaststroke); Bronze (women's 200m. breaststroke, 200m IM); Earned 2016-17 U SPORTS First Team All-Canadian honour.
The Bison Male Rookie of the Year is men's basketball forward James Wagner. Wagner led the team and third in Canada West in field goal percentage with 56.8% in his rookie campaign. The science student-athlete played in all 20 conference games averaging 17.9 minutes per game and also played in all eight playoff games (counting two national championship contests).
Fifth year women's volleyball's Caleigh Dobie, fifth year football's Cam Teschuk and fifth year men's volleyball's Ken Rooney all took home the Student-Athlete Leadership and Community Development Award. The award is given to student athletes who excel in their leadership skills, community involvement and also academics and athletics.
The Pat Gill Legacy Award was handed out to long-serving Bison football coach and offensive coordinator Vaughan Mitchell. Mitchell has served as assistant coach and coordinator for 20 years and played with the herd from 1989-1993.
On the international stage, Bison women's hockey forward, Venla Hovi is currently representing her home Finland at the IIHF Women's World Hockey Championship in Plymouth, MI.
Finland is currently 0-2 after being defeated by Russian 2-1 and Canada 4-3 in the preliminary round. They face Team USA next, today at 7:35 GMT. Venla just finished her third season with the brown and gold.
Along with the major awards, Bison Sports recognized team MVP from each team, each year:
Women's Basketball – Emma Thompson
Men's Basketball – Keith Omoerah
Women's Cross Country – Rebekah Sass
Men's Cross Country – Daniel Heschuk
Football – Evan Foster
Men's Golf – Devon Schade
Women's Hockey – Rachel Dyck
Men's Hockey – Byron Spriggs
Women's Soccer – Amanda Wong
Women's Swimming – Kelsey Wog
Men's Swimming – Alex Shogolev
Women's Track & Field – Tegan Turner
Men's Track & Field – Alhaji Mansaray
Women's Volleyball – Kearley Abbott
Men's Volleyball – Devren Dear