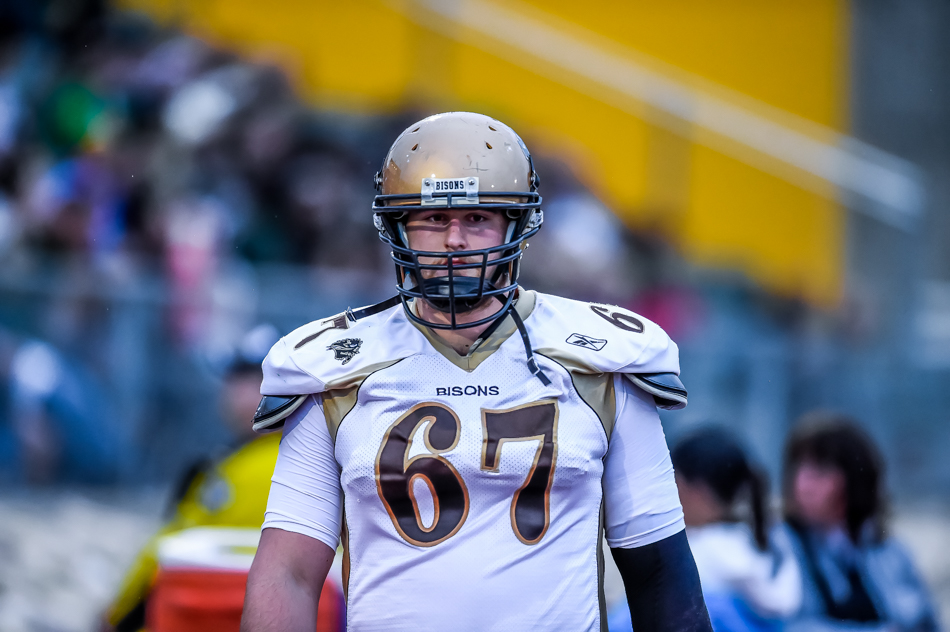 Big Bison making big impressions
For the second year in a row, U of M hosts an NFL Pro Day
April 3, 2017 —
University of Manitoba Bison football's Geoff Gray impressed National Football League and Canadian Football League teams at a pro day workout on March 30.
A total of eight NFL and two CFL teams watched Gray go through rigorous workout routines on campus.
This marks the second time in as many years that NFL teams visited the U of M campus to take note of a Bison. In 2016, David Onyemata became the first bison to be drafted by an NFL team and played his first season with the New Orleans Saints.
Gray has been incredibly durable on the offensive line as he has not missed a game so far by playing in all 32 conference regular season games. Gray has started in the last 30 regular season games and started in six playoff games over his four year career with the Bisons.
"I think I reassured the scouts and pretty sure that I did and I can't complain," said Gray. "The numbers were what I expected and the drills seemed to work out…It was physically demanding but nothing that I didn't prepare for. I think my numbers are competitive and pleased with them."
Gray's numbers ranked highly compared to 2017 NFL combine results for offensive lineman. In the vertical jump, 31″ is tied for 2nd; broad jump, 9'6″ is tied for 2nd; bench press, 25 reps is tied for 14th; 3-Cone, 7.83 seconds is tied for 15th; 20 yard shuttle, 4.78 seconds is tied for 15th and 40 Yard Dash, 5.28 is 16th.
The 2017 NFL Draft takes place in Philadelphia from April 27-29 with seven rounds picked.