'Because we Love Winnipeg, Rally, Revive, and Thrive'
UM 2021 United Way Campaign kicks off Sept. 17
September 14, 2021 —
Over the last two years, our community has experienced significant challenges, but we've also seen inspiring acts of kindness and greatness. We have united and shown how amazing things can happen when a community comes together—even while apart.
Our community needs us now more than ever. COVID-19 has brought many challenges and underscored the need for programs that provide support to Winnipeggers from all walks of life.
Now is the time to help make Winnipeg a better place for all of us. As we grow beyond these last two years, we need to protect and strengthen programs that provide critical, front-line support to members of our community. That's why our UM community is coming together–in person and remotely–to join in the 2021 campaign, Because we Love Winnipeg, Rally, Revive, and Thrive.
The campaign kicks off Friday, Sept. 17 with the "Walk this Way" event as we join with other Winnipeggers to walk a collective 40,000 km in one day: the distance of one full trip around the globe.
On our Fort Gary Campus, the UM campaign team is hosting a physically-distanced walk on Sept. 17 to get your steps in. The pre-set route should take around 30 minutes, and will feature stops highlighting how the University and the United Way are interconnected. Volunteers will be set up outside the Active Living Centre handing out route maps and other goodies; join us anytime between 12 to 3 p.m. to start your walk.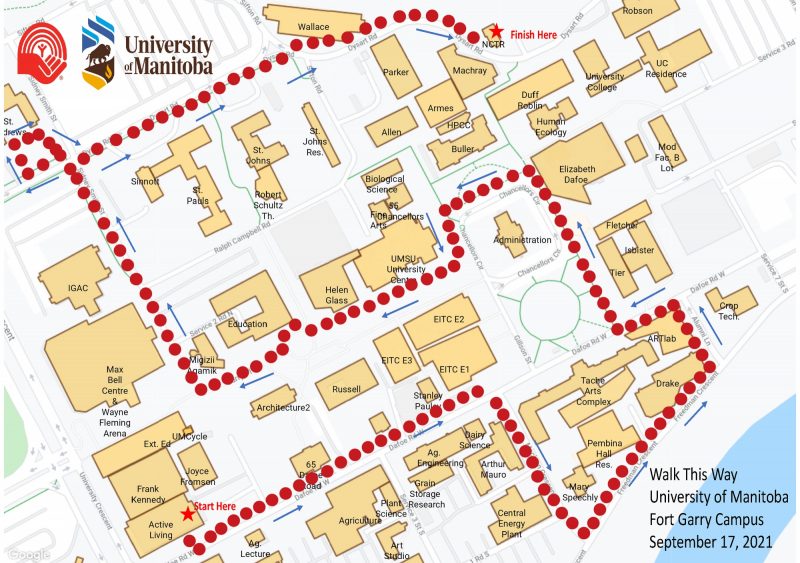 If you are working from home, take a break to walk, bike or run on your own—up and down the stairs, around the block, on a treadmill, you name it. Just make sure to register so your steps are counted – visit https://unitedwaywinnipeg.ca/walk-this-way/ and join the University of Manitoba Team.
No donations are required for this kickoff event – if the collective 40,000 km goal is reached United Way's sponsors will donate $100,000 to the cause!
The campaign continues until Nov. 1. Watch our social channels for "Because I Love Winnipeg" videos, sharing what the United Way means for members of our community. Faculty and staff will receive an email the week of Sept. 20 with information on how to donate by cheque, cash, credit card, or payroll deduction. Every dollar received will go to helping people in Winnipeg when they need it most, investing in effective local programs that change lives.
UM has stepped up to support the United Way in the past, but last year only 7 per cent of our faculty and staff donated to the campaign. Because we love Winnipeg, we can do more. Every contribution brings us closer together and makes our community stronger, during this pandemic and beyond.
For more information about the United Way campaign please contact Laura Orsak-Williams Laura [dot] Orsak [at] umanitoba [dot] ca