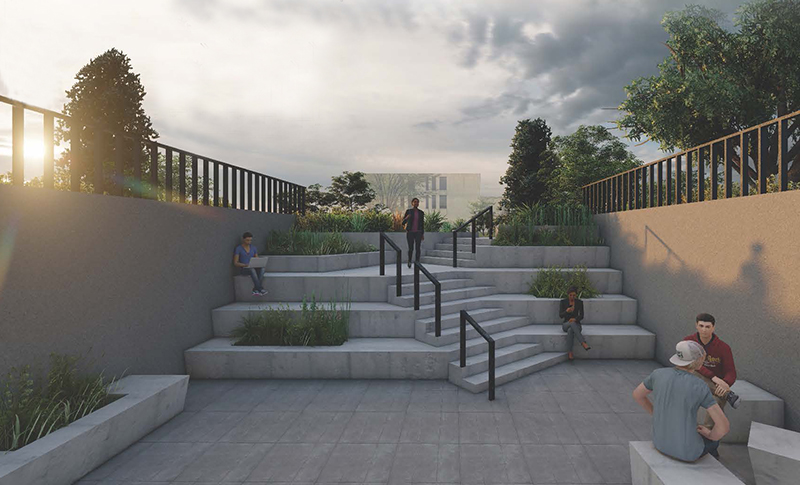 Barkman Concrete Design Competition Winners Announced
December 5, 2020 —
The Barkman Concrete design competition is open to any student enrolled in the Faculty of Architecture at the University of Manitoba and a required assignment for students in Professor Anna Thurmayr's EVLU 4002 course. This year, the task was to design and layout steps or stairs to the sunken patio on the northside of the Architecture 2 Building.
Congratulations to the winners:
1st Place
Emma Dicks
Matthew Glowacki
Bryce Stovin
2nd place
Nabil Basri
Aaron Bomback
Laurel Cowley
3rd place
Manuela Villarreal
Sabrina Kratsberg
Owen Toth
The 1st place design (rendered above) detailed three types of concrete blocks that work together to shape the pre-existing sunken patio by providing a space for sitting, lingering, learning, and relaxing. Wide tread pavers were imagined as a leisurely staircase for entering and exiting the space or to be used as an outdoor classroom. Planting blocks allow for greenery while adding texture into the space.
A special thank you to Alan Barkman, Scott Barkman, Brian Pries, Tim Fast, Garry Funk, Mark Hiebert, Wayne Patram and Wayne Wiebe from Barkman Concrete Ltd. for jurying the entries.