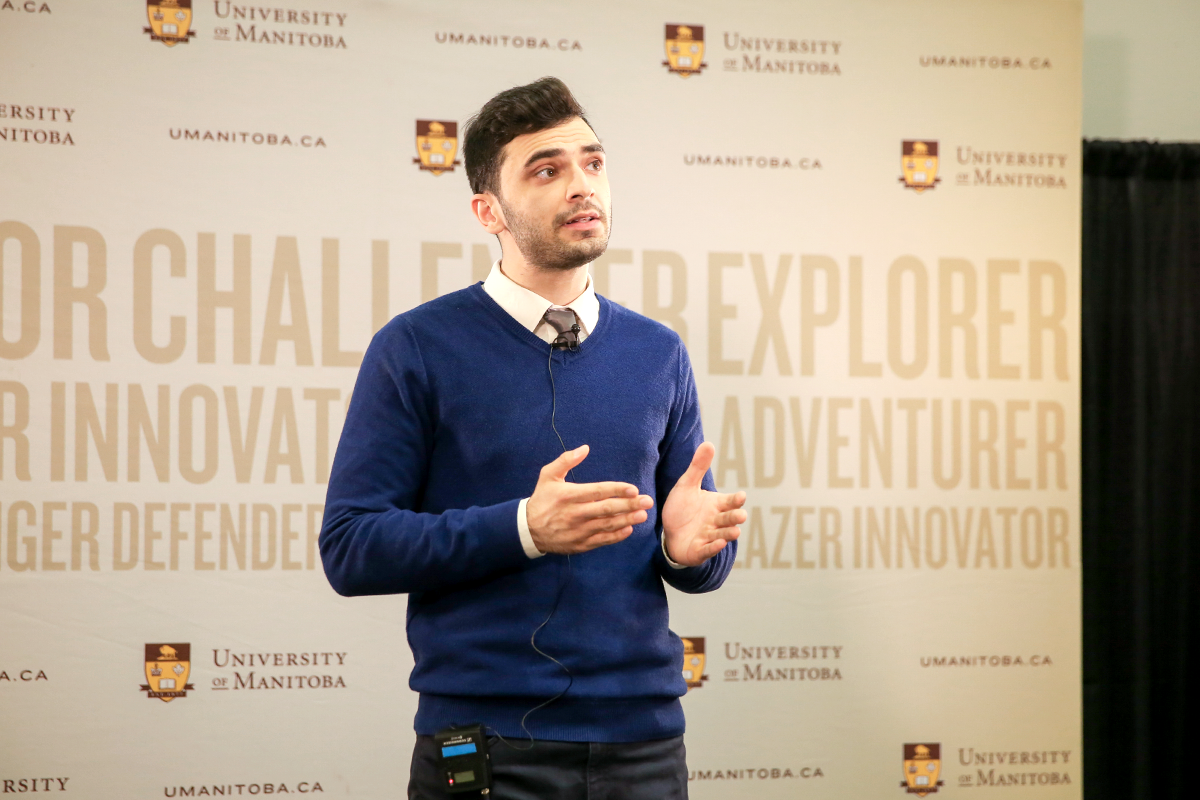 Bacteria, get out of my kitchen
June 14, 2018 —
As you read this sentence, bacteria swim across your eyeballs. That's not intended to disgust you but rather to remind you just how vast bacteria's kingdom is. They rule virtually every surface. Except, finally, for one.
Graduate student Mohammad Reza Kazemian has found a way to banish bacteria from cooking surfaces. You'd be hard pressed to find research that positively impacts the general populace to such a degree. Food poisoning (i.e. ingesting harmful microbes) causes $77 billion in economic loses every year in the U.S. alone. Cancer—"The Emperor of All Maladies"—results in $80 billion.
"Foodborne illnesses and food contamination has become a big issue all around the world," Kazemian says. "So I decided to do something about it."
Preventing harmful bacteria from infesting our food is critical to our health and prosperity, especially in the face of growing legions of antibiotic-resistance strands of bacteria. Thankfully, Kazemian, a master's student in biomedical engineering and 3MT finalist, has produced some good news working with his advisor Song Liu in the Rady Faculty of Health Sciences.
They have created a surface microbes cannot colonize. Current efforts in food plants, industrial and commercial kitchens involve using bleach to sanitize stainless steel counters and equipment. That works. But once cleaned, how do you guarantee bacteria do not find their way back to the surface through dust particles, an errant cloth, or a bit of spittle?
Kazemian has engineered an ingenious solution.
All bacteria hold a negative charge, so he created a stainless steel surface that has coating with positive charge and chlorine atoms. Since opposites attract, the chlorine attaches to any bacterium and kills it. It gives sanitation efforts staying power, and Kazemian's surface can be recharged with a wash of diluted bleach.
Growing up in Iran, he didn't imagine pursuing a life devoted to curbing microbes, but he was passionate about something that is as bountiful: the stars.
"I loved to look at the sky and stars and had this question in my mind of how things in the sky work. But things always change in life, and now I am looking at bacteria. Well, at least the principle is the same—I am always questioning!"
For two billion years, bacteria were the only forms of life. Earth, author Bill Bryson notes, is their planet, "and we are on it only because they allow us to be." But Kazemian has found a way to keep a surface of it just for us.
Bon appétit.
Meet the other new faces of innovation and discovery.
Research at the University of Manitoba is partially supported by funding from the Government of Canada Research Support Fund.