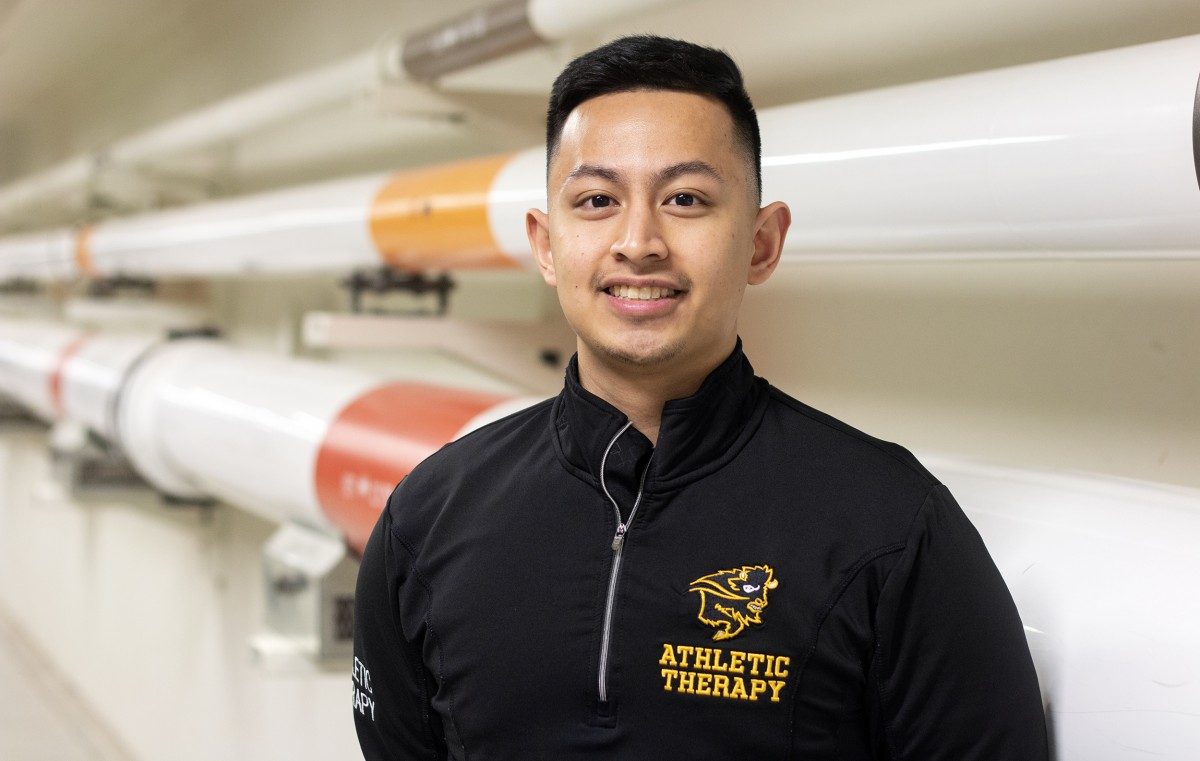 B.Kin-AT student profile: Dricx Catap
January 15, 2019 —
For some of us, the main purpose of using a calendar for the cold and frigid months is to count down the days to summer. A time to relax, take it easy, and enjoy the sunshine and heat.
Not Dricx Catap. The third-year kinesiology-athletic therapy student wasn't looking to spend his summer soaking up rays pool side.
"I know repetition and practice are key to being a successful athletic therapist," says Catap. "I said yes to every opportunity that came my way to gain more experience in the field."
That included seeking more hours practicing athletic therapy with the U of M Bison Football team over the summer.
"Dricx is always wanting to learn more and more, going the extra mile to get more clinic hours over the summer when they're not required," says acting athletic therapy program director, Dr. Trisha Scribbans.
Program: Kinesiology- Athletic Therapy
Year of Study: 3
Hometown: Winnipeg, Man.
Outside-of-school interests/extra-curricular activities: I enjoy playing basketball, lifting weights, and Mixed Martial Arts. I'm also currently training for a half-marathon. Outside of sports and fitness, I enjoy spending time with family and friends, traveling, and reading.
Why did you choose Kinesiology-Athletic Therapy at U of M: I've always wanted to be involved in a profession that consists of sports, physical activity, and helping others. I also have always been intrigued by the complexity of the human body. At a young age, sports introduced me to goal setting, teamwork, and most importantly, discipline. Athletes have a wide variety of goals, from staying fit, to winning games and championships, the Olympics or playing professionally. Knowing I can make a contribution to help someone achieve their goals is what drove me to pursue athletic therapy.
What's been one highlight so far: Being involved in a high school program called Weeks Without Walls has been a highlight for me as an athletic therapy student. A group of high school students visited the campus to learn about athletic therapy. It was a rewarding experience, as I spoke about how great the field of athletic therapy is. I hope I inspired those students with my words.
What are your plans for after graduation: I plan on taking my certification exam. Once I certify as an AT, I'd like to work in a clinical setting, while also being involved in the field aspect. I plan to hopefully attend a multitude of educational sessions, such as seminars and conferences, to further enhance my knowledge and skills. As for my long term goals, I'd like to open my own clinic, and also take part in the Olympics as one of Team Canada's athletic therapists.
What advice do you have for those interested in studying AT at U of M? Be prepared to develop discipline, a good work ethic, and efficient time management skills. Also, be prepared for the strenuous hours you'll have to spend at school, as well as at clinic and field placements. The program itself consists of highly motivated students, as well as faculty members who are caring and always willing to help. Don't get me wrong, the athletic therapy program at the U of M is not easy. Joining the program is one of the best decisions I have ever made, and I have not looked back since.