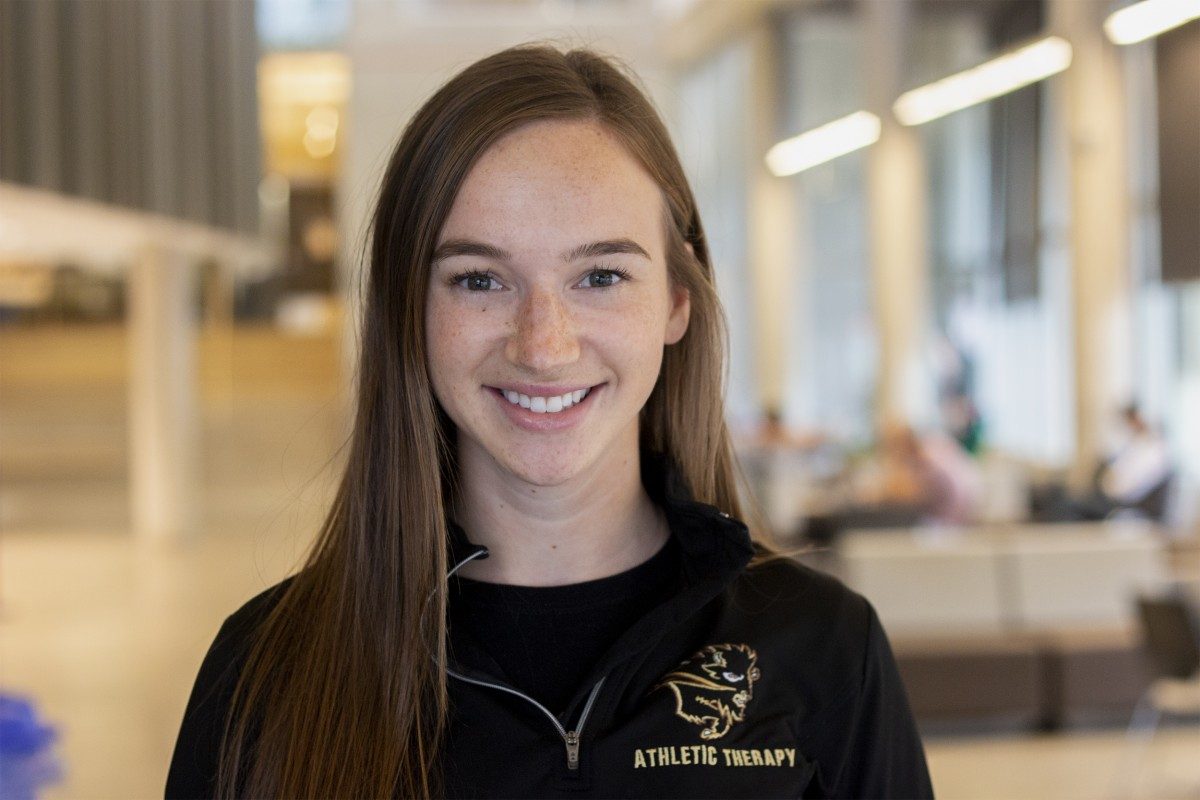 B.Kin-AT Student Profile: Caitlin Williams
October 10, 2018 —
Aside from standing out as a top-notch and enthusiastic athletic therapy student (words chosen by acting U of M AT director, Dr Trisha Scribbans), Caitlin Williams is also turning heads in the gym.
Williams, a fourth-year Faculty of Kinesiology and Recreation Management student, is a also strength and conditioning coach with Sir John's Ravenscourt School's recreation facility and hockey team.
In a field typically dominated by men, Williams is a trailblazer of sorts. But that's not a concern of hers. She says she's focused first and foremost on the athletes. "I really enjoy working with the teams, making sure they're doing their lifts properly and safely," she adds.
Program: Bachelor of Kinesiology – Athletic Therapy
Year of Study: 4
Hometown: Kenora, Ont.
Outside-of-school interests/extra-curricular activities: When I get the chance, I travel back to Kenora to spend time with my family. I like to spend my summers there and try to get on the lake as much as possible. I love playing baseball in the summer and hockey in the winter! And you can always find 'Friends' under my "recently watched" on my Netflix account.
Why did you choose Kinesiology-Athletic Therapy at U of M: I had an injury when I was younger that stopped me from playing hockey for a season and an Athletic Therapist worked with me for a few months and got me back on the ice. He was incredible and made me want to have a career where I can help someone return to a sport or activity they enjoy doing. It took me a couple of years to find the AT program, but it's been one of the best things to ever happen to me!
What's been one highlight so far: All the amazing people I've met and the places I've traveled, while getting to study something I love. This is my second year working with the UofM men's basketball team. Being with this team I recently traveled to Victoria, B.C. with them and earlier this year I traveled to Abbotsford, B.C.
"I feel so fortunate to be able to work with these athletes and to have met some of my best friends in this program!"
What are your plans for after graduation: My plan is to write the national exam and work as a Certified Athletic Therapist in a clinic in Winnipeg. Before I begin working in the real world though, I'd like to travel for a few months – one place I'm super interested in is South Africa!
What advice do you have for those interested in studying AT at U of M: This program consists of going to classes and seminars, attending clinical shifts, volunteering in fundraisers such as massage-a-thon, and working/traveling with a team. It takes a lot of time management skills, organization, and dedication to get good grades and maintain a good reputation.
"For first year students in the AT program, jump on opportunities like volunteering, starting study groups, and joining student council, which allows you to meet new people and make connections."
Although the days in this program are long and can be stressful, enjoy each day while you can because it goes by so fast!
---
Whether it's learning in a classroom, co-authoring a research article, doing a fieldwork placement with a professional organization, or spending your lunch break running around one of our tracks, as part of the Faculty of Kinesiology and Recreation Management, you'll be joining us in our commitment to health, well-being, human movement, and leisure. Our program streams include bachelor degrees in Kinesiology; Kinesiology-Athletic Therapy; Physical Education; Recreation Management and Community Development. To learn more, visit umanitoba.ca/kinrec