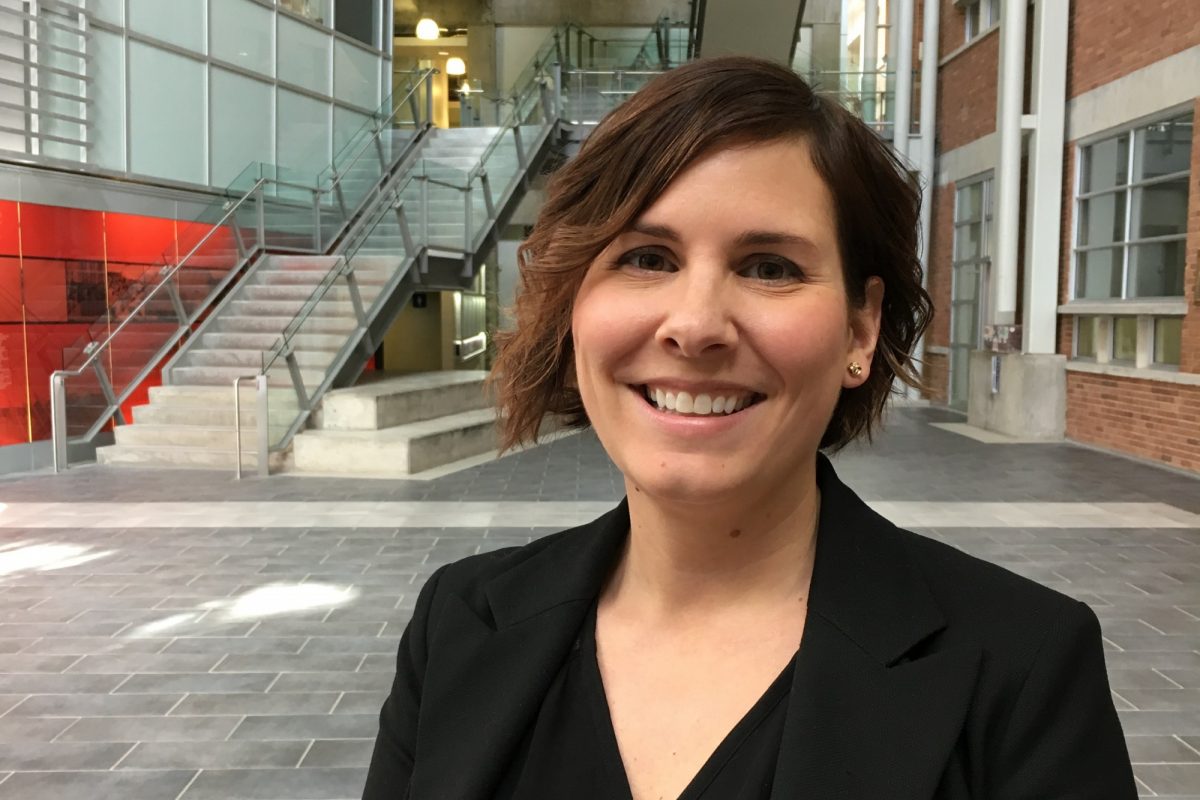 Engineer-in-Residence Kathryn Atamanchuk Wins Manitoba Aerospace All-Star Award
She is currently the EiR for the local Aero-Engine Test and Advanced Digital Manufacturing sectors.
December 19, 2020 —
Kathryn Atamanchuk [BSc(ME)/99, MBA/07, MSc(Bio)/20] has been named the recipient of the Manitoba Aerospace All-Star Award of Excellence for Builder and Education/Training.
Before joining the Price Faculty of Engineering, Atamanchuk was the Director of Engineering Services at StandardAero. She is currently an Engineer-in-Residence (EiR) for the local Aero-Engine Test and Advanced Digital Manufacturing sectors and is Canada's second female EiR. Atamanchuk teaches at the graduate and post-graduate levels and has had a passion for aerospace since her undergraduate studies.
"I've been interested in aerospace since I was in my third year of Mechanical Engineering at the University of Manitoba and decided to take the Aerospace Option, which was a relatively new program stream at the time," said Atamanchuk. "After graduating, I took a job with StandardAero as a Service Engineer for the Rolls-Royce T56/501 engine. In my 13 years there working in various roles, I had the opportunity to develop my skills, both as an engineer and a leader."
Atamanchuk is an advocate for the aerospace industry, inspiring students and colleagues to understand the benefits a successful aviation and aerospace industry provide for both Manitoba and Canada.
"I had many great mentors during my time at StandardAero, and it was their passion for their profession and their desire to share that passion with others that eventually led me to my current role as the Aero-Engine Test and Advanced Digital Manufacturing Engineer-in-Residence."
This is the second year in a row that an EiR from the Price Faculty of Engineering has won this award, last year going to Carolyn Geddert who was Canada's first female EiR. Other winners this year in the categories of 'Excellence for Leadership and Education/Training' and 'Excellence for Business Growth and Teamwork' went to the Management Development Program Implementation Team at Boeing Canada (Winnipeg) and StandardAero Heli Transition Team, respectively.
For Atamanchuk, inspiring students and showing them what's possible continues to be her inspiration and motivation.
"In this role, I have the opportunity to work with students and show them what exciting options exist right here in our province in the aerospace sector. From cutting edge technology development and implementation to world-class engine test certification, the sky really is the limit!"
The Price Faculty of Engineering extends our congratulations to Kathryn Atamanchuk and all the winners of this year's Manitoba Aerospace All-Star Awards.