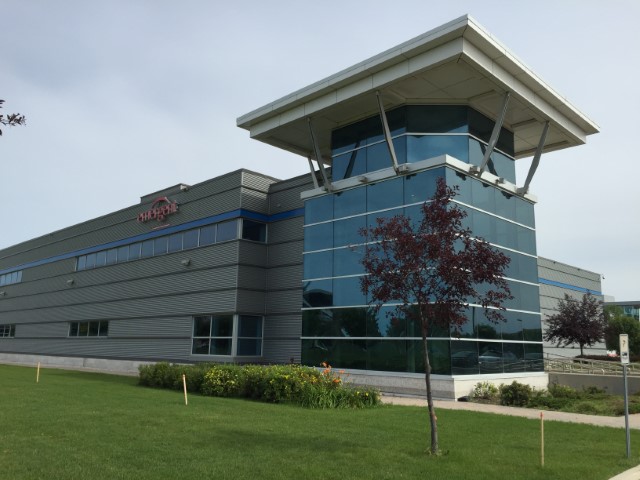 At war against the most toxic agents on Earth
Noted U of M alumna making a difference in people's lives around the world
January 26, 2018 —
Last year, a woman in Nunavut died and others fell sick from botulism contracted by eating whale meat that wasn't properly refrigerated. Because ocean temperatures were warmer than usual, the beluga flesh became the breeding ground for the bacterium Clostridium botulinum, whose toxin can cause respiratory failure and paralysis, and is often lethal. This was the first such death in Nunavut in more than ten years.
The situation is much worse in other countries such as Ukraine, where there were more than 100 cases of botulism reported in 2017, with 11 deaths. Most of these fatalities were due to eating improperly cooked or stored food at home. In 2015, a victim in Slovakia fell ill after eating botulism-tainted hummus and went into a coma.
'Emergent BioSolutions produces the botulism antitoxin for both public and government use'
Fortunately, if botulism is diagnosed early enough, it can be treated with antitoxin. In Ukraine, an international effort produced a supply of botulism antitoxin and rushed it to victims there. This antitoxin was produced in Winnipeg at Emergent BioSolutions, a global life sciences company physically located on the campus of the University of Manitoba.
Emergent comprises a huge set of buildings in SmartPark at the U of M. A highly-secure facility, its mandate is to "provide specialty products for civilian and military populations to address accidental, intentional, and naturally occurring public health threats."
Although headquartered in Maryland, one of its largest footprints is here in Manitoba, employing more than 350 technicians, researchers, and professionals, and also training graduate students in fields related to biotechnology. Emergent partners with the university to provide real opportunities for new graduates seeking to gain experience in their fields of study.
At the U of M site, Dr. Laura Saward is Emergent's senior vice-president, antibody therapeutics business unit head.
A U of M graduate (PhD/00), Saward is an adjunct professor in the Rady Faculty of Medicine department of microbiology and infectious diseases.
Before joining Emergent, Saward had been chief scientific officer and vice president of research and development for Cangene, where she developed and licensed products and oversaw government contracts for the U.S. Strategic National Stockpile that includes: Heptavalent botulism antitoxin, Vaccinia immune globulin, and Anthrax immune globulin.
Cangene was originally majority-owned by Canadian pharmaceutical company Apotex and was acquired by Emergent in 2014.
"It has long been an interest by the American government to have something that could be used against a bioterrorism attack, so we worked initially with the Centers for Disease Control and Prevention and then with the U.S. Department of Health and Human Services to license an antitoxin that would treat all types of botulism toxin. Emergent produces the botulism antitoxin for both public and government use," says Saward.
In addition to botulism antitoxin, Emergent has developed a number of products that have been commercially produced, including some for military use.
One of these is a reactive skin decontamination lotion kit (RSDL) that can be applied to skin affected by chemical agents, to remove or neutralize chemical warfare agents and T-2 toxins such as Fusarium mold that can be absorbed through the skin.
It is the only decontaminant that neutralizes or removes known chemical warfare agents from skin. Emergent also has developed vaccines against anthrax and smallpox, as well as a Star-Trek-like auto-injector device containing an antidote for nerve agents.
Saward explains: "Beyond the antibody therapeutics, we have vaccines and antivirals, as well as medical devices to address various kinds of chemical and biological threats, and emerging infectious diseases such as Zika and Ebola."
Emergent is also working on fighting the common flu.
In fact, on Jan. 4, 2018, the company announced human trials of its anti-influenza immune globulin product being developed as an intravenous treatment for serious illness caused by influenza A infection in hospitalized patients.
"In our quest towards our mission – to protect and enhance life – Emergent has an opportunity to progress a novel therapeutic that could potentially address this unmet need and provide a treatment option for these patients where influenza can cause serious disease and even death," says Saward.
Throughout her career, Saward has acquired a broad range of expertise in biology and medicine.
"I've had very different types of research focus," she says. "I started in cancer research, worked for many years in cardiovascular, then moved into the field of infectious disease. They all have very common elements even though they seem diverse because they address cellular processes, and I've been able to translate my knowledge."
She adds: "I've always had the overarching goal to have a career that would make a difference in human lives, and provided value for my research. I chose industry for those reasons and was less focused on a specific area of research and more involved in developing drugs and bringing them to market. It's very rewarding to have been involved in several drugs that have made it to market in this way."
Around the world, botulism continues to be a serious health threat. A 2017 report from the International Society for Infectious Disease described an outbreak of botulism in Slovakia, and in late 2017, the Canadian Food Inspection Agency (CFIA) issued warnings about some products made from lake trout and sold across Canada. One illness was reported and the CFIA was concerned that trout roe and some smoked fish may have had the botulism bacterium.
Fortunately, the antitoxin that could save the lives of people affected by the lethal disease is produced in Winnipeg, and can be rushed to the scene of outbreaks wherever it is needed.
"This is a good example of how the commercialization of research can benefit people around the world," Saward says.