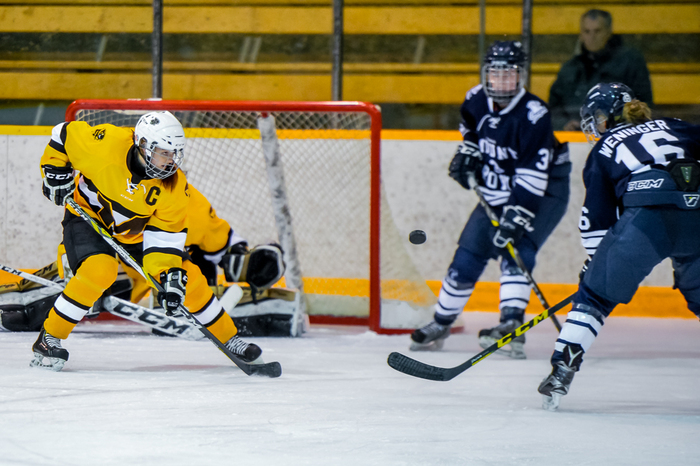 Bison women's hockey team hits the ice for home opener
Bison women's hockey home opener this Friday night
October 10, 2017 —
The Bison women's hockey team hits the ice for their home opener weekend.
The herd takes on the Alberta Pandas Friday night at 7:00 p.m. at the Wayne Fleming Arena. In case you miss it, you'll have a second chance to catch them Saturday at 7:30 p.m. also against Alberta.
Tickets are available at the door for $10. University of Manitoba students and fans age 17 and under are free.
The Bison women look for their second win of the season. They are currently one-and-one on the season after splitting a pair against UBC last week.
For full scheduled details visit gobison.ca.
Bisons poised for another memorable season
By Carter Brooks
There is a certain buzz in the air every time that the Bison women's hockey team is mentioned. Although it may just be the sounds of joyful exuberance blasting out the doors of yet another dressing room dance party, the excitement could also be based on the fact that the 2017-18 season should be a memorable one.
The Oswald sisters (Sheridan and Courtlyn) of MacGregor, Manitoba know it. Venla Hovi of Tampere, Finland can feel it. Head Coach, Jon Rempel, in his 14th season at the helm, can smell it brewing. While the league's leading scorer from the 2016-17 season, Lauryn Keen can almost taste it.
"I really think this is our year to win it, and everyone in the room feels the same way," said Courtlyn Oswald, a fourth year forward with the Bisons. "We are a pretty veteran group this year, and we know how much it hurts to lose in the finals or the semis. We remember that feeling, and don't want to feel it again. Our leaders have a lot of experience, and we have a strong group of rookies coming in – it's time to really build upon the last few seasons."
Oswald, who played in her third season with the Bisons last season, also spent the year providing guidance for her younger sister Sheridan, who joined the team as a rookie. It's safe to say that the two had ample time together.
"We were literally together 24/7 throughout the past school year," Courtlyn said. "We live together and pretty much just do everything together; we were actually in a few of the same classes before I got into my faculty. Our personalities are similar, but obviously when you're dealing with your sibling you hold nothing back. So, we do clash heads at times, but other than that we get along pretty well."
Most siblings don't have the chance to play university hockey together, or live together for that matter, but that is not the only accolade that the Oswald sisters share.
"We actually got to play one year of Team Manitoba together during Courtlyn's grade 12 season," said Sheridan, the younger of the two Oswalds. "I think that being in my first year last season, she really helped me get in with the team and get to know the girls pretty well. Courtlyn has definitely been a really big influence on my first year and helping with getting my university career going."
Once again joining the Oswald sisters in the fold this season will be Keen – a dynamic forward, very familiar with both the Bison program and the Oswalds.
Keen, who grew up in Manitou, Manitoba had an explosive third year for the herd, racking up nine goals and 25 assists for 34 points – a Canada West conference high. She also led the league with a +22 plus/minus rating.
"Lauryn just had one of those years that players have once in a blue moon," said coach Rempel. "There wasn't much more for her to do in a year individually. She was the Canada West MVP, the Canada West leading scorer and the Bisons' Female Athlete of the Year. Lauryn had some great chemistry while playing with a couple of really good players this past year."
One of those players is 29-year-old Venla Hovi – a two time Finnish Olympian and bronze medalist. Hovi's 12 years of international hockey experience easily trumps the accomplishments of her teammates, but according to linemate Keen, Hovi's humility and lack of arrogance is what really makes her an asset to the team.
"She doesn't put herself above anyone else," Keen said. "Even though she has way more experience and is older than all of us, she acts like she's one of us and is always positive with her feedback. It's super nice having her on the team, and we work really well on our line together."
Hovi, who plays the game out of "sheer appreciation and enjoyment", is very excited about the Bisons' upcoming season, plus the impending 2018 Olympics.
"I bring myself just as I am," she said. "I try to be a good example as an athlete, showing quality and consistency in training, but also in my experience. I appreciate hockey more and more every year, whether it's in Manitoba or Finland."
Adding to an already potent lineup is something that coach Rempel specializes in. The 2017-18 recruiting class will add size and depth to a roster hungry for another deep playoff run.
Five recruits and one transfer player, including three young women from the Winnipeg Avros – goaltender Lauren Taraschuk, forward Émilie Massé and defenceman Brielle Dacquay-Neveux – highlight the incoming flock of talent for the upcoming season. Also joining those recruits from out of the city will be forwards Madison Cole (Lloydminster, AB) and Natasha Kostenko (Fannystelle, MB), defenceman Lauren Warkentin (Steinbach, MB), and goaltender Devan Johnson (Stonewall, MB).
"Coach Jon definitely brought in another great group of recruits this past year," said Courtlyn Oswald. "I am already looking forward to seeing what this year's team will be capable of, and I just can't wait to get back with the girls."
Get ready Manitoba, it's very tough to stop a raging herd of Bisons.