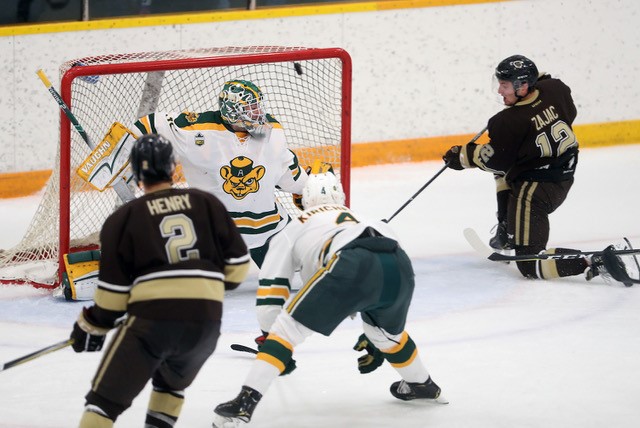 Asper students to represent Team Canada at 2019 Winter Universiade
March 1, 2019 —
Asper students Adam Henry and Nick Zajac will represent Team Canada at the 2019 Winter Universiade in Krasnoyrarsk, Russia. The pair have been selected to be on the Canada men's hockey team and will compete in the tournament which takes place from March 2 to 12, 2019.
The Universiade is an international sports competition held every two years where student athletes compete in eleven different sports.
Both Henry and Zajac have played together on the Bisons hockey team for several seasons, so they're used to representing their university. Playing for your country on an international stage, however, brings a whole new level of excitement.
"Representing my country is something I have dreamt about since I was a kid, and it becoming a reality is surreal," says Zajac.
The reality, however, comes at a cost; all participating players have to pay to travel to and compete in the Universiade, which costs $6,000. When they heard how much the trip was going to cost, Henry and Zajac set up a crowdfunding campaign with the university's support. Funds poured in from family and friends, the University of Manitoba, the Bisons and the Asper School of Business. Henry and Zajac were surprised and overwhelmed with the feeling of support: "Six thousand dollars is a daunting amount of money to raise, but we got so much support from our network in only a couple of weeks. I want to say thank you to everyone involved," says Zajac.
A fundraiser event the two had organized before they left ended up being more of a send-off party than a way to raise funds, thanks to the crowdfunding success.
Now that the money has been taken care of, the players can focus on the tournament.
The pair have headed to Russia a few days before the competition starts to practice with the team and overcome their jet lag. "I'm excited to meet the group and start practicing," says Henry. "Once we're on the ice, I'm sure my nerves will go away."
Despite being on the other side of the world, bringing home a gold for their country and university is still on the players' minds: "I'm sure myself and Adam will have a great time, and hopefully bring Canada and the University of Manitoba home a Gold," says Zajac.
"We wish Adam and Nick the best of luck in the tournament and Asper will be cheering them on from Canada. This is an incredible experience I'm sure they'll remember for the rest of their lives, and we can't wait to hear about it when they get back," says Gady Jacoby, Dean and CPA Manitoba Chair in Business Leadership, Asper School of Business.
The tournament's schedule and results of each game are posted on the Universiade's website.