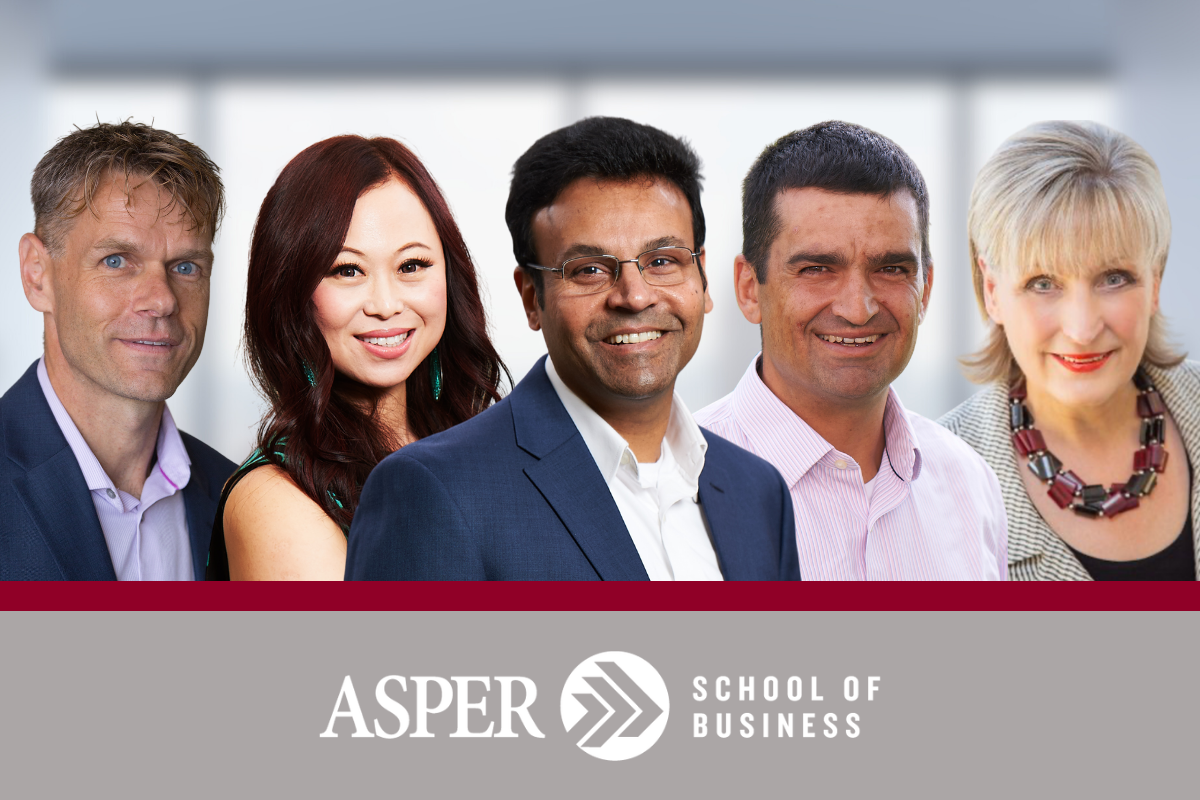 Asper staff and faculty honoured with UM Annual Community Outreach Award
New Applied Small Business Course connected students with local businesses
May 17, 2021 —
The Presidential Advisory Committee on University Outreach has selected five Asper School of Business faculty and staff for the 2020 Annual Community Outreach Award. Congratulations to Debra Jonasson-Young, Dr. Nathan Greidanus, Dr. Kerri Kettle, Dr. Subbu Sivaramakrishnan, and Dr. Fang Wan on their accomplishment.
The annual University of Manitoba Community Outreach Award honours support and academic staff who have been active in community engagement activities. The committee identifies the general purpose of community engagement as to enlarge and enrich the contacts between the University of Manitoba and all segments of the community.
Greidanus, Jonasson-Young, Kettle, Sivaramakrishnan, and Wan received the award for their work in creating the Applied Small Business Consulting course at the Asper School of Business, a course designed to respond to the challenges local businesses faced due to COVID-19 restrictions.
Launched in September 2020, this new undergraduate course was designed to give back to the Manitoba business community and provide students the opportunity to work with small businesses to help find solutions to their current challenges.
"I congratulate you all on this distinction and commend you for your work in developing a course to help local organizations facing challenges due to the COVID-19 pandemic," said UM President and Vice-Chancellor, Dr. Michael Benarroch, is his letter to the recipients.
The experiential course, supported by the Stu Clark Centre for Entrepreneurship, provided qualifying businesses, including non-profits, access to pro bono consultation, while giving students hands-on consulting experience. At the completion of the course in early January, each business received practical recommendations on how to overcome specific business challenges that may have been caused by COVID-19.
"The new Applied Small Business Consulting course was a win-win-win. It provided experiential learning for our students and gave local businesses pro bono consulting which they otherwise could not afford," said Dr. Subbu Sivaramakrishnan, Associate Dean of Undergraduate and International Programs. "But most importantly, it was an opportunity for the Asper School of Business to give back to the community and help small local businesses that have been hit hard by the COVID-19 crisis get back on their feet."
Dr. Gady Jacoby, Dean and CPA Manitoba Chair in Business Leadership, noted that for years, Asper School of Business students have benefited from the strong support provided to the School by the Manitoba business community and this course was as opportunity to give back to local businesses when they needed it most.
"I am very proud of the team of faculty and staff for receiving this award and most importantly for their dedication in developing this course," said Jacoby. "The altruistic initiatives we've seen in our School and in the community have truly been the silver-lining of this pandemic."