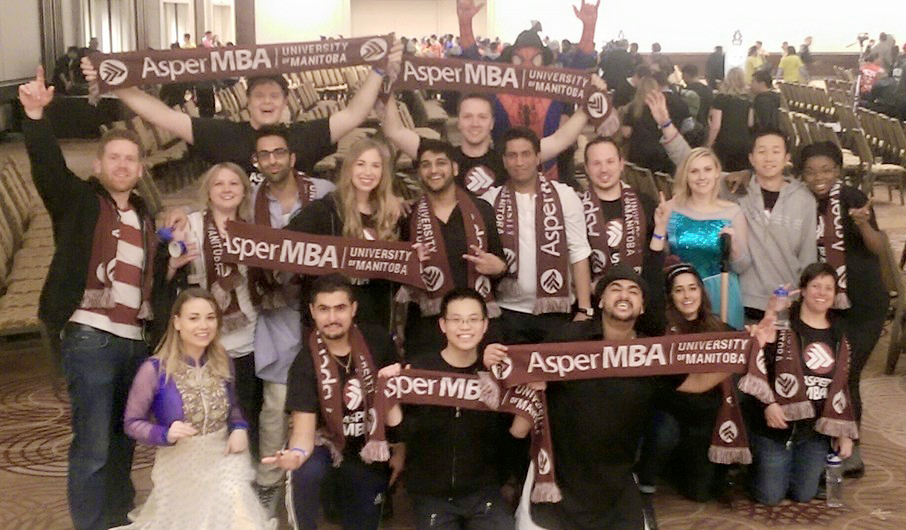 Asper spirit shines at MBA Games
January 11, 2016 —
Asper MBA students delivered a knockout performance at this year's MBA Games. Our Marketing case team (Amanda MacDonald, Geeta Chopra, Daniel Mills) placed third against 20 competing schools, while our Entrepreneurship case team (Steve Moffat, Joseph Cseh, Aditya Kedia, Karanbir Singh) reached the semi-finals (top six) against 16 competing schools.
A total of 21 Asper MBA students, led by co-captains Geeta Chopra and Amanda MacDonald, traveled to the Schulich School of Business at York University in Toronto on January 2 for the three-day annual event. They competed against more than 700 MBA students from business schools across Canada.
"Most teams had over 30 members. Given our small size, our accomplishments are even more impressive," says Chopra. "We left an incredible impression. So many people went out of their way to tell us how much spirit and energy we had."
This year's competition theme was #BeMore — a challenge to innovative more, give more, and be more. The Asper team produced a moving #BeMore video to help raise funds for Ronald McDonald House Charities Canada. The video placed third against 20 schools.
"Our video was hailed as one of the most creative videos out of all video submissions," says Chopra. "We dedicated $1 to every Like or Share the video received on the official MBA Games Facebook page."
In total, the Asper MBA team raised over $1,800 and was awarded third place in the MBA Games Fundraising category. The Games overall raised over $62,000 for Ronald McDonald House.