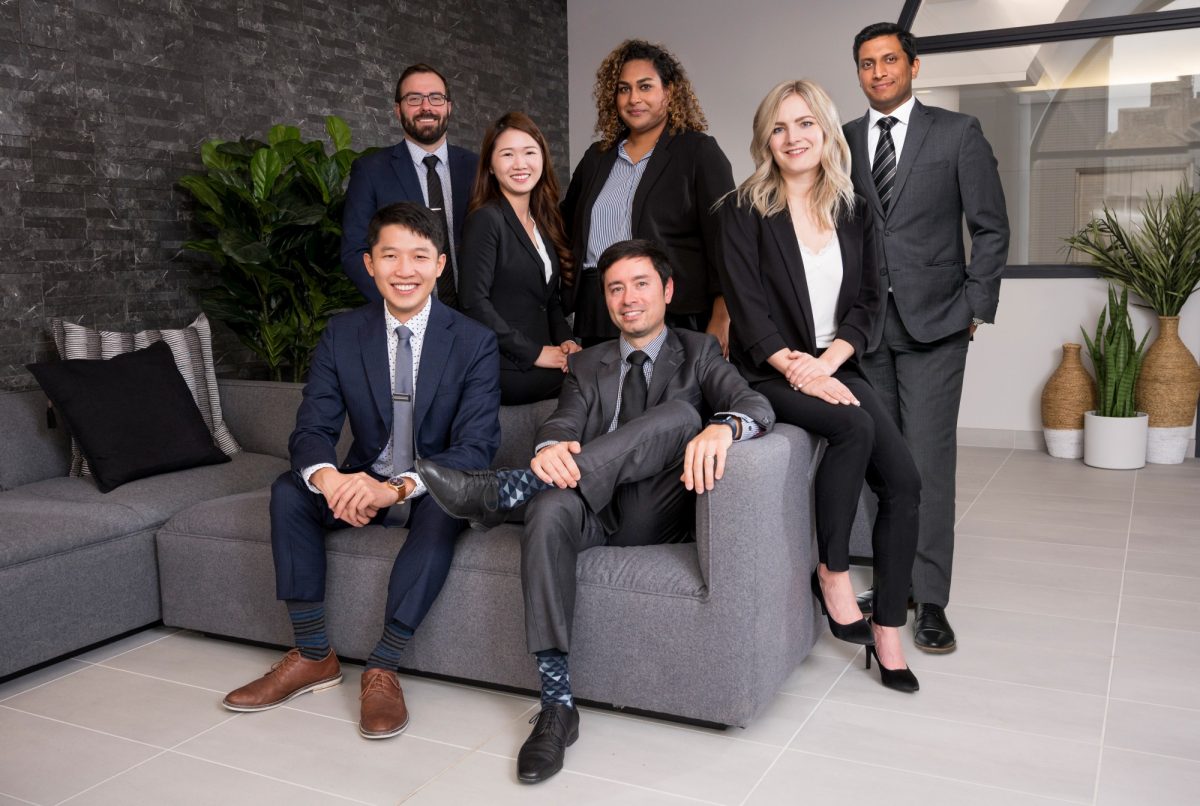 Asper School of Business team wins national MBA case competition
MBA students propose innovative solutions to pandemic-related employment challenges
November 16, 2021 —
The Asper School of Business MBA team represented by Eden Sorrell, Angus Cheung, Raymond Franczuk, and Sunny Sun took home first place at the DeGroote Innovative Solutions Competition. This competition is a national MBA case competition that challenges students to solve pertinent business problems related to the themes of agility, digital transformation, and community engagement.
At the two-day competition, each team was required to provide Schneider Electric with an innovative digital solution to improve their approach to attracting, acquiring, and retaining talent due to shifting employment trends exacerbated by the COVID-19 pandemic. Asper's team combined their business acumen and creative thinking to develop tangible solutions during a week of collaboration.
"This past week has been the most challenging, and by far the most rewarding experience of the MBA program for all of us. Being our first time at a national case competition, we entered without any expectations of victory," said Raymond Franczuk on behalf of the team. "We gave this competition everything we had in the weeks leading up and learned a ton in the process. We are honoured to bring home this win and are looking forward to representing Asper at the John Molson International Case Competition this January."
The team proposed a digital platform that leverages AI to adapt to employees' rapidly changing work preferences. This platform provided a flexible scheduling solution for a diverse workforce, a feedback mechanism to ensure that all voices were heard, and a novel compensation system to keep salaries competitive. The virtual case competition, that took place on November 13 and 14, was comprised of a preliminary round, a final round, keynotes, team building activities and networking with industry leaders.
"I am thrilled that the Asper MBA team represented our School so well at this national competition, especially with its focus on innovative thinking, agility and community engagement," said Dr. Bruno Silvestre, Acting Dean and CPA Manitoba Chair of the Asper School of Business. "I am extremely proud of this team and know that this success is the result of the combination of their hard work and the support of our outstanding faculty advisors and coaches."
Another MBA team represented by Jenny George, Ranu Jain, Gautam Rai, and Kasi Meyyappan had a strong presentation at the same competition. The team had a solid understanding of the challenges faced by Schneider Electric and clearly defined the contributing root cause. The judges were impressed by their focus on employee wellbeing.
The teams received support in their competition preparation by Faculty Advisors Arly Akerstream [MBA/17], Aditya Kedia [MBA/18], and Judith Jayasuriya [MBA/14] along with Bhaumik Ghandi [MBA/19], Trevor Lewarne [MBA/19], Meghan Ward [BComm(Hons)/11] and Associate Dean, Lukas Neville.
For more information about how to participate in case competitions please visit student experience or contact Judy Jayasuriya, Lead, Experiential Learning at Judy [dot] Jayasuriya [at] umanitoba [dot] ca.