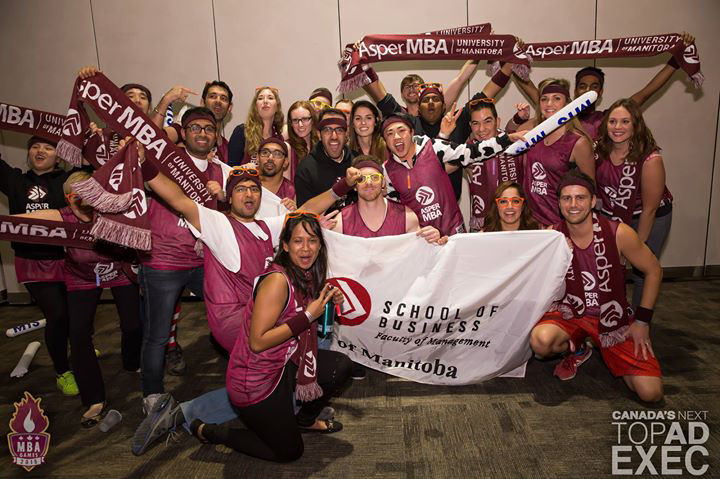 Asper rocks 2015 MBA Games
January 19, 2015 —
Congratulations to Asper MBA students Amanda MacDonald, Henry Tse and Geeta Chopra, who placed 2nd out of 20 in the Finance case competition at this year's MBA Games.
Twenty-six Asper MBA students led by team captain Peter Wheatley and volunteer coach Judith Jayasuriya traveled to Hamilton, Ontario on the weekend of January 2 to participate in the Games, which were hosted this year by McMaster University's DeGroote Business School.
The competition challenges teams from MBA programs across Canada to compete in academics, athletics, and spirit. This is only the second time Asper MBAs have participated in the MBA Games.
"Our outstanding achievement proves we can compete with pride against some of the best schools in Canada," says Marci Elliott, Executive Director of the Asper MBA.
Teammate Amanda Gebhardt says the "long days and longer nights" the team put into preparing for the Games were worth it. "The Games were a great chance to build camaraderie, network with other schools, and develop incredible school pride."
Highlights also included an opening ceremonies performance set to a mash-up of hit songs and choreographed by teammate Jon Anthony, and a spirit challenge to build forts out of cardboard and duct tape. The forts were judged by children representing the Ronald McDonald House Charity.
Gebhardt says Asper MBA students eligible to attend next year's Games are already "eager to begin strategizing how to beat our personal bests."
Watch the Asper MBA Facebook page and Asper MBA website for MBA Games action shots and video!
Photo Gallery