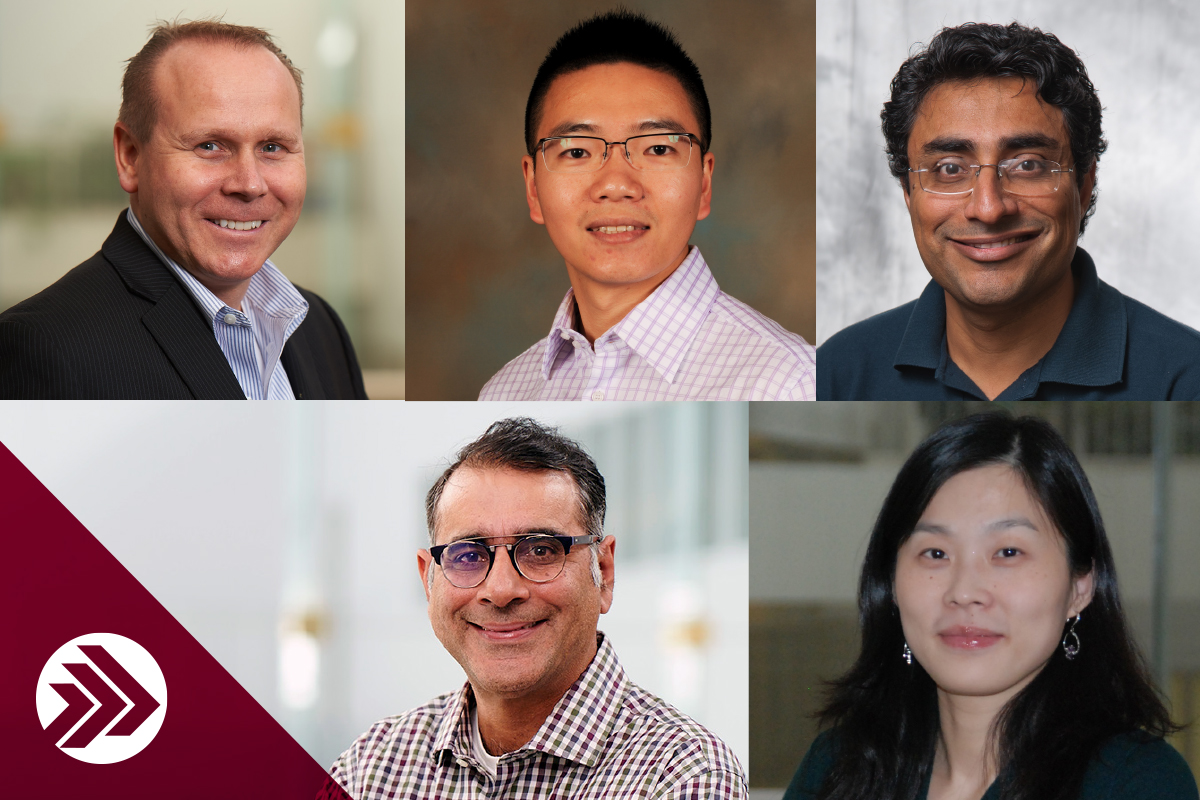 Asper professors honoured with the 2021 Associates Achievement Awards
Faculty members recognized for excellence in research, teaching and engagement
January 21, 2022 —
The Associates of the Asper School of Business have selected five recipients of the 2021 Associates Achievement Awards. The annual awards, valued at $5,000 each, recognize faculty members who have achieved outstanding performance in research, teaching and engagement.
—
2021 Associates Achievement Award Recipients
Associates Achievement Award for Teaching: Sean MacDonald, Business Administration Department
Specializing in human resource management and team building, MacDonald teaches courses in business administration at the undergraduate and MBA level. He has also been actively involved in student case competitions and student coaching. A consummate student favourite, MacDonald received outstanding course evaluations in 2021, even with the limitations of teaching virtually during the pandemic. In April 2021, MacDonald was also recognized for his excellence in teaching as the recipient of the 2021 Asper Golden Shovel Award, which is presented to a professor who graduating students select as having made the most significant impact upon them in their final year at the Asper School of Business.
Associates Achievement Award for Teaching and Research: Mingzhi Liu, Accounting and Finance Department
Dr. Liu has worked closely with the business community in his capacity as Liaison for Post-Secondary Institutions Articulation and Prerequisite Education Program with the CPA Western School of Business — a position in which he reviewed courses. In this role, Liu also initiated significant changes to the accounting curriculum in response to the recently released CPA Competency Map. He was engaged internally in work with colleagues to develop a Data Analytics in Accounting course, and with a UM Undergraduate Research Award-winning student who conducted a project involving directors' and officers' liability insurance and corporate auditing features. Liu also published an article in the Journal of Accounting and Public Policy, an internationally recognized accounting publication.
Associates Achievement Award for Research: Sandeep Arora, Marketing Department
In 2021, Dr. Arora, F. Ross Johnson Fellow in the Marketing Department, was published in the prestigious Journal of Marketing — an FT50 and AJG4-ranked publication with a reputation of publishing only the most impactful, thought-leading, substantive research in the marketing discipline. Arora has a second publication with the Journal of Marketing currently in its second round of reviews. He has also been successful in securing funding worth $60,000 with a MITACS Accelerate Grant and a SSHRC Insight Grant worth $75,415.
Associates Achievement Award for Engagement: Ying Zhang, Accounting and Finance Department
Dr. Zhang's engagement has extended to the broader professional business community by joining the CFA Society Winnipeg Board of Directors as the Ethics Challenge Chair. This role involves organizing the annual Prairies Region Competition for the CFA Societies Canada Ethics Challenge. The Ethics Challenge is designed to increase students' awareness of ethical dilemmas in the investment and finance industry through case analysis and presentations, resulting in recommendations to a panel consisting of CFA charter-holders. Zhang also served as the faculty advisor for the UM team participating in the challenge.
Associates Achievement Award in Engagement: Raj Manchanda, Marketing Department
Dr. Manchanda, an F. Ross Johnson Professor of Marketing has been heavily involved in bringing awareness to Indigenous Business Scholarship. He was integral to the success of the inaugural "Emerging Themes in Indigenous Business" research conference in March 2021. As part of this event, he worked tirelessly to bring together leading Indigenous and non-Indigenous scholars from around the globe to connect with leaders from the Assembly of Manitoba Chiefs and the Manitoba Métis Federation, along with university leaders and local business community members.
–
"Congratulations to our 2021 Associates Achievement Award recipients for your outstanding commitment to research, teaching and engagement this year," said Dr. Bruno Silvestre, Acting Dean and CPA Manitoba Chair in Business Leadership. "And thank you to The Associates for your continued dedication to advancing business education and research at the Asper School of Business."
This year's recipients will receive their awards at an event that will take place in spring 2022.
–
Comprised of more than 300 senior executives, since 1982 The Associates have been a driving force in advancing business education at the I.H. Asper School of Business. Giving back to the Asper School of Business and the business community are the hallmark attributes of the Associates.