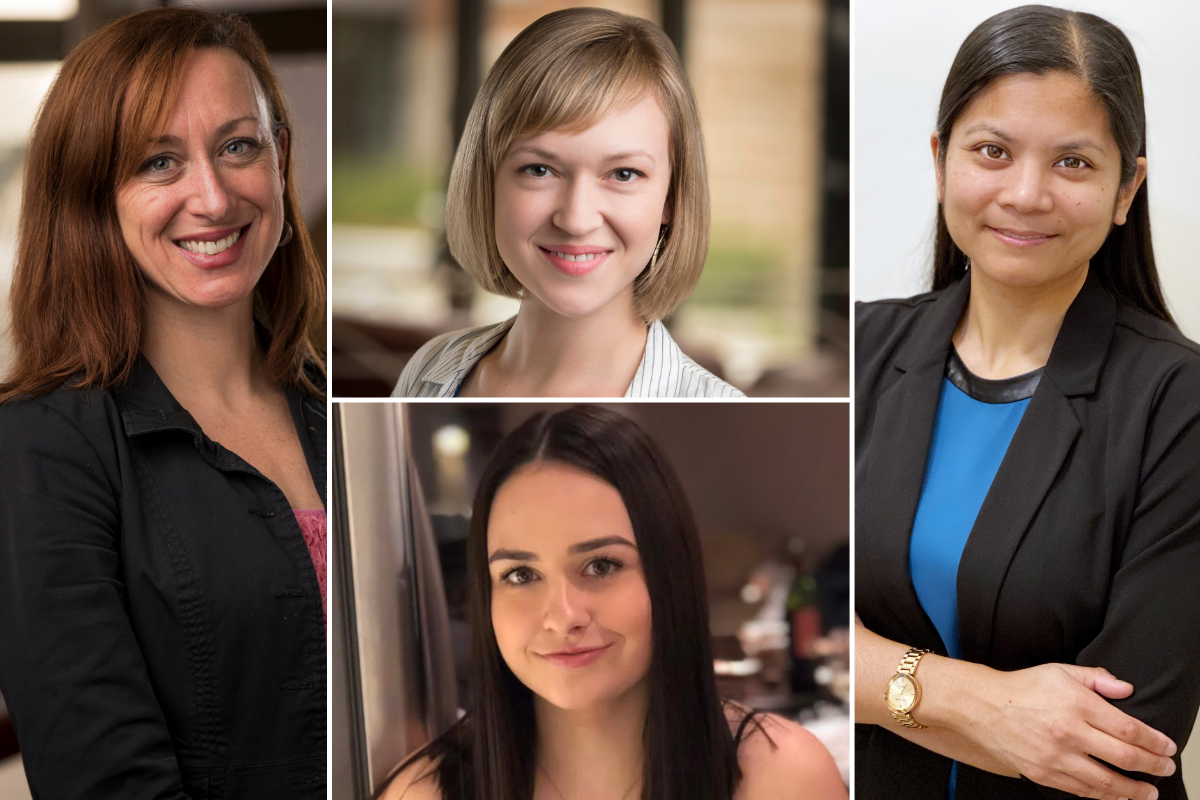 Asper MBA team places first at Reimagining Women in Leadership Case Competition
Recommendation on Open Banking model selected as the best in the North American MBA competition
March 8, 2021 —
Our MBA students placed first in the Reimagining Women in Leadership MBA Case Competition hosted by the Ted Rogers School of Management.
The competition was designed to bring together women from diverse backgrounds in North American MBA programs to exchange ideas on socially relevant business issues and topics related to women in leadership. Men who support women in leadership were also encouraged to join the conversation and participate at the conference and case competition.
The judges had a challenging time selecting a winner and announced a tie for first going to the Asper School of Business and the Ted Rodgers School of Management.
The winning Asper MBA team was represented by Erin Gair [BComm. Hons./18], Diana Dela Cruz [BComm. Hons./00], Nadine Pinette and Rhiannon Leier Blacher.
The team of four was asked to propose a strategy to implement open banking in Canada. They had to provide solutions to a number of different challenges including navigating the governance and regulatory process, infrastructure modernization, stakeholder engagement and consumer awareness.
"I'm in awe of the talent and dedication my teammates and coaches have demonstrated," said MBA student, Nadine Pinette. "I'm incredibly grateful to have participated in the case competition alongside these amazing women."
The team proposed a regulatory open banking model implemented by a banking cooperative that supports data integrity and access for all Canadians.
"Our team was a powerhouse. The industry judges, executives representing all the relevant stakeholders including the Department of Finance, CIBC, BMO, and Interac, were impressed by the level of expertise and professionalism," said Judy Jayasuriya [MBA/14], Lead of Experiential Learning and team coach. "We could not ask for better ambassadors of the Asper brand."
The team's success can also be contributed to the valuable coaching and support from Asper MBA alumni, Bhaumik Ghandhi [MBA/19] and Trevor Lewarne [MBA/19]. They were also supported by Dr. Suzanne Gagnon, and alumni Arly Akerstream [MBA/17], Aditya Kedia [MBA/18], and Sara Rusak [MBA/19] along with community member Joanne DeLaurentiis.
Based on their first place result the Asper MBA team receives a 12-month 1:1 Mentorship program with a focus on enhancing board governance knowledge and access through Women in Governance, a Canadian organization that advocates support for the advancement of women through concrete actions. The program was developed to support a wider circle of women at the professional and executive levels and in all geographies.