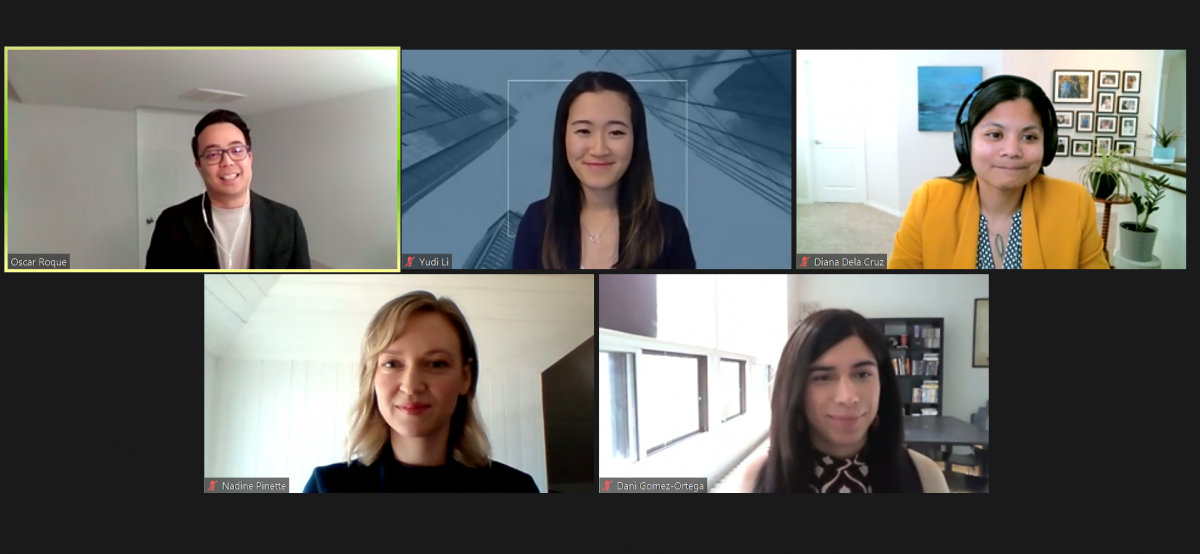 Asper MBA students present open banking model at the Canadian Open Banking Forum
April 21, 2021 —
What started as an entry into a national MBA case competition has turned a team of female Asper MBA students into "experts" on inclusive innovation in Canada's open banking implementation.
University of Manitoba Asper MBA students, Diana dela Cruz and Nadine Pinette along with support from Erin Gair, Rhiannon Leier Blacher and Faculty Advisor Judy Jayasuriya have been invited to share their unique perspectives on diversity, equity and inclusion for open banking at Infonex's Canadian Open Banking Forum, a national virtual conference running April 20 to 21. The team will present alongside some of the foremost leaders in the finance and FinTech space from organizations such as Deloitte, TD, Accenture Financial Services, Portfolio + and CIBC.
This opportunity is a result of the team's first place finish at Ryerson University's Reimagining Women in Leadership case competition where the team's proposal for the launch of open banking in Canada placed them in a tie for first among 14 MBA teams from across North America.
"When we were first provided the case we were all unsure we would be able to develop a strong solution, but we did our research, listened to podcasts and shared all the knowledge we gained on the topic," said MBA team member, Rhiannon Leier Blacher. "We went from knowing close to nothing about open banking to confidently presenting a model to some of Canada's top financial leaders who judged the competition."
This confidence garnered attention from Interac Canada, who was impressed with the team's depth of knowledge and insight on the complexities of open banking. Following the Ryerson competition, Interac invited the students, along with the Ryerson University winning team to present at the Interac Innovation Team monthly meeting in mid-March.
"At Interac, we value diverse perspectives and inclusive innovation that focuses on the needs of all Canadians. The Asper MBA team successfully balanced the diverse needs of a myriad of ecosystem stakeholders and kept EDI principles at the heart of their recommendations to provide more transparency, flexibility, and control for consumers in Canada's Open Banking implementation," said Oscar Roque, VP, Strategy & Emerging Solutions. "By demonstrating their leadership capacity through the insightful recommendations on a live and highly complex case study, the team has garnered significant industry attention. We are pleased to host these leaders at upcoming industry events such as the 2021 Canadian Open Banking Forum."
Diana dela Cruz and Nadine Pinette will join Oscar Roque, VP, Strategy & Emerging Solutions, Interac Corp. and Ryerson University students Dani Gomez-Ortega and Yudi Li in a Q & A panel entitled Unique Perspectives: Diversity, Equity and Inclusion for Open Banking on day two of the Canadian Open Banking Forum.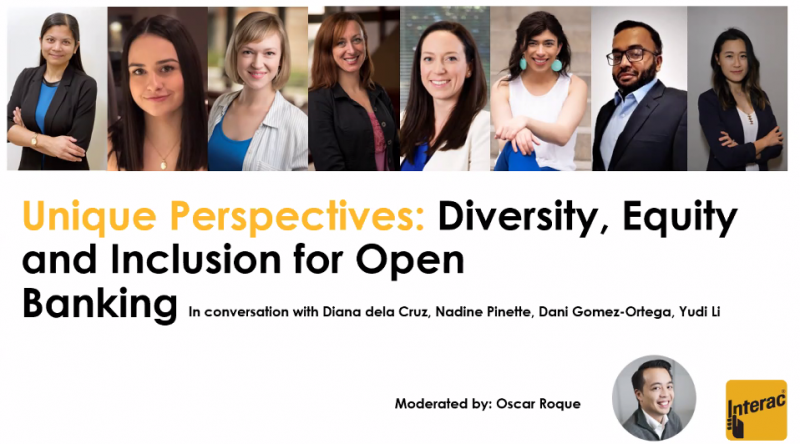 Team member, Diana dela Cruz, [BComm(Hons.)/00] is a part-time Asper MBA student, balancing the program while working as a Business Analyst at Payworks Inc. She commented on the unexpected national exposure the team's proposal has generated.
"When we began, I don't think any of us could have imagined the attention our presentation at the case competition would garner," said Diana dela Cruz. "We've been honoured to be invited to participate in further conversations and after learning about Open Banking and all the benefits it has to offer, I know we're all excited to see it implemented in Canada."
The Q & A session, taking place on April 21, will highlight the importance of underrepresented consumer groups and why diversity, equity and inclusion should be at the forefront when implementing open banking in Canada.
"The national success of this team is a testament to their hard work, commitment and ingenuity in dealing with the complex challenge of Open Banking," said Dr. Gady Jacoby, Dean and CPA Manitoba Chair in Business Leadership. "The importance of business innovation combined with the diversity theme epitomizes the values of the Asper School of Business and I am thrilled how this team has represented our school on the national stage."
View the full Canadian Open Banking Agenda here.