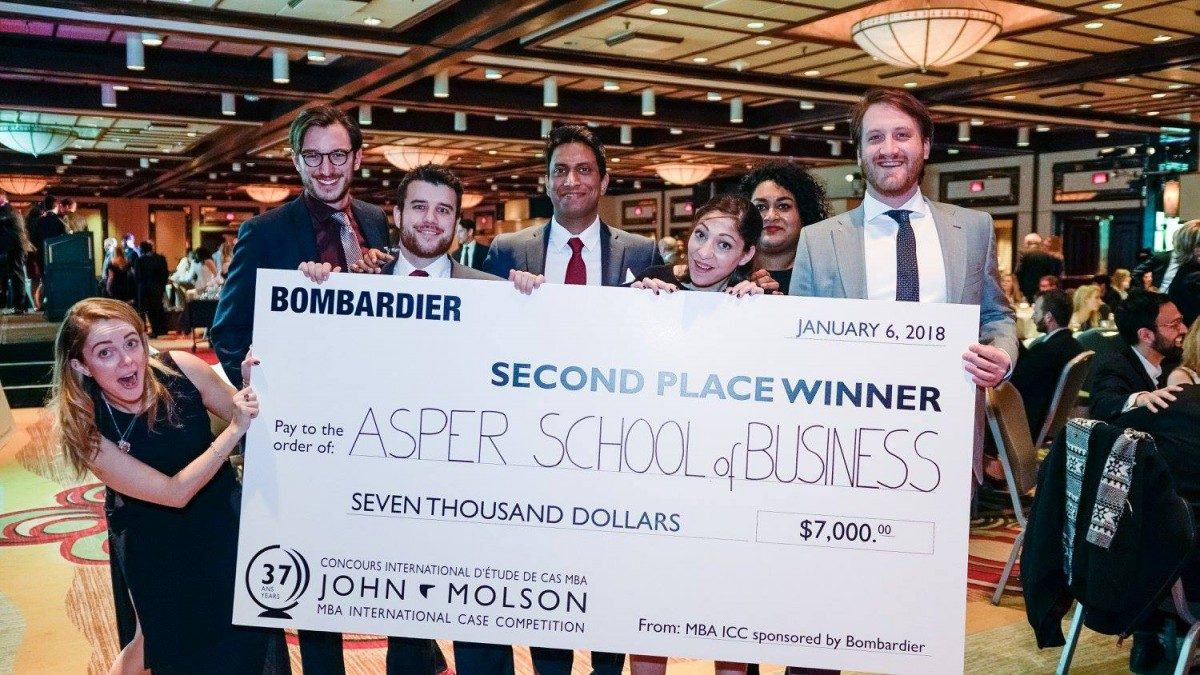 Asper MBA scores second place finish at Molson
January 10, 2018 —
The Asper MBA team scored a second-place victory at the world's largest case competition in Montreal last week.
The John Molson MBA International Case Competition challenged the students to analyze and evaluate unpublished business cases using their MBA skills, knowledge and experience, without the benefit of internet access. Each round ended with a presentation to judges demonstrating their in-depth understanding of the problem, and proposing viable solutions.
The Asper team – the only team in North America to make the finals – won $8,000 in prize money after competing against schools from China, the Netherlands, Sweden, the Dominican Republic, Ireland, Brazil, and Ontario. Judges included some of Montreal's preeminent business leaders.
Team member Nicole Peloquin, a third-year MBA student, says the competition challenged the team to work through a variety of case studies focusing on business ownership. The week was grueling but the team really came together, she says, with other competitors noting "how well we worked together and the camaraderie we displayed."
She adds the "high calibre of students who had made the team in previous years was enough enticement for me to try and win a spot on this year's team."
The team began preparing for the Molson in August 2017, says coach Judith Jayasuriya. They used the three months leading up to the competition to hone their case analysis skills, persuasive presentation style and teamwork.
"Success at Molson comes from improving every day with every case, and being quick to adapt" — not just before, but during the competition, when the team found itself working late into the night incorporating feedback from judges into the next day's presentations.
"Any coach would be proud to see their team compete at the highest level," she adds.
Assistant coach Matt Schaubroeck says Asper's second-place finish shows that Asper MBA students are world-class thanks to the program's emphasis on real-world learning.
"Success in a case competition requires skills that are in demand at boardroom and corporate tables across the world; our team's success at the Molson competition shows how our students and graduates are ready to meet those challenges."