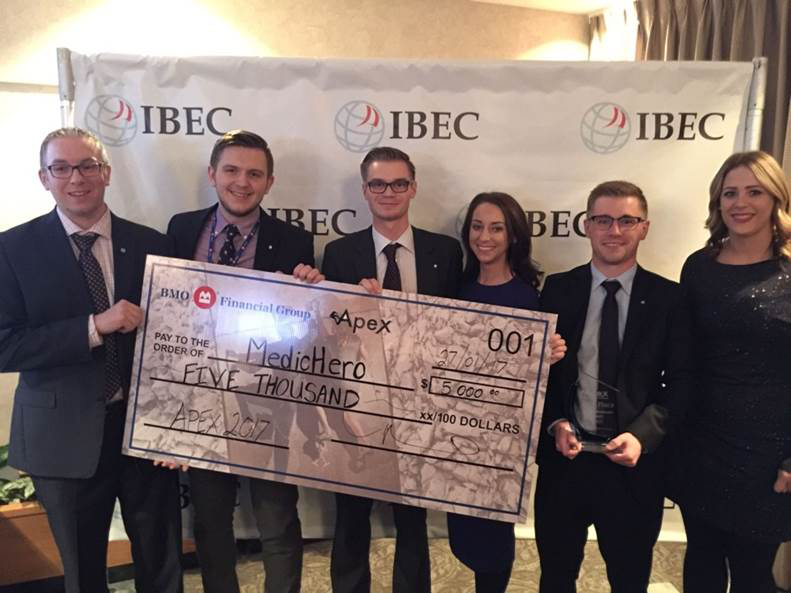 Asper entrepreneurship students win big at BMO Apex
January 31, 2017 —
Team MedicHero, composed of Asper School of Business undergrads Evgeny Gotfrid, Joshua Zaporzan, Marlee McMillan, and Derek Solman, has won First Place at the BMO Financial Group Apex Business Planning Competition.
The team also brought home the People's Choice Award, which goes to the top presentation from both undergrad and graduate student teams.
A prestigious annual competition, BMO Apex took place January 25-27 in Fredericton, New Brunswick. The event brought together entrepreneurship-minded students and venture capitalists from around the world. MedicHero competed with teams from Carlton, Dalhousie, Waterloo, the University of New Brunswick, and India.
Members of the team were hand-picked from the Fall 2016 New Venture Analysis class taught by Stuart Henrickson, I.H. Asper Executive Director for Entrepreneurship at the Stu Clark Centre for Entrepreneurship.
"Each student demonstrated a strong work ethic, leadership and presentation abilities, and a collaborative team approach to realizing his or her ideas – essential traits for an entrepreneur," says Henrickson.
The team worked closely with Winnipeg entrepreneur and Asper graduate Luc Bohunicky to develop an app that helps paramedics reassess patients in emergency situations. According to Team MedicHero's pitch, the app has the ability to save time, money, and lives. Over 2,700 lives are lost in North America each year due to paramedic errors.
At BMO Apex, the team presented an aggressive business strategy that featured a growing seven-person sales team covering North America in four years, and a revenue increase to $4.2 million, providing a 644 per cent return to investors.
For the two wins, MedicHero collected a total of $6,000 in prize money.
"The team did an incredible job in just three weeks, putting together a thorough business plan and an MBA-level slide deck that literally dazzled the other teams and the audience," says Henrickson.
Team MedicHero's entry into BMO Apex was possible thanks to a donation from the Asper Foundation.
Find out more about the BMO Apex
In the news: Winnipeg Free Press: "Asper team wins planning contest"