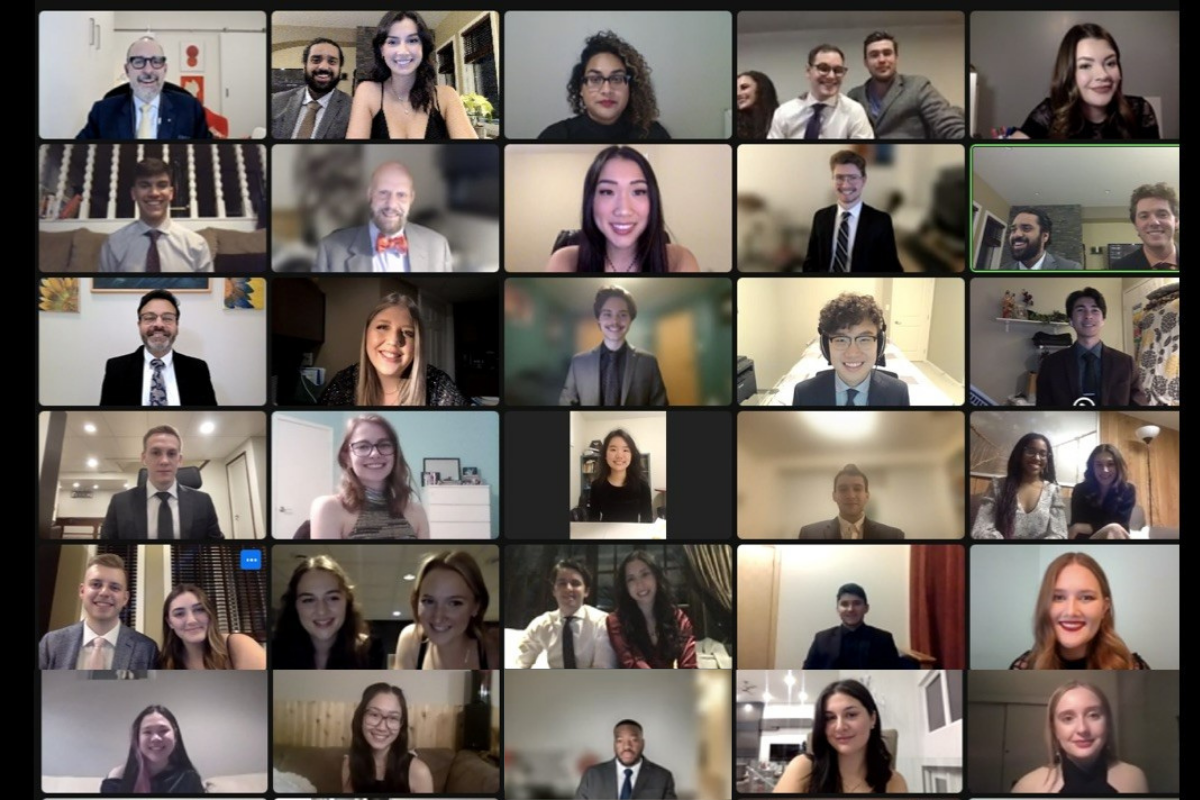 Asper Case teams draw valuable lessons from experiential learning
Case competition at a glance - January 2022
February 9, 2022 —
Only one month into 2022 and Asper students are already busy successfully representing the School on the international and national case competition stages. The Asper School of Business undergraduate and graduate teams have been working together for months with resilience and determination. Through this valuable experiential learning opportunity, students have tested their knowledge and improved critical thinking skills, all while expanding their networks.
John Molson International Case Competition (JMICC) – January 2-8, 2022
The John Molson MBA International Case Competition is a not-for-profit event organized by a team of MBA candidates from the John Molson School of Business at Concordia University in Montreal, Canada.
Asper's MBA team comprised of Angus Cheung, Sunny (Qianwen) Sun, Raymond Franczuk and Eden Sorrell won the Export Development Canada (EDC) division and progressed to the semifinals. The team excelled in the competition with the second highest points in the divisional round among 30 international schools including Nanyang University (Singapore), Insper (Brazil), Michigan State University (USA), John Molson School of Business (Canada) and Heinrich Heine University Dusseldorf (Germany). The depth of the team's analysis and detailed implementation were distinguishing characteristics throughout the competition, generating significant positive feedback by the judges, spectators and other coaches. The Asper foursome tackled a wide range of strategy cases, some of which included: creating market expansion for Austrian start-up Bobsla, developing a growth strategy for Instacart and outlining a three-year roadmap for Toyota's new venture – Kinto.
"Participating in the John Molson International Case Competition was undoubtedly the highlight of the MBA program. The significant effort in preparation and the overall experience competing in the event was truly transformative for each of us," noted the MBA Asper team. "Most notably, we have improved our ability to analyze, strategize, and concisely communicate realistic business proposals to senior executives. Our improved agility in responding to complex and varying business conditions is directly transferrable and will certainly give us a newfound edge in our professional careers."
The team received support in their competition preparation by a number of alumni, community members and Faculty Advisors: Arly Akerstream [MBA/17], Aditya Kedia [MBA/18], Judith Jayasuriya [MBA/14], Bhaumik Ghandi [MBA/19], Trevor Lewarne [MBA/19], Jeremiah Kopp [MBA/20], Matt Borgford [MBA/20], Tanis Brako [MBA/19], Bryan Fosty [BComm(Hons)/10], Matt Stephens [MBA/20] and Carlos Kan [MBA/19].
Inter-Collegiate Business Competition (ICBC) – January 13-15, 2022
The Inter-Collegiate Business Competition (ICBC) is Canada's premier undergraduate business case competition. Striving to unite, challenge and enrich the business leaders of tomorrow, prospective finalists compete for a position in the final round by completing a business case analysis that the ICBC executive provides. The Asper duo comprised of undergraduate students Fajr Awan and Jonny Hoang placed 3rd in the marketing category joined by the University of Vermont and the Haskayne School of Business that completed the podium.
The Asper team received a case requiring them to provide a growth strategy for Red Gold of Afghanistan (RGA), a revenue-driven social enterprise whose primary goal is empowering Afghan women through education and training in saffron agriculture and commerce. They were tasked with connecting Canadian consumers to RGA by expanding online channels and looking for new retail partners while dealing with supply constraints.
"Attending the Inter-Collegiate Business Competition was a massive learning experience from which I've gained essential skills from. One being public speaking that enabled higher confidence in myself when presenting my ideas in my own professional life," said fifth-year Bachelor of Commerce marketing and supply chain management major Jonny Hoang. "Additionally, I was able to boost my critical thinking and time management skills due to the constant practice and effort in preparation for the competition led by Judy Jayasuriya and Howard Harmatz."
The team received support in their competition preparation by Faculty Advisors: Judith Jayasuriya [MBA/14] and Howard Harmatz.
JDC West – January 14-16, 2022
JDC West is the most prestigious undergraduate business competition in Western Canada, hosting 1,300 attendees and uniting over 650 delegates from twelve premier post-secondary institutions each year. Over the course of three days, students from British Columbia, Alberta, Saskatchewan and Manitoba showcased their skills in the academic, athletic, debate, and social aspects of the competition.
"I can whole heartedly say that competing in JDC West and being a member of the Team Toba community has been one of the most fulfilling experiences of my undergraduate degree," said fifth year Bachelor of Commerce marketing major Thalia Padron Linares.
Team Toba participated in all categories and made to the podium three times: Nicole Smith, Gurkamal Dhaliwal and Raffaele Cianflone placed 1st in Finance, Shreyas Chaudhari, Alex Blake and Thalia Padron-Linares placed 1st in Business Strategy and Team Toba placed 3rd in Charity Hours.
The teams received support in their competition preparation by over 60 volunteer coaches made up of alumni and community members.
MBA Games January 7-9, 2022
The MBA Games provides a unique opportunity for MBA students to meet and engage with their colleagues from across the country. Fifteen institutions participated in academic, athletics and spirit events and the competition concluded this month. The team comprised of Akansha Singh, Anubrata Gangopadhyay, Dhruv Sharma, Kasi Meyyappan, Kelvin Lui, Navdeep Rana, Stefan Ozog, Navaid Mohammed, Divya Tyagi, Graham Taylor, Rohit Pathania, Shantanu Patel, Sai Sumanth Mellacheruvu, Yash Sehrawat, and Janet Chen had a number of top placements in the Spirit category:
Summary of results.
First place, alongside the University of Alberta, in the interschool fundraising challenge raising $11,240 ($562/participant)
First place, for Enthusiasm and Engagement. It was mentioned that our team embodied the collegial characteristics that defines the MBA Games
Graham Taylor was recognized for his leadership and voted the most enthusiastic Team Captain over the other 14 team captains
The teams received support in their competition preparation by Faculty Advisors: Judith Jayasuriya [MBA/14] and Howard Harmatz.
For more information about how to participate in case competitions please visit student experience or contact Judy Jayasuriya, Lead, Experiential Learning at Judy [dot] Jayasuriya [at] umanitoba [dot] ca.