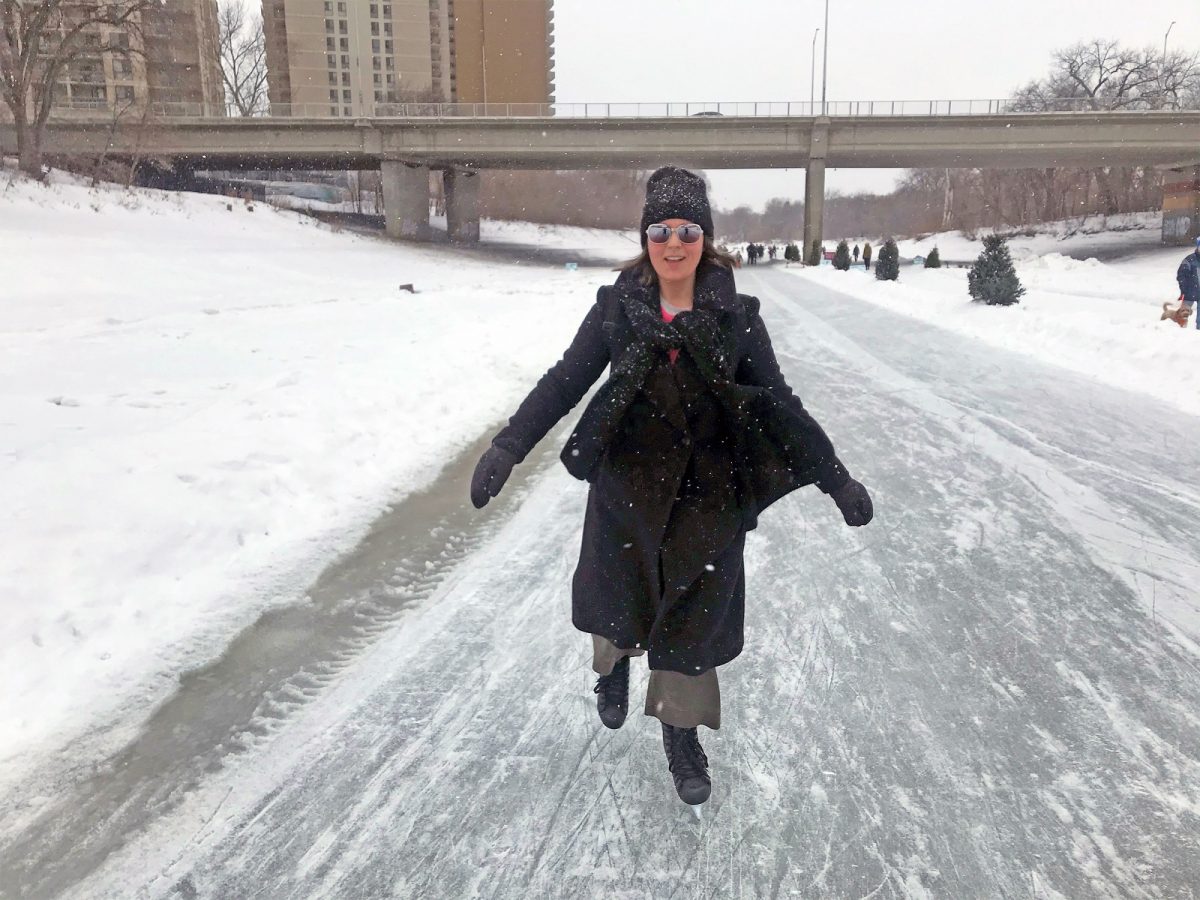 Asper alumna appointed CEO of The Forks North Portage
Stasiuk's commitment to sustainability and community spaces will guide organizational vision
November 1, 2021 —
Asper School of Business alumna, Sara Stasiuk [BComm(Hons)/97] was recently named as the new CEO of The Forks North Portage Partnership, a not-for-profit organization that encompasses The Forks and the lands under and surrounding Portage Place Mall in Winnipeg. Stasiuk, who is CPA and CMA certified, moves into the role from her previous position as Vice-President of Finance and Operations.
The Asper School of Business connected with Stasiuk to discuss her new position and how she plans to use her strategic leadership and financial management experience to achieve the organization's vision.
ASPER: What has the transition been like from VP of Finance and Operations to CEO?
Sara Stasiuk: While we don't have a specific transition plan detailed, I've been here for five years. I think it will be a natural and easy exit of the organization for him (past CEO, Paul Jordan) to move on to retirement and an entrance into this role for me.
ASPER: What are you looking forward to the most over the next few years as CEO?
Sara Stasiuk: We've been actively working on Railside at The Forks for about five years. Over the next decade, we will be developing the rest of the brownfields here, which are currently the surface parking lots. In our first phase we're hoping to get in the ground summertime [2022]. It will be 10 mid-rise buildings four to six-stories buildings. The flow will be like The Forks where you can open up the doors of the main floors, and visit retail or restaurant services. Floors two to six will be residential. So that'll be an interesting new component: how do we bring in the dynamic of people living on this site and still keep the feel and vibe of The Forks?
Another thing is really focusing on our public space strategy—this is something that the pandemic showed us. We knew that public space is important to people, but the pandemic absolutely showed us how important it is and how valuable The Forks is to our community. It's a place where people can go to be engaged, or see things that they haven't seen before in terms of art and architecture. This means refining our public space strategy and how we can continue to be a coveted amenity for recreation, inspiration, solace and peace for citizens of Winnipeg and Manitoba.
ASPER: The river trail really kept me sane last winter! People in Winnipeg really appreciated having that public space during the pandemic.
Sara Stasiuk: It was this time last year that we were financially in a downward spiral like everybody else. The CEO, the other VP and myself were sitting around overlooking the area where the river would eventually freeze and thinking, okay, well, what do we do? Do we spend a half-million dollars on this thing during a pandemic?
This was when our community needed us the most, and so we decided to take that risk. Usually, there are revenue streams associated with the river trail. People pay for parking or they come inside and buy something from the tenants. We didn't know if we would have any of this and indeed, food and retail stayed closed all winter. Last winter was a reaffirmation that we are more to our community than just a set of commercial businesses. Our heart and soul is about gathering, it's about the space, it's about being an amenity for the community.
ASPER: I find The Forks to be a very sustainable place, like the water taps and reusable cutlery and dishes in The Common. Is there anything else in the future for The Forks to become even greener?
Sara Stasiuk: We're constantly looking for things that we can do; however, whatever we do has to make sense. From a business model standpoint, it's not just a demonstration project. The reason the water cups and our reusable dishware work is because we have the capital to invest. We're able to have a long view, to create this dishwashing station, which is a pretty expensive undertaking. We're able to make it back from the tenants when they are spending 3% of their gross sales on disposables, we can now charge them 2% and recover some of the initial investment. We joke that these projects are where the two greens meet: environmental green meets the income statement green, the money green.
Our market building is heated and cooled with a geothermal system. We had a geothermal field and system installed about 10 years ago. It's basically paid for itself now, from the natural gas bills that we haven't had to pay. We're extending that to the Railside project, which is pretty exciting to me. We have these new buildings going up and there's an environmental impact on any construction project. Any operation of the building itself is obviously going to have an environmental impact. Being able to offer our developers this sustainable option for heating and cooling will reduce GHE (Green House Emission] significantly. It's going to end up being cheaper for them in the long run because we're together paying off the cost of the initial investment. Well before their 99-year leases expire, we're going to be in a position where there is no there's no more expense related to heating and cooling.
We're able to do it because we're here for a long, long time, so we can look at a 20- or 30-year payback on investment where the general zeitgeist timeframe is a little shorter than that these days.
ASPER: You have your undergrad in finance and graduated in '97. Do you feel like there's anything that you took with you from your time at Asper that has really helped you professionally?
Sara Stasiuk: Everything, it's shaped my whole career. My brain has always been in business, but my heart and soul and feet have always been in the arts. I have always been able to find meaningful work in the arts because I had that business foundation.
Something that has been coming up more and more in my own philosophy —kind of the way that I frame things to myself—is this idea of the 'blue ocean,' which I was first exposed to in business school. The idea that its collaboration over competition, and the idea that you can make a new pie or a bigger pie and everybody can win. So that's been a concept that stuck with me: you don't have to compete for a bigger slice of the pie. You can actually contribute to the whole ecosystem when you build something new, you grow the pie when you offer something that hasn't yet been offered. That translates directly to what we try to do here at The Forks as we try to bring something new to our communities that aren't in competition, like offering new entrepreneurship opportunities rather than poaching businesses from other areas of town. We want to develop new amenities, bring a new vibe that then attracts new people downtown, new dollars, new energy and new passion.
I think that practice, the creative application of business principles, has been ingrained in me from the very start. It's something that I love –  finding new and interesting ways to apply. I feel like I've been really fortunate in my career. I've always been able to do work I find inspiring and meaningful, and I totally owe that to having this degree.