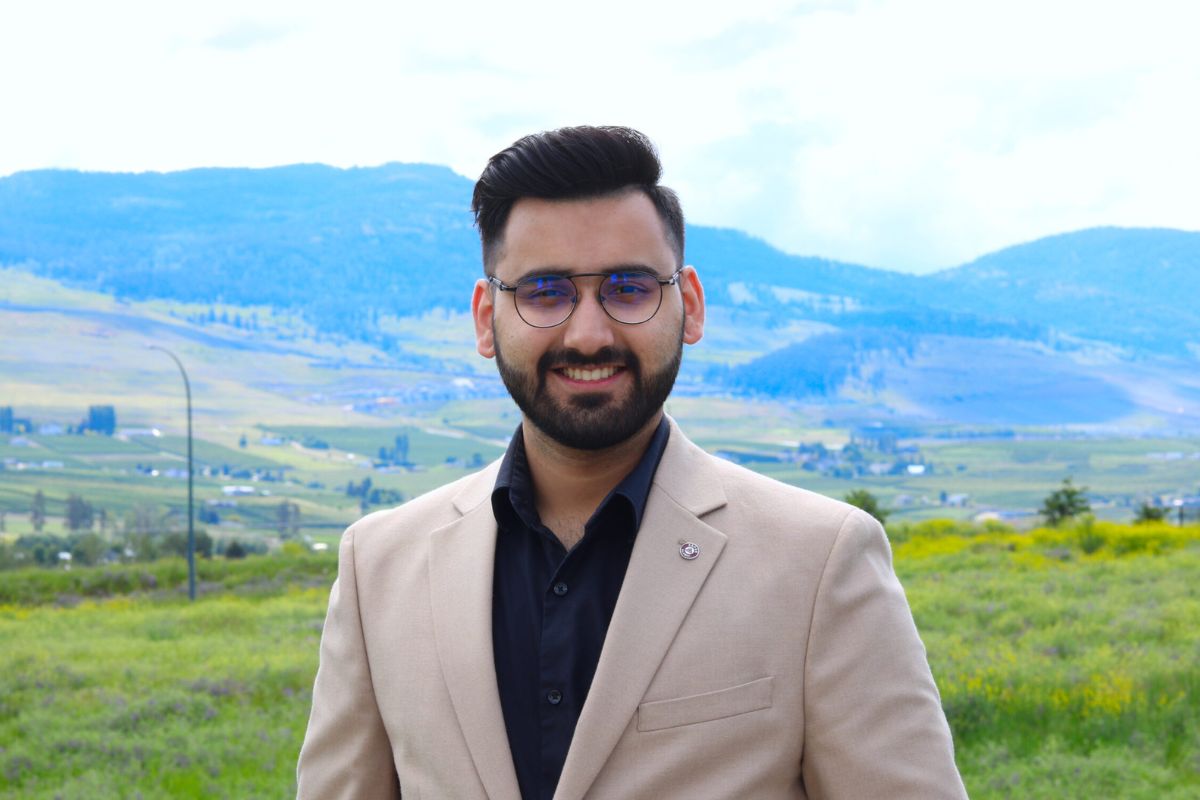 Asper alum follows his intuition to re-map success
Sidhant Sharma demonstrates that leadership inspires innovation, not imitation at major transport company
April 3, 2023 —
"You don't always need a role model—sometimes, you need to envision and learn who you want to be."
Sidhant Sharma [BComm(Hons)/21] is forthcoming about the highs and lows of his career journey. A Business Analyst Team Lead at Bison Transport, Sharma says the secret to his success is a combination of leaving his comfort zone, leading with responsibility, and following the occasional gut feeling.
He grew up in India and attended high school in Ghana. Despite having a career plan that began with studying in the United States and pursuing computer science, Sharma perused other programs online and found himself drawn to a school in the Canadian prairies.
"I came across the University of Manitoba. I found something there. I'm a very logical person, but there was really no logic behind it. I wanted to go to UM. I had a gut feeling."
That gut feeling led to Sharma enrolling at the International College of Manitoba, then beginning a computer science degree at UM. At first, everything seemed great.
"I arrived, made friends, did well academically; everything was perfect. That's when the challenges settled in from being alone here and trying to figure out what I want to do with my career. I was comfortable, but internally things were coming up. I wasn't enjoying or connecting with my computer science classes."
Once again, Sharma had a viable future ahead of him, but a nagging gut feeling was pulling him toward something else. His struggles felt less like a challenge to overcome, and more of a sign that something wasn't working.
"It was February 2018," says Sharma. "I opened up the Asper portal and applied without telling anyone."
As soon as Sharma was accepted at Asper, he was thriving—it felt right. He went on an International Exchange, completed three Co-op terms, competed in case competitions and was actively involved in the Commerce Students Association (CSA)—Sharma was even the first international student to run for an elected role. These experiential learning opportunities defined his education, but also shaped him and his connection to Winnipeg.
"I wouldn't be the person I am today without my experience at Asper. That includes the people I've met who genuinely cared about me. I developed a network of friends and a strong professional support network. With these networks, I got closer to the person I wanted to be."
For his third co-op term, Sharma worked in Labour Relations at the Government of Manitoba. Despite facing self-doubt during the application process, Sharma's interview was a success, thanks to his confidence and technological skill.
Once hired, Sharma developed a database that streamlined the department's cross-referencing of past contracts as they drafted new ones. He created an efficient and effective tool and ensured that the team could continue using and adapting it when his co-op term was over.
"I could see the value that I was creating with my work, and I know the government still uses the database I created today."
For Sharma, this project revealed what matters to him in his career. It wasn't just about doing good work; it was about being able to leave that work in the hands of people who feel empowered to use and transform it.
Now, as Team Lead at Bison, Sharma aims to inspire innovation in problem solving, rather than imitation.
"What I like about this job is solving problems and empowering others to do the same. As a leader, I aim to help my team be the best versions of themselves without it being conditional on them doing something exactly how I would."
When Sharma says that you don't always need a role model, he doesn't mean that you can only succeed on your own. He means that you can be your own blueprint for success and impact others by being the best version of yourself.
"We get used to the idea that success looks a certain way, but if you don't fit that mold, success feels out of reach. When people see the value in how they are different, when they have the confidence to carry it, they have this energy," he says. "You grow, you adapt, but you are unapologetically yourself. That's how you make an impact."