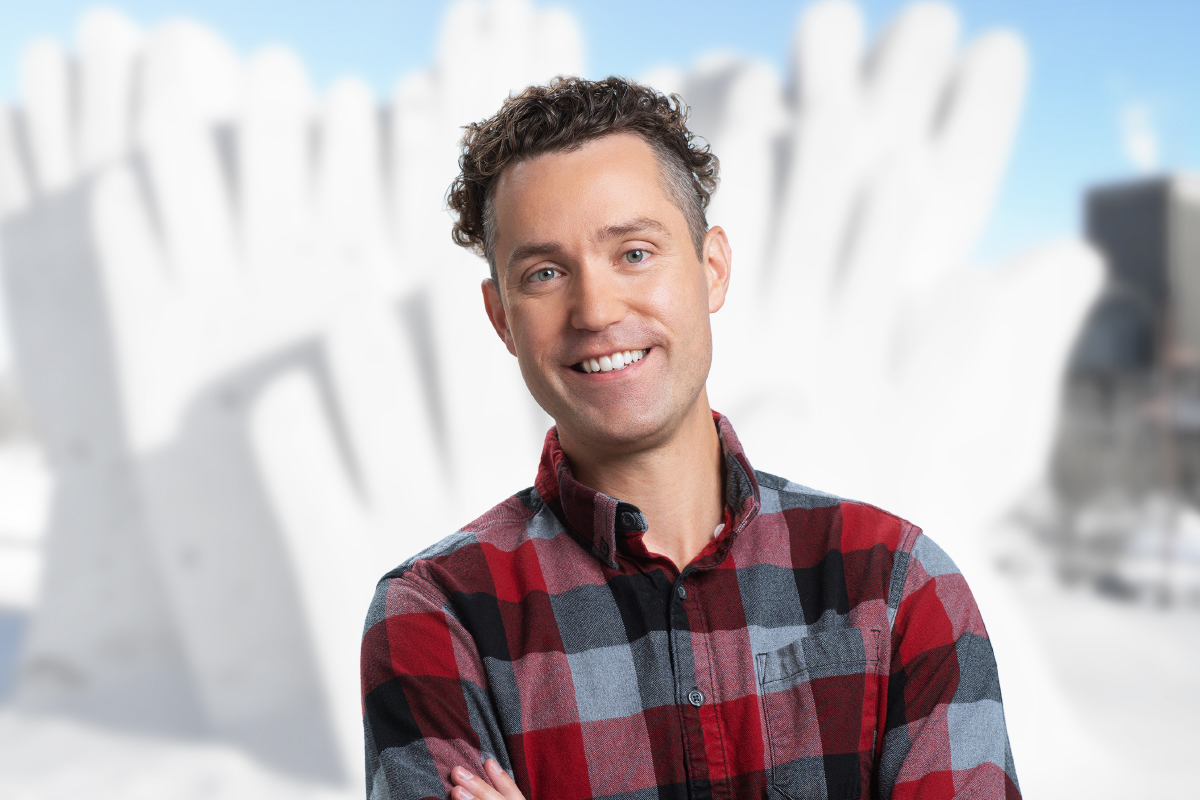 Asper alum advances Western Canada's largest winter festival
Festival du Voyageur Executive Director, Darrel Nadeau, uses MBA skills to elevate community impact
February 12, 2023 —
"Is the impact worth the investment?"
Darrel Nadeau [BComm(Hons)07/MBA13], Executive Director of Festival du Voyageur and I. H. Asper School of Business MBA alum, discusses the metrics for success in non-profit work and the challenges of this sector.
During his time in the Asper Master of Business Administration program, Nadeau recalls a guest speaker identifying the benefits of working in the non-profit sector.
"She said the best thing I could have done for my career is start it in the non-profit sector. You'll never work harder and smarter than in the non-profit sector."
For Nadeau, a seasoned non-profit professional even then, the sentiment was familiar.
After completing his Bachelor of Commerce degree at Asper, Nadeau began his professional career in the private sector but was seeking something more from his work. He spent time working for the Government of Canada, a better fit but still not exactly what Nadeau was looking for.
"Measuring the impact of your work in such a large organization is tough," says Nadeau. "You're one piece in a larger puzzle, and it's harder to see the direct impact of your work."
It wasn't until Nadeau moved to a smaller non-profit with the Canadian Centre for Child Protection that he found what he was looking for, and he began pursuing his MBA that year. Nadeau embraces and thrives on the additional challenges of non-profits. He is inspired by the innovation that non-profit work demands.
"You have to be creative with the resources you have—stretch every dollar—and then you also need to measure the impact," he says. "When you're doing pure business, the metrics are pretty simple, right? They're usually profit, the bottom line. But within the non-profit field, you have to measure your impact with your mandate."
Nadeau believes that the non-profit sector needs MBAs who have sharp business skills and the vision to put those skills toward creating the most impact in their community. He notes that "non-profits need people with skills because the work that they do is so important to society. If non-profits have more people with those skills, they will be more successful and have a bigger impact."
The skills in question, everything from human resources to operations, were elements of Nadeau's MBA experience that he uses today in his position at Festival du Voyageur.
"Everything I've learned is applicable," he says. "As an Executive Director, I manage folks day-to-day, so I work with human resources, I do the budgeting, I do the marketing with my team. Then there's the operational side, especially the cost accounting. I really apply all my knowledge; it's just with a slightly different orientation."
As Executive Director of Festival du Voyageur, Nadeau has led Western Canada's largest winter festival through two years of hybrid activities and is excited to return fully in-person this year from February 17 to 26 for the largest Festival yet. His contributions to the organization reflect the values of non-profit work and of Festival's beginnings in the community.
Festival du Voyageur began thanks to the efforts of St. Boniface community members and business owners coming together to celebrate Franco-Manitoban heritage and to invite everyone to do the same. With the support of a community, Festival also became accountable for making a positive impact within it.
Nadeau has carried on this tradition, emphasizing the inclusivity of Festival and highlighting initiatives that he has led, from Voyageur Pride Night, which he created in his first year as Executive Director, to efforts to welcome newcomers from Ukraine and West Africa to join in on the fun.
Of Voyageur Pride Night, Nadeau explains that he saw an opportunity to make an impact in the 2SLGBTQ+ community and that his investment paid off.
"I took it upon myself to cater to that community," he says. "The first year was good, and then the second year was great, and the third year was excellent, and it's coming back this year as a signature, annual must-see event. It's successfully opened up the festival to a very specific community, and we're working in the same way with other communities."
With his business skills, his ability to adapt and his understanding of what the community needs, Nadeau has already seen great success with Festival. He discusses a desire to one day bring his expertise and this mindset back to the Asper School of Business to inspire more MBAs and non-profit professionals. Until then, Darrel Nadeau's story so far is a reminder to see the challenge, potential and rewards of non-profit work and any endeavour to make a larger impact.
Learn more from Darrel below: