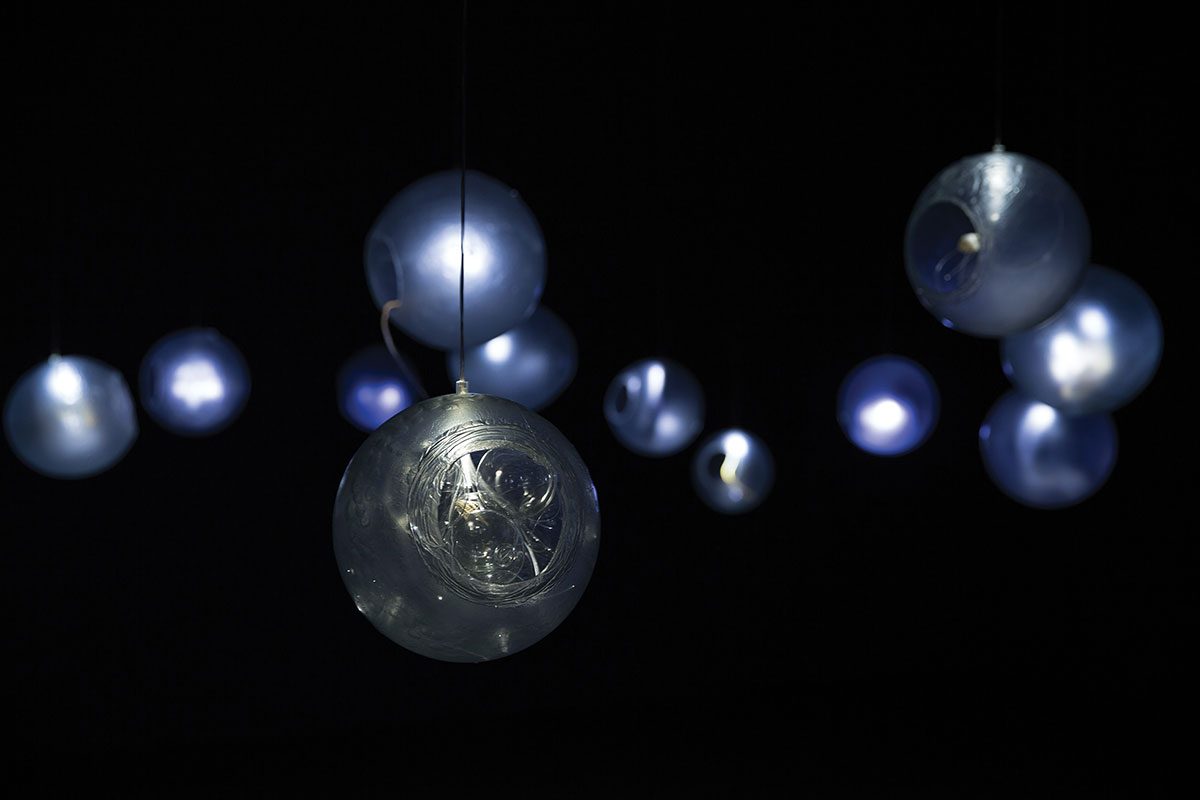 Exhibit from award-winning Ione Thorkelsson on display through to Feb. 24
February 2, 2017 —
Ione Thorkelsson's installation Synthia's Closet is the artist's most recent body of work and is a beautiful illustration of her technical range. It runs until Feb. 24, 2017 at the School of Art Gallery, with an artist talk on Feb. 2.
Adopting the nickname given to the first synthetically-fashioned genome—Synthia—Thorkelsson has constructed miniature landscapes inside delicate glass spheres.
The artist's self-fashioned worlds incorporate organic elements, including animal bones and feathers, with fiber optics and LED technology, providing a poetic, visual metaphor for the bioengineer's pursuit of synthetic life. The lighted spheres remind viewers of the fragility of existence and the risks inherent in scientific experimentation and discovery.
While genetic manipulation allows scientists to design new realities, it also modifies fundamental understandings of the natural world. With wonder, there is also trepidation: Thorkelsson asks how these innovations in bioengineering might, in turn, shape us.
School of Art Gallery, University of Manitoba
Exhibition Dates: Jan. 12 – Feb. 24, 2017
Reception: Thursday, Feb. 2, 4:30 – 6:30 pm
Artist Talk: Thursday, Feb. 2, 6:30 pm, 136 ARTlab
http://umanitoba.ca/schools/art/800.html 
About the Artist:
Ione Thorkelsson has delighted national and international audiences with solo shows at The Winnipeg Art Gallery, The Art Gallery of Thunder Bay, and Toronto Free Gallery and exhibitions in Korea, Belgium, and Thailand. Notable commissions include designs for the Manitoba Motion Picture Association's 'Blizzard' award and the 'Wave' for the Gimli Film Festival, as well as public art installations at the James Armstrong Richardson International Airport in Winnipeg and the Canadian Embassy in Hong Kong. In 2007 Thorkelsson was inducted into the Royal Canadian Academy of Arts and in 2010 she received the Governor General's Award in Visual and Media Arts. Read more at the artist's website. 
Installation sound work is by Don Benedictson. Essay by Helen Delacretaz. 
Gallery Hours: Monday to Friday, 10:00 am – 4:00 pm. Admission is Free.
Parking: The School of Art Gallery is located in the University of Manitoba's ARTlab, 180 Dafoe Rd, next door to Taché Hall and Drake Centre. Find nearby parking by following this link:
http://umanitoba.ca/campus/parking/visitor/