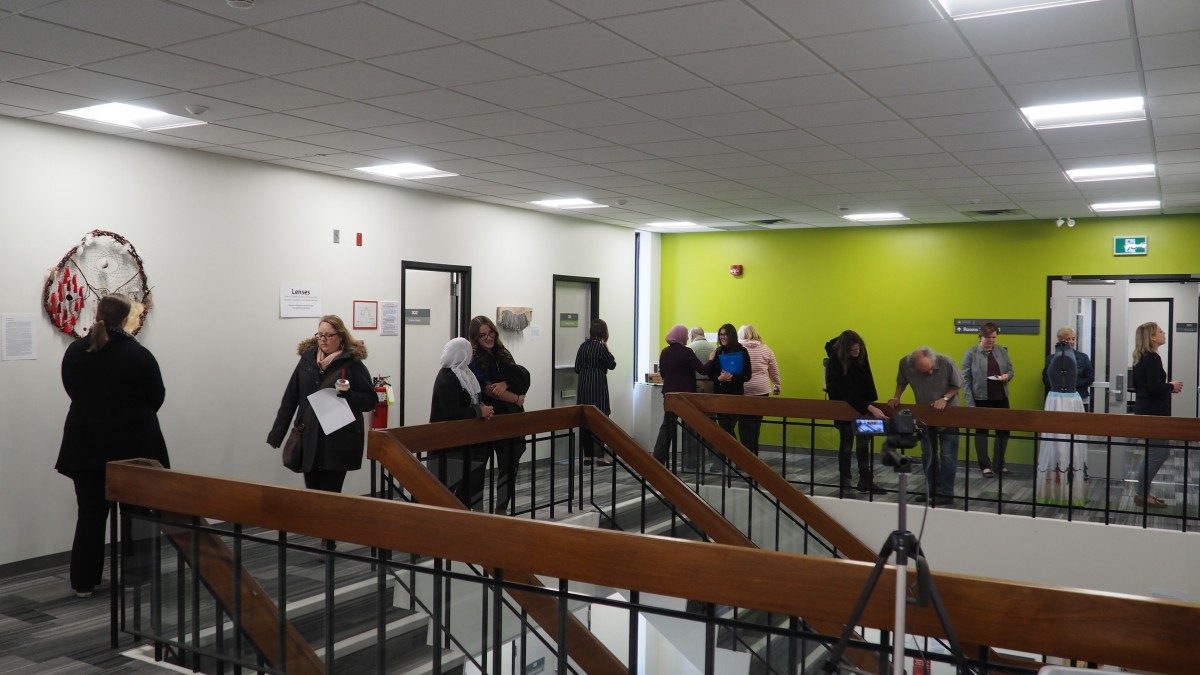 Art reception at the Centre for the Advancement of Teaching and Learning invites discussions of conciliation and reconciliation
Lenses – How art shapes our view of history that captures Conciliation and Reconciliation
April 20, 2018 —
In partnership with the School of Art, students' art works from the course, 'The Art of the North American Aboriginal Peoples', was exhibited at the Centre for the Advancement of Teaching and Learning. The 'Lenses' art reception addressed conciliation and reconciliation using Indigenous art lenses, as well as invited conversation and introspection among all those who attended.

Mending Wounds
"As I took the class, I realized that it goes into great depth with what happened within the residential schools," said Arij Al Khafagi, second year science student. "High schools really didn't say what was going on, as well as the trauma that Indigenous people faced and still face today because of it. I had no idea, because we were never taught it."
When Al Khafagi was looking for inspiration for her final project, she came across the health section of the 'Truth and Reconciliation Commission of Canada's 94 Calls to Action'.
"The 94 Calls to Action say that Aboriginal people should have a right to a Healing Center so that they have a place where they're able to go and ask for the help that they need," said Al Khafagi. "I decided to do my project on this idea because I feel that hospitals do need to have something like that."
Al Khafagi's project is a replica of a hospital that has a Healing Center and a sweat lodge. The hospital has a cross and a Medicine Wheel to represent both traditional western medicine and Indigenous knowledges working together.
"As an aspiring physician, I want everyone to have an equal opportunity to receive the best healthcare that depicts cultural competency, which will demonstrate and promote holism as well as reconciliation in our healthcare systems," said Al Khafagi.
Ashes Rising
Patricia Eschuk, a student of the class, had been interested in Indigenous art for many years before she enrolled.
"I thought the experience would be beneficial both on a personal level and influential in my work," said Eschuk. "After taking the class, I have a much deeper appreciation for the symbology and history that informs the work. I also am better able to see the work through an Indigenous lens versus a Western/European lens."
Eschuk's art piece, titled 'Ashes Rising' was created in response to learning about the Canadian Indigenous Peoples historical legacy.
"Charcoal was used to signify the destruction and loss of Indigenous ways of life," said Eschuk. "Anishinaabe Animal symbolism combined with the Seven Teaching portrays the emotional release of conciliation and reconciliation. Oil landscape plays and important role within this art piece that expresses restoration through art that promotes holism."
An ethical space that promotes reconciliation
Leah Fontaine, Indigenous Initiatives Educator and instructor of 'The Art of the North American Aboriginal Peoples' hopes that her students have enjoyed her class and have gained a greater understanding of the Indigenous lens.
"I hope they take away an understanding of the issues and perspective of Indigenous ontology and the resiliency Indigenous people have," explains Fontaine. "An understanding, awareness and empathy of the Canadian Indigenous historical legacy and how art creates dialogue."
"In class Leah often said, 'Go beyond the lines of the western style," explains Al Khafagi. "You have to look through another lens. That's another reason why this show is called 'Lenses'."
While many have gathered to see the artistic impressions of conciliation and reconciliation of the students, the colourful art pieces now adorning the walls of 65 Dafoe Road are also reaching people through contemplation and conversation.
"The Centre has created an ethical space that promotes reconciliation for students, professors and community," said Fontaine. "Art work, inspired by the narratives of Indigenous peoples, has contributed within this space that promotes holistic learning."