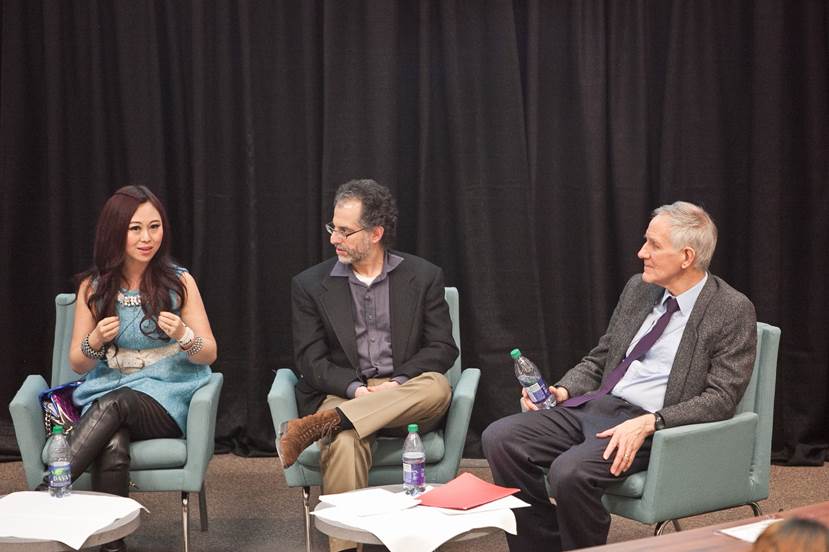 Are You Happy Now?
Visionary Conversations explores this deeply personal topic with a lively audience discussion
March 5, 2015 —
Showing just how important happiness is to our daily lives, it was a packed house at the most recent Visionary Conversations event "Are You Happy Now? The Pursuit of Happiness in the Modern Age".
Coming from a cross-section of areas, the panel of expert speakers included Fang Wan, professor in the department of marketing, I. H. Asper School of Business; Daniel Bailis, professor and head of the department of psychology, Faculty of Arts; and alumnus John Walker, professor in the department of clinical health psychology, Faculty of Health Sciences.
As a marketing and branding expert, Wan took a consumerist perspective to describe how our constant quest to be successful, have more, buy more and 'keep up with the Jones' often results in less personal happiness. It's defined by Aristotle as Hedonia, typically the pursuit of pleasure, monetary gain, instant satisfaction versus Eudaimonia, which is more of an experiential, longer-lasting approach focused on well-being and meaning. She proposed that rather than 'the pursuit of happiness', we focus more on 'the happiness of pursuit'.
A child of the 80's, Bailis admitted to growing up in the age of Reagan, capitalism and 'Material Girls.' But through his current research in psychology, he's found that the true wealth of a nation is measured by happiness. A 2010 Gallup Poll shows that despite being ranked #1 in gross domestic product, the United States falls on the complete opposite side of the spectrum in life satisfaction and negative feelings. Focusing less on financial wealth and more on social-psychological resources like being treated with respect, having friends and family you can count on and freedom of choice in how you spend your time, all add up to more positive feelings.
Walker works with anxiety and depression in children. Most parents just want their children to be happy, but changes to society over the last 40 years, including smaller families, fewer kids in the neighborhood, increased time spent on electronics and decreased physical activity, are all contributing factors that affect children's happiness. These 'clouds on the horizon' are being challenged directly with tools for parents that mirror the qualities and values of increased happiness in adults. They include encouraging friendships, developing independence and confidence, problem solving skills and learning to handle negative emotions associated with not getting everything you want.
Now it's your turn to weigh in  — what makes you happy?
What is the most significant factor in your happiness?
Relationships (34%, 117 Votes)
Work-life balance (16%, 55 Votes)
Health (12%, 40 Votes)
Spiritual fulfillment/pursuits (10%, 36 Votes)
Travel, leisure time or group/volunteer activities/sports, etc. (10%, 33 Votes)
Work/career fulfillment (8%, 27 Votes)
Creative pursuits (6%, 20 Votes)
Money (5%, 17 Votes)
Total Voters: 345

Loading ...
Join us for our next Visionary Conversations as we discuss the role of Universities on Wednesday, April 29: "Universities Today – Where do Centuries-old Institutions Fit into Modern Society?".
Research at the University of Manitoba is partially supported by funding from the Government of Canada Research Support Fund.