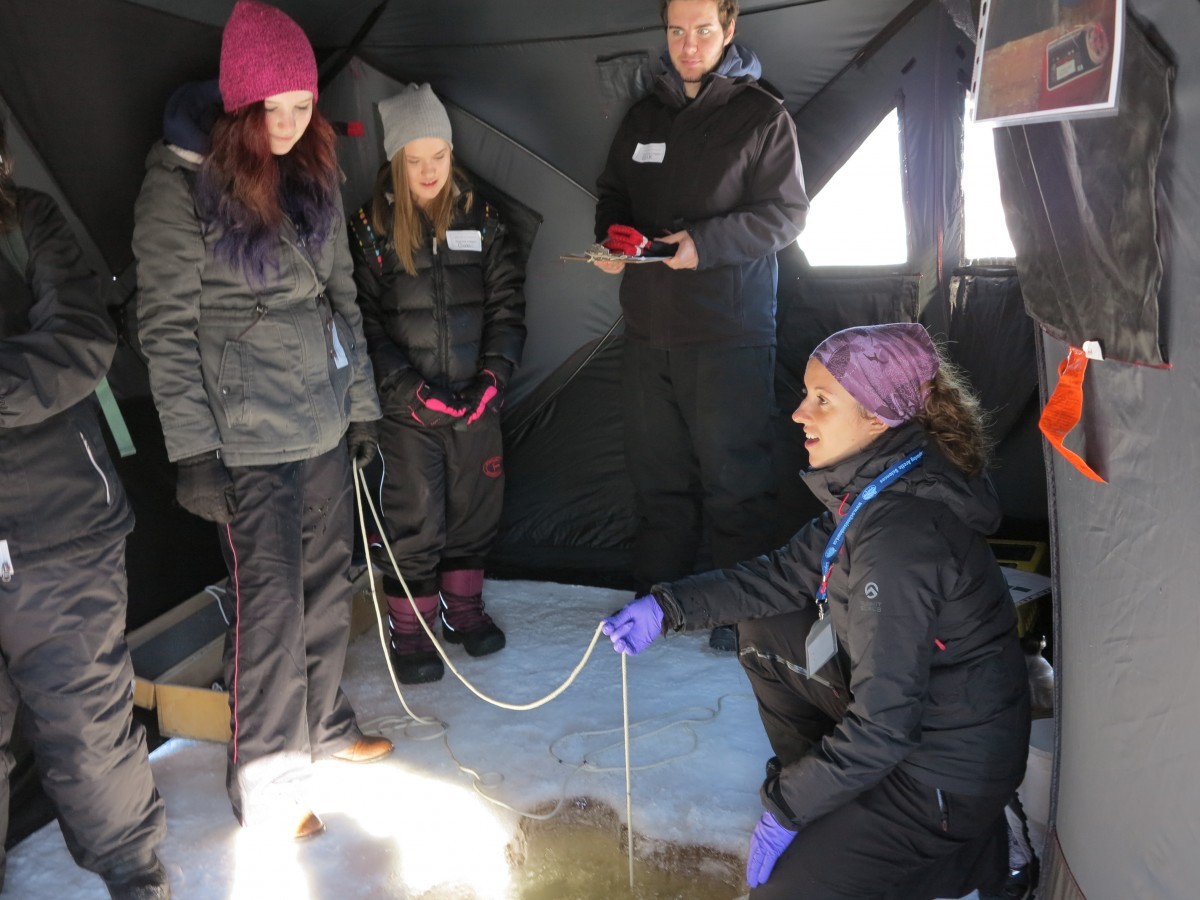 Arctic experience: Exploring the science behind climate change
June 5, 2015 —
WHAT: Arctic Science Day at FortWhyte Alive brings together junior high and high school students with scientists from the Clayton H. Riddell Faculty of Environment, Earth, and Resources for a simulated field experience. The annual day-long activity held in late February or early March was launched in 2009 to educate young Manitobans about climate change research in the Far North. It's a partnership between graduate students from the Centre for Earth Observation Science (CEOS), Freshwater Institute – Fisheries and Oceans Canada (DFO), Schools on Board—a faculty-based outreach program of ArcticNet—and environmental education hub, FortWhyte Alive.
ITS REACH: Every winter, nearly 200 school-aged students from more than a dozen Winnipeg and rural Manitoba schools come to FortWhyte's outdoor educational facility for Arctic Science Day. The U of M also helped host Arctic Science Days in Nunavut—in Cambridge Bay in May 2014 and in Resolute Bay in 2012 and 2013. The University of Laval followed the same model in Quebec City during the winter of 2010.
THE GOAL: To provide a unique, research experience for young people to learn about Arctic climate change research and better understand its impact on the planet. Arctic Science Day aims to broaden participants' perspectives on what it means to be a scientist in the face of rapid global climate change.
HOW IT WORKS: Scientists from CEOS lead hands-on learning activities, sharing their knowledge and experience to educate participants about the realities of doing research in the North and how their work relates to climate change. Stations set up across FortWhyte's outdoor campus cover a range of topics—from ice sampling to meteorology, marine biology, and Inuit culture.
THE IMPACT: "Arctic Science Day brings science to the next level, helping students to imagine possible future careers and the roles they can play in understanding and planning for the changes that a warming Arctic will bring to northern communities and the world," says Michelle Watts, Schools on Board program coordinator. "It also provides a snapshot of what science in action looks like. Participants are exposed to sampling and processing methods and also raw data. It provides an opportunity for scientists to engage with students and learn how to communicate their science so that it's meaningful and relevant. It's also a great team builder and re-inspiration for the graduate students."
---
FUNDERS: The Natural Sciences and Engineering Research Council of Canada's PromoScience program, ArcticNet, FortWhyte Alive, and the University of Manitoba
---
LEARN MORE
---
To see the impact the University of Manitoba has on the global community take a look at this map. If you have a community-minded story to tell, please do so by submitting your story here.