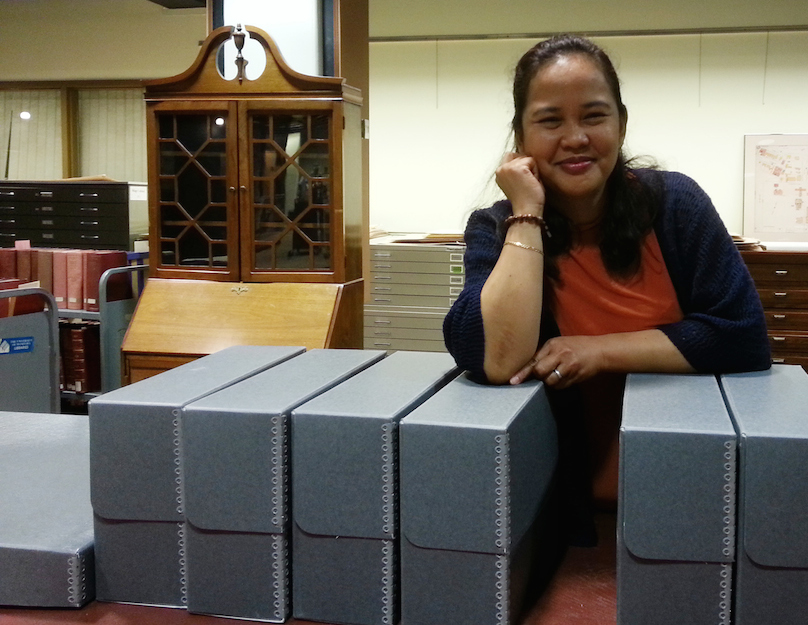 Archivists, shrewd history savers
August 1, 2014 —
A passion for documenting and keeping artifacts may lead some to assume that archivists are inclined to hoarding at home. But they are not because they possess a key characteristic: they are excellent appraisers of value.
Cataloguing history takes plenty of time and a particular breed of shrewdness. As a result, archivists become skilled purgers.
"We constantly appraise materials. We have to appraise for importance and relevance. That's one of the skills we learn in the program and through experience," says Mary Grace Golfo.
Golfo is an assistant professor in the School of Library and Information Studies at the University of the Phillipines Diliman. She is pursuing a Master in Archival Studies at the University of Manitoba and when she completes it next summer she'll return home and help establish the Philippine's first formal graduate program in archival studies, using what she learned here as the germinating foundation.
"I chose U of M archival studies program because it is the only program in archival studies" – in Canada – "which is offered under the department of history, and I believe that teaching archival studies from the perspective of a historian would further strengthen the foundational knowledge of would-be archivists in our country," she says.
"I'm a librarian so I'm more into information dissemination. That is how I see the connection between archives and libraries. But this program is more about learning the history – learning the who, learning the what, the why. Everything."
She arrived in Winnipeg in August 2013 and is now in the internship portion of her degree. She is working in Archives & Special Collections (which sees about three masters students a year) archiving files associated with the cyclotron (a particle accelerator) laboratory, which officially opened in 1965 after six years of conceptualization and planning. The lab was one of the first in Canada and it was built under what is now Parking Lot A. (The lab is currently being decommissioned to make space for the new  Manitoba Institute for Materials.)
"Seeing the original plans for the design of machine, it gets exciting. You can see how they conceptualized the machine," Golfo says. "The design was meant to be based on a prototype at UCLA, but the cyclotron team here decided to come up with something unique from that, and you can see how it evolved in the different plans, and you can see all the old pictures of the people involved, and reading about their inventions and discoveries. It's cool."
One box of archival material ("a Hollinger" if you're into archivist slang) is about the volume of two shoeboxes. Some collections have several carts-worth of Hollinger boxes and their contents may take months to describe
"You have to understand the context of the material. You can't just describe it. You have to know more about the background – why it was created, who created it and everything about the record before you can come up with a succinct description," says Golfo.
How do you appraise something and decide if it may have value to future generations, because if you're wrong and toss something away, that's an irreversible blunder?
"It's a very intellectually challenging work. You can never really tell. You have to be careful and have a holistic view and keen foresight."
There are certain elements archivists take into consideration when appraising: the age of the archives; their authenticity – are they original or are they duplicates; are there records similar to these elsewhere; will they be useful to future generations?
"You have to perceive its usefulness and value at present and in the future as well as its historical significance. It's not easy."