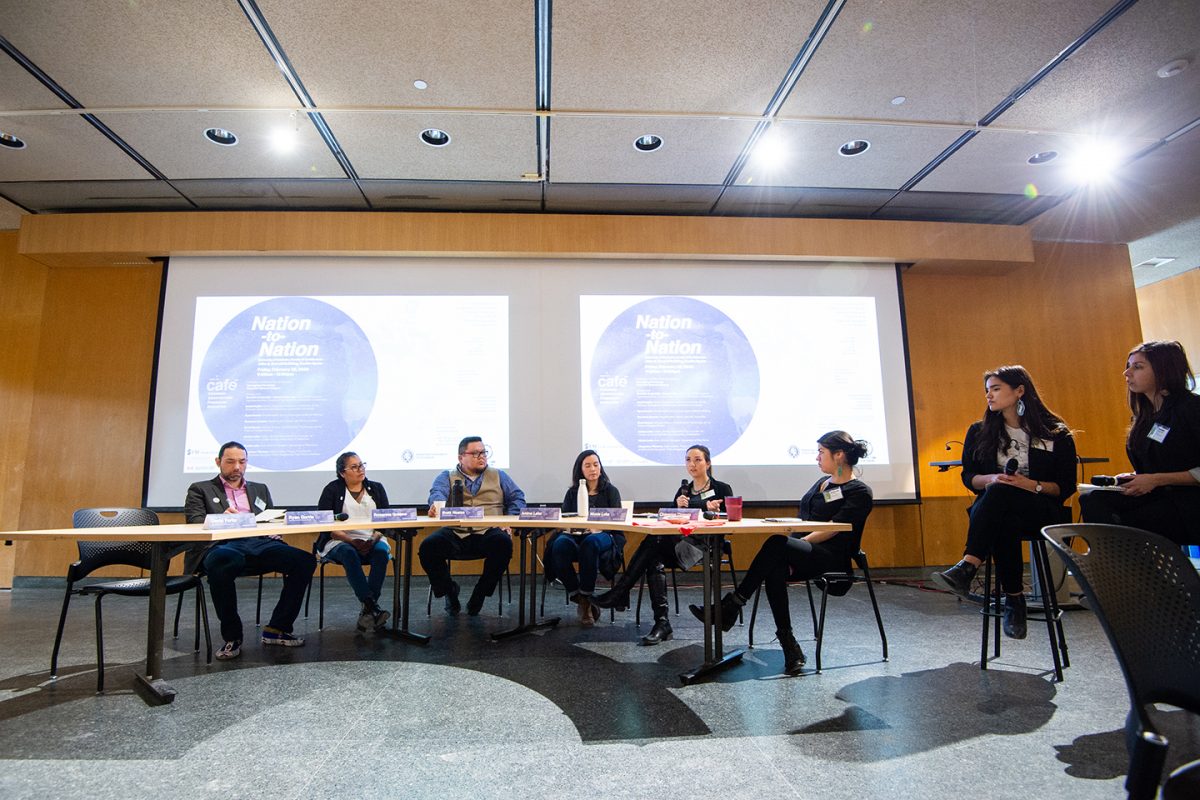 Architecture Students Lead Conversation on Indigenous Perspectives, Principles and Practices in Shaping Canada's Architecture
Nation-to-Nation
March 24, 2020 —
The newly formed Indigenous Design & Planning Students Association (IDPSA) recently organized a Nation-to-Nation panel discussion on Indigenous Perspectives, Principles and Practices in Shaping Canada's Architecture. The event was hosted by the Faculty of Architecture, on February 28, 2020 in collaboration with the Canadian Architecture Forums on Education (CAFÉ), with generous support from the Manitoba Association of Architects. The discussion consisted of Indigenous designers, architects, artists, and community members from across Canada:
David Fortin, Métis, Associate Professor & Director at McEwen School of Architecture, Laurentian University
Ryan Gorrie, Anishinaabe, Senior Associate & Architect at Brook McIlroy
Roxanne Greene, Anishinaabe, Councillor of Shoal Lake 40
Brett Huson, Gitxsan Nation, Artist/Author & Technician at the Prairie Climate Centre
Amina Lalor, Métis, M.Arch Student & Co-Founder of Treaty Lands Global Stories, University of Waterloo
Nicole Luke, Inuk, M.Arch Student, University of Manitoba
Cheyenne Thomas, Anishinaabe, Peguis First Nation, architectural designer, member of RAIC Indigenous Taskforce and The Forks North Portage Partnership Board

Building Reciprocal Relationships
The event began with an opening song and smudge by the Kind Hart Women Singers, which was the first time that hand-drum songs and a smudge were able to fill Center Space in the John A. Russell Building. Following the ceremony, each presenter provided their own unique vision and approach to Indigenous design. David Fortin presented on Indigenous content implemented into the McEwen School of Architecture at Laurentian University, through dialogue with Indigenous communities, in-house Indigenous Elders and Knowledge Carriers, and hands-on building courses of Indigenous structures. Brett Huson, a member of the Gitxsan Nation, spoke on that to acknowledge the land, you must understand it and what is born from it, including languages, art, culture, and unique peoples. Nicole Luke spoke on bringing forth a movement on environmental and architectural aspects to Arctic infrastructure and providing culturally appropriate processes for Inuit and Northern communities

Honouring the Land
An ongoing theme throughout all the presentations was the principle of protecting and honouring the land within design and architecture. The land is a living being and has a spirit. Nature shapes us and influences the way we create art, homes, and tools. In turn, we need to protect it for future generations.

Indigenous Student Initiatives
Co-founder and current Chair of IDPSA, Reanna Merasty (Cree, Master of Architecture Student), and IDPSA member, Danielle Desjarlais (Cree, Environmental Design/Pre-Master of Architecture Student), organized the Nation-to-Nation event. IDPSA was formed to further implement Indigenous initiatives into the Faculty of Architecture and is the first Indigenous student-led organization within the Faculty. The goals of IDPSA are to provide sufficient Indigenous representation within the Faculty, to seek partnerships with Indigenous communities across Manitoba, and to incorporate Indigenous values within the architectural community through advocating for culturally-formed Indigenous initiatives, programs, and curriculum. Looking into future generations, IDPSA aims to expose the fields of Design and Planning to youth in First Nations, Inuit, and Métis communities.
Nation-to-Nation builds on the success of the Designing Pathways event on January 17, 2020 and is one of many Indigenous initiatives to come to the Faculty of Architecture at the University of Manitoba and the broader design community.
Written by: Danielle Desjarlais & Reanna Merasty
Image credits: Dylan Hewlett
Please note that all photographs featured in this story were taken prior to the issuing of social distancing protocols.