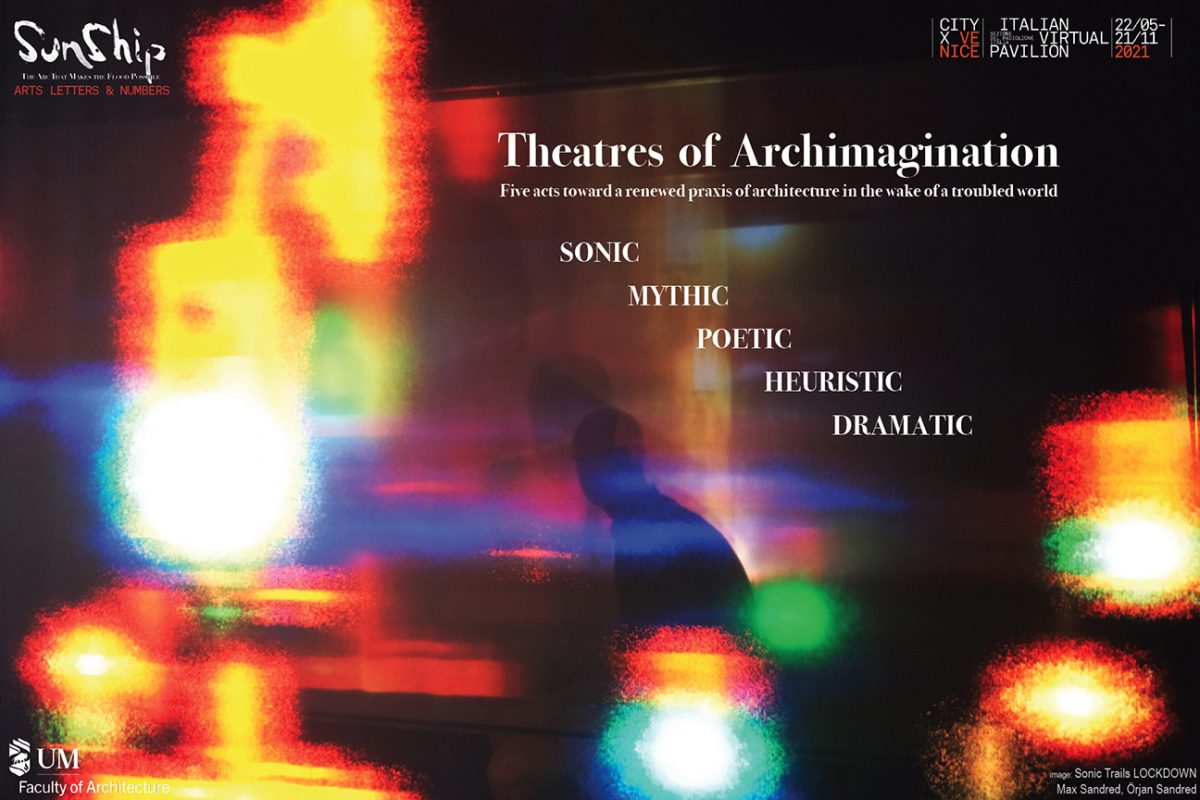 Archimagination – Architecture faculty, students and alumni contribute to the 2021 Venice Biennale
December 13, 2021 —
How will we live together? – This was the question posed by the 17th International Architecture Biennale, which ran from May 22 to November 21, 2021, in Venice and virtual venues. While the pandemic and related crises keep pushing people apart, this forum fostered ways of imagining a more livable world together.
Prof. Lisa Landrum and a team of student-researchers responded to this challenge with a series of creative works exploring architecture's capacity to synthesize arts, integrate difference and inspire social cohesion. Entitled 'Archimagination', this multi-faceted work was featured at the CITYX Italian Virtual Pavilion as part of a SunShip exhibition, organized by Arts Letters and Numbers – a New York based non-profit arts and education organization, dedicated to supporting new structures and spaces for creative exchange across disciplines.
Archimagination seizes the 'arch' of architecture as a regenerative force of imagining and initiating renewed relations. As Landrum emphasizes: "for architects, the question of living together poses a challenge of not just building better, but imagining deeper. This is an ethical and poetic challenge of engaging social, aesthetic and ecological imaginaries in more profound and polyvalent ways."
Five acts toward a renewed praxis of architecture
Working over the summer of 2021 with undergraduate research award winners Sabba Rezai and Max Sandred, and graduate students Alixa Lacerna and Andria Langi, the Archimagination team developed a five-act series of performative events exploring architecture's sonic, mythic, poetic, heuristic and dramatic modes of imagination.
Act 1 was Sonic Trails: LOCKDOWN. This multi-media installation by Max Sandred and Örjan Sandred incorporated audio-visual recordings of environmental sights and sounds of the city in lockdown (like changing traffic lights and slow-moving trains). Aural media was remixed with AI algorithms, led by Örjan (an electro-acoustic composer and professor in the Desautels Faculty of Music), in sync with visual media collected, modified and spatialized with multilayered projections and a trio of handmade scrims, designed by Max (an ED4-Architecture student). The immersive experience revealed what Max calls the "inherent musicality of architecture," with its capacity to embody and express tacit rhythms. Sonic Trails LOCKDOWN was installed in the Faculty of Architecture's Arch2 Gallery and simultaneously livestreamed to the Biennale SunShip for 101 hours.
Watch the recorded discussion of Sonic Trails: LOCKDOWN (Sept. 11, 2021).
Act 2, entitled BAH (Indonesian for 'deluge'), drew on a fusion of flood myths to tell a new story of hope and renewal through immersive animation. Created by Andria Langi (M.Arch 2021) and Seeds Motion, a Bandung-based multi-media company, BAH integrates myths—from Sumerian, Hindu, Judeo-Christian, Arabic, Norse, Nigerian, Filipino, Chinese and Indigenous sources—into one polyvocal tale imploring us to care for one another and planet earth. Nine female global storytellers based in Winnipeg gave voice to the narrative, including Mackenzie Skoczylas (M.Arch 2021); current UManitoba students Jingwen He (ED-Architecture), Suzan Palani (College of Nursing) and Sukhjot Parmar (Rady Faculty of Health Sciences); plus Sarah Al-Abdul Ridha, Gunnvör Ásmundsson, Cyrelle Layawan-Mandac, Maia Mozes and Bola Oriyomi.. Andria believes that building community, like making architecture, requires the exchange of stories. BAH suggests that sharing stories may be our best strategy for building a common ground resilient enough to survive the flood of crises we must face together.
Watch the recorded discussion of BAH: A Fusion of Flood Myths and Cosmic (Re)Beginnings (Sept. 25, 2021).
Act 3 presented the Invisible Theatre of Winnipeg performing artist Grant Guy and the experimental ArchiPoetry of architectural educator and poet, Ted Landrum. This event explored performance, language and architecture as interdependent means of re-making a common world, always under construction and ever in need of repair. Ted presented an ArchiPoetry "__ifesto," and new poems made in response to Sonic Trails, BAH, and SunShip provocations. Grant shared 25 mini-theatre pantomimes, each engaging the Invisible Theatre of everyday situations and in-between spaces – like alleyways, thresholds, and unexpected gaps between acts, events, objects and words. The exchange asked: if, where, how and why the magic of meaning can be found and re-made?
Watch the recorded exchange of Archi-Poetry & Invisible Theatre (Oct. 2, 2021).
Act 4 pursued the Eureka of architectural discovery through theatrical arts. Staged as a dialogue between educators, Lisa Landrum (University of Manitoba) and Tracey Eve Winton (University of Waterloo), and students Alixa Lacerna (UM) and Sean Maciel (UW), the exchange considered how dramatic arts have infused architectural pedagogy with 'Eureka' potential, while fostering creative collaboration and ethical imagination. Prof. Winton shared examples of a dozen original productions, co-created with classes of 80 architecture students at the University of Waterloo since 2006; and Prof. Landrum shared pedagogical experiments mixing history and histrionics with transhistorical play, and meeting the current challenges of remote learning with new ways of dramatizing architectural theory.
Watch the recorded exchange of Heuristic Pedagogy & Dramatic Discovery (Nov. 6, 2021).
Act 5: Janus engaged the End of the West Collective, a group of Winnipeg-based multidisciplinary artists, as they worked backstage to prepare for the opening of a newly devised performance entitled 'In Time.' Integrating classical Indian dance, Indigenous storytelling, modern physical theatre, shadow-puppetry, film and music, this theatrical work staged an intimate encounter with the deity of doorways in a trio of specially-designed theatres for one. In this elusive meeting with Janus, spectators were challenged to experience the embodied but elusive reality of myth. Artists include: theatre director and fight choreographer Jacqueline Loewen; Anishinaabe architectural designer David Thomas (M.Arch 2007); theatrical lighting designer Scott Henderson, and classical Bharatanatyam dancer Avinash (Nash) Muralidharan Pillai Saralakumari. Theatre Projects Manitoba produced 'In Time' at the Prairie Theatre Exchange in Winnipeg from December 2nd to 12th, 2021.
Watch the recorded backstage conversation with the artists (Nov. 13, 2021).
Watch a preview of Janus here.
Imagining Together
Altogether the five acts of Archimagniation involved more than thirty multidisciplinary artists and researchers from nine countries and Turtle Island, co-creating works for audiences around the world.
One valuable lesson of the pandemic bearing directly on the central Biennale question is that living together requires renewed forms of collaboration. By merging architecture with complementary arts, Archimagination socialized transdisciplinary modes of co-creation, risking the wager that imagining together helps build communities that can flourish together.
_
Archimagination extends themes from the 2021 Theatres of Architectural Imagination Symposium, co-chaired by Lisa Landrum, and will be part of forthcoming book by Routledge on Theatres of Architectural Imagination.
_
Archimagination was supported in part by the University of Manitoba Undergraduate Research Award program and UM/SSHRC Explore Grants Program. Andria Langi's research was supported in part by the Maxwell Starkman Scholarship in Architecture and the Bill Allen Scholarship in Architecture.