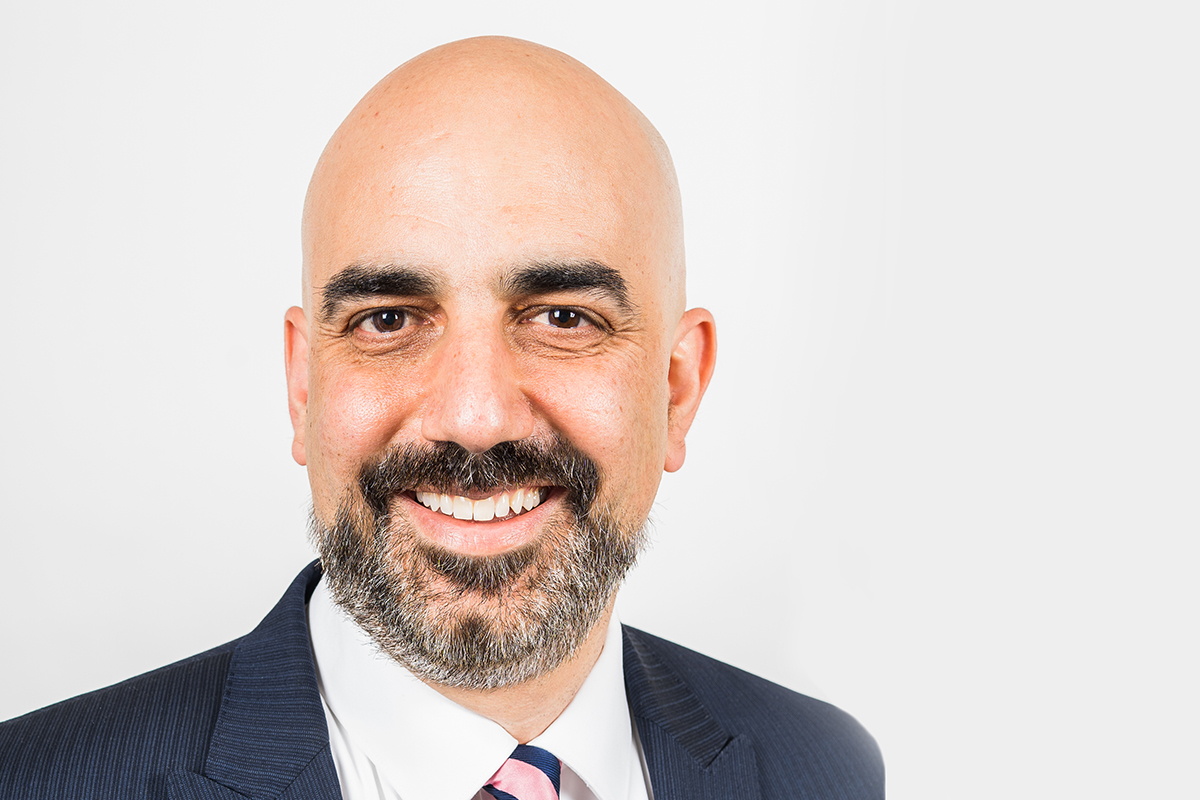 Approaching healthcare with a business mindset
Mike Nader, CEO of the WRHA appreciates the value of an MBA student perspective in the healthcare setting
April 1, 2022 —
As CEO of the Winnipeg Regional Health Authority (WRHA), Mike Nader appreciates the value of approaching healthcare administration with a business mindset. Nader grew up in Lebanon and immigrated to Canada when he was a child, spending most of his life living in Vancouver and Toronto. Not a trained clinician, Nader started out in IT, and was exposed to a range of experiences in the Canadian healthcare system. After completing his MBA at UBC's Sauder School of Business in the early 2000s, Nader started making his way up the ranks of healthcare management.
As Nader advanced in his career, he began to notice a lack of business acumen and formal business administration training in the healthcare field. While in his role at Vancouver Coastal Health, Nader felt this gap could be filled by hiring UBC Sauder School of Business MBA students to work as interns within the hospital's leadership team.
"We became the number one employer of all Sauder graduates for four years in a row," said Nader. "If you were to look at the various leaders at Vancouver Coastal Health now, a significant number of those folks are MBAs from Sauder School who we hired as interns."
Twenty years later in his role as CEO of the WRHA, Nader has continues to use the same approach to clinical leadership growth within Manitoba's healthcare system.
"When I look at the challenges that we have within the healthcare system here in Manitoba, we've had lots of discussion around leadership capacity and the need for us to develop leaders," said Nader. "Hiring MBA students is a feeder opportunity for us to get people who might not have conventionally looked at healthcare as a career."
Nader says that across the country nearly 50 per cent of every tax dollar is going to healthcare, and the Winnipeg Regional Health Authority had an operating budget of $2.248 billion for the 2020/21 fiscal year. Yet many people don't look at healthcare as a business, or even as a career outside of being a practicing clinician.
"When you consider all the aspects you learn in a Master of Business Administration – whether it's HR strategy, supply chain, or finance – it really doesn't matter what it is. It's all applicable to healthcare."
Nader noted that MBAs can hone in on a task, moving the project along at lightning speed while allowing his team to focus their efforts elsewhere.
"I advise my team to select for fit, not for technical skill," said Nader. "We know we're going to get that technical skill through the MBA program. So, we look for fit: initiative and willingness to take things on."
In late 2021, with Nader's leadership, Ingrid Botting, Corporate Secretary from the WRHA, reached out to Kelly Mahoney and her team at the Asper Career Development Centre about the opportunity to hire students to do part-time contract work. Eleven Asper MBA students applied for the opportunity and three were hired for the role of Special Projects and Decision Support for Strategic Planning.
"The opportunity to bring in MBA students who bring a different perspective on business efficiency and new ideas – they bring energy to the system," said Nader. "These students accomplished in three months what we were trying to accomplish over many years."
From October to December 2021, Asper MBA students Roh Amromanoh, Divya Tyagi and Cynthia Zhang worked remotely for the organization. The students provided support to the WRHA strategic planning team, and assisted with research, development, stakeholder engagement and documentation related to the WRHA strategic plan and enterprise model.
"I'm appreciative, and I hope that this is a long-standing relationship with the Asper School," said Nader. "Our board is super excited about the opportunity to be partnering from a business administration perspective because we partner [with UM] on the clinical side. To do it on the leadership end is a smart move."