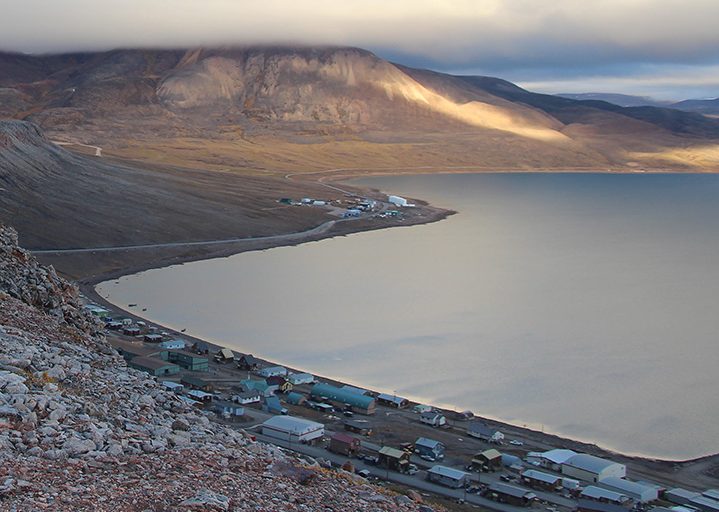 Appreciating the North: Co-operative Education and the Faculty of Architecture
September 14, 2017 —
Since January 2017, ED4 student Halley Sveinson has been living in Iqaluit, working with the Government of Nunavut as a Facility Planner. Halley is the Faculty of Architecture's first Co-op student. In her words, the experience has been "extremely positive." Indeed, it has been going so well that she and her employer have extended the work placement from four months to a full year. Halley will return to complete her Bachelor of Environmental Design degree in winter 2018. According to Halley, "it's well worth the year extension of my education."
This opportunity came to the Faculty of Architecture in fall 2016 via the Co-operative Education and Industrial Internship Program (Co-op/IIP) in the Faculty of Engineering, which has over 400 students in work placements. The Government of Nunavut has a long-standing relationship with the University of Manitoba Faculty of Engineering, having successfully placed engineering students in work placements for several successive years. However, this particular opportunity was for a student with architectural design experience and AutoCad skills. Carolyn Geddert, the Co-op/IIP Program Director in the Faculty of Engineering passed the opportunity over to the Faculty of Architecture. We seized it gladly! Of the students expressing interest in the placement, Halley Sveinson secured the job.
Over the summer, Lisa Landrum, Associate Professor in the Department of Architecture, Associate Dean (Research) and Academic Liaison for the Faculty of Architecture's developing Co-operative Education/Integrated Work program, caught up with Halley to ask her some questions about her experience.
Tell us about Iqaluit.
I was warned that the geographic environment would be challenging. I love the challenge! I arrived in Iqaluit on January 22nd. I arrived at noon and within three hours experienced the darkness that comes with the Arctic winter. Since then I have been able to experience the change of seasons. After seven months I have only been given a hint of what Nunavut has to offer. I have found it enlightening to work for the Nunavummiut (people from Nunavut) and to visit communities throughout the territory. This has allowed me to gain exposure to the Inuit culture, and notice similarities between their way of life and my own.
What do you do at work?
My office is responsible for developing and maintaining infrastructure throughout Nunavut. I work on the early facility planning phase of projects. This involves meeting with clients and stakeholders to determine requirements; assessing and documenting existing buildings and sites; formulating feasibility studies in relation to standards and criteria; considering life cycle costs; completing preliminary environmental and site assessments; and working with consultants to gather technical and legal surveys necessary for design and construction to proceed.
I've done a lot of work on schools.
I worked on the design brief submitted for a Request for Proposal by a design/build team in the Kugaaruk School Replacement project. Kugaaruk means "a river flowing through." It is a Hamlet of 930 people, on the Simpson Peninsula. The community lost their only school due to a fire at the end of February this year. I have performed technical reviews of drawings submitted by architects and consultants for an addition to the Nunavut Arctic College. I prepared drawings for an interior renovation of the Inukshuk High School, which required consideration of barrier free design, lighting, air supply, and finish specifications. I have also been working on a gymnasium and high school classroom addition to the Ecole des Trois-Soliel, the only francophone school in Iqaluit. The steep topography is influencing the design. Over the past few months I have also been working on Fire Halls for communities throughout the territory and the Hamlet of Kimmirut's new Hamlet Office and Community Hall, which is currently in the site selection phase. Like all the projects in Nunavut, energy efficiency and long-term maintenance costs are important design considerations.
What's the most exciting part of the position?
Discovering how much responsibility I am entrusted with. I am happily surprised by the amount of confidence the Government of Nunavut has in students and how open they are to different perspectives. It's also thrilling to have the opportunity to travel throughout the region to perform building assessments in different communities. For instance, I accompanied the Department of Education, Community and Government Services to the Hamlet of Cape Dorset to meet with teachers and inspect classrooms. On the same trip, I visited the Dorset fine arts studio of traditional printmakers. I also had the pleasure of joining the Community Infrastructure Division throughout the North Baffin Region to talk with Hamlet Officials about infrastructure priorities and observe the assessments of their civil infrastructure. The trip included a stop in Grise Fiord, North America's most Northern populated community. Recently I took a side trip to hike through Auyuittuq National Park.
What's the most challenging part of the experience?
Confronting quality of life issues that can arise in Nunavut. Living in Iqaluit and visiting other communities in the territory has opened my eyes to some unsettling residential conditions. The people and place are beautiful, but there are limitations I was not used to. I am still learning the history of this territory and the amazing culture of the communities. My experience so far has taught me that design work should be compassionate and responsive to people's needs. All this has only reinforced my initial drive to contribute to the quality of the built environment in this area.
How is the experience building on academic skills?
This experience is giving me a larger perspective on design. I knew from projects in school that construction components are important, but now I'm seeing how they all go together in a building and learning all the logistical considerations. In school we always talk about the importance of inhabitants and functionality of space, now I'm interacting with the people who actually live, learn and work in the spaces. I'm realizing how important it is to listen carefully to people, instead of assuming or generalizing user needs.
How is the experience preparing you for your career?
I am developing skills in design and gaining more knowledge about building structures. I am exchanging ideas with colleagues and receiving feedback from professionals. I have opportunities for public speaking and engagement with communities. These skills, together with a whole new perspective on the role of designers in remote regions, are giving me a more cohesive education. This will help me move forward in a positive direction with confidence.
How is the experience affecting your plans on what to do with your degree?
This experience has reaffirmed my desire to work within the field of design in architecture. My expectations for this work placement were to learn technical skills of cold climate design, and to gain experience in responding to environmental and societal conditions of northern communities. I'm accomplishing this, while also gaining a more sensitive understanding of the role of cultural identity in design.
Halley will give a Food for Thought presentation at noon on Thursday, September 21, 2017, entitled Appreciating the North. Faculty of Architecture Events Page: Halley Sveinson
Content Provided by Lisa Landrum and Halley Sveinson