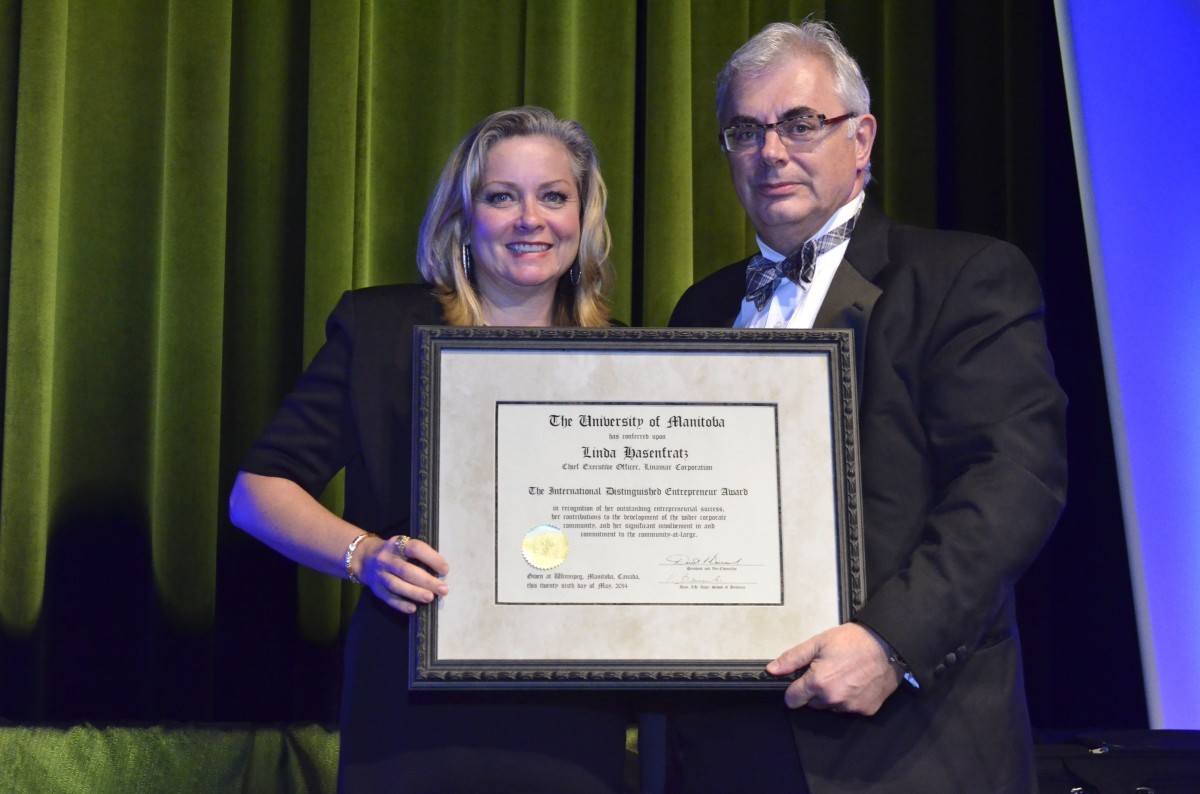 Annual IDEA award presented to Linda Hasenfratz
May 24, 2014 —
Linda Hasenfratz, CEO, Linamar Corporation, and recipient of the 2014 International Distinguished Entrepreneur Award (IDEA), shared her story of success with Asper School of Business students on Monday, May 26.
The University of Manitoba and the Associates, a group of more than 260 prominent business leaders who support the Asper School of Business, selected Hasenfratz as this year's recipient of the annual award.
Linamar Corporation (TSX:LNR) is a diversified global manufacturing company of highly engineered products powering vehicles, motion, work and lives. Linamar has more than 18,000 employees in 42 manufacturing locations, five research and development centers and 15 sales offices in 12 countries in North America, Europe and Asia. Since 2002, when Hasenfratz assumed corporate level responsibilities, Linamar sales have grown from $800 million to more than $3.5 billion in 2013.
Later that evening, President and Vice-Chancellor David Barnard presented Ms. Hasenfratz with the IDEA award at a formal gala dinner at the RBC Convention Centre in Winnipeg.
In 1983, the University of Manitoba, its Faculty of Management (now the Asper School of Business) and the Associates established the International Distinguished Entrepreneur Award to honour a business executive who has achieved outstanding entrepreneurial success and who has made an exemplary contribution to economic life.
The award provides an opportunity for the business and academic communities to honour an individual who meets the exacting criteria and who would be recognized by students in the School as a successful entrepreneur.
The recipient of the International Distinguished Entrepreneur Award is honoured at a formal dinner that is held annually in June in Winnipeg where they are presented with a five-ounce pure gold medal, especially designed for the International Distinguished Entrepreneur Award by the Royal Canadian Mint.