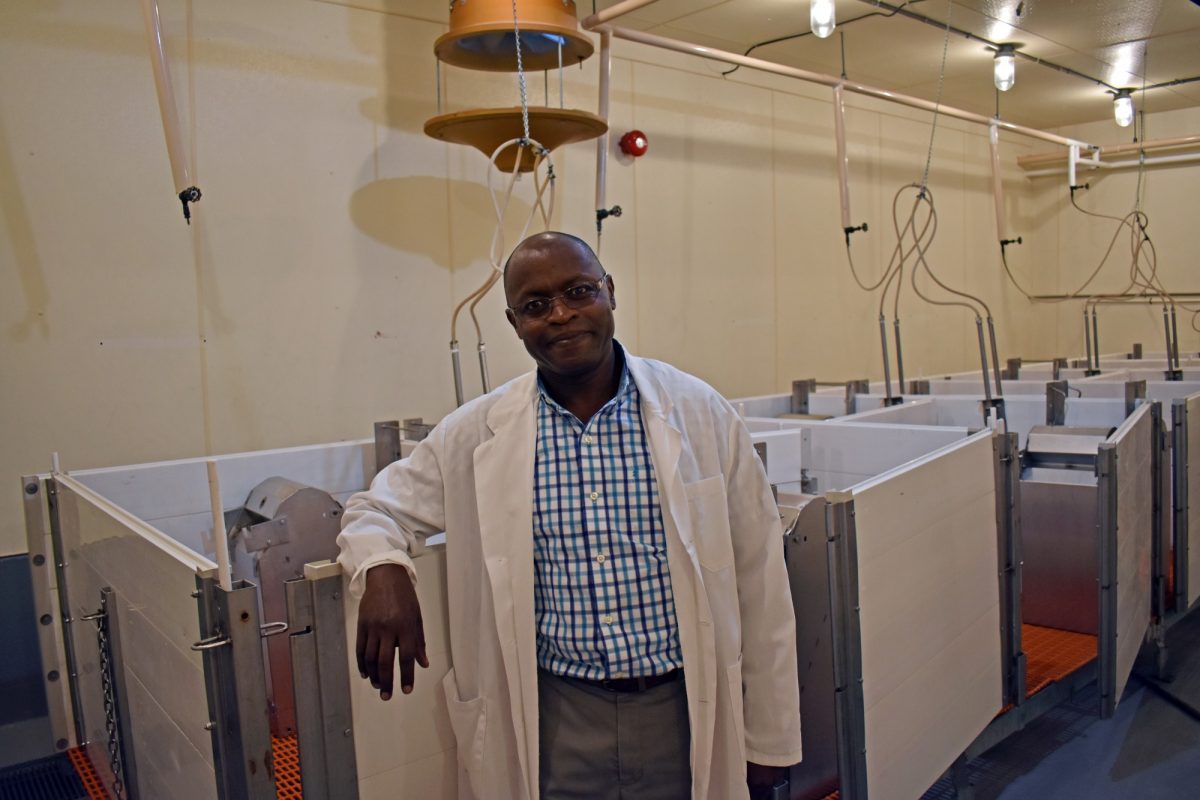 Animal scientist doubly honoured for swine nutrition research
November 19, 2020 —
University of Manitoba swine specialist Martin Nyachoti has been recognized this year – not once but twice – by professional societies for his prolific and influential research accomplishments in the area of swine nutrition.
Nyachoti, professor and head of the Department of Animal Science in the Faculty of Agricultural and Food Sciences, was named the recipient of the American Feed Industry Association (AFIA) – American Society of Animal Science Award in Nonruminant Nutrition Research. This honour, part of the AFIA awards program which has been presented since 1948, is intended to stimulate research excellence in the nutrition of nonruminant animals.
He also received the award for Technical Innovation in Enhancing Production of Safe Affordable Food, presented by the Canadian Society of Animal Science and sponsored by Semex Alliance. This award recognizes excellence in technical innovation and teaching with emphasis in biotechnology, genetics, physiology, and animal behaviour. The award requires demonstration that the recipient contributed to the production of safe and affordable food of animal origin.
Described as an "elite researcher" by his nominators, Nyachoti is known for his internationally recognized research program emphasizing the nutritional characterization of feed ingredients and nutrition and gut health interactions to advance productivity, profitability and sustainability of the livestock industry. His research particularly addresses improved dietary energy and nutrient utilization, gut health and function, and environmental impact mitigation. Much of his research is industry driven, and industry partners have requested him to work with them in research and development of novel and innovative feeds and feed supplements.
RESEARCH HIGHLIGHTS
Nyachoti's research has been hailed for helping the livestock industry improve efficiency, profitability and sustainability of animal production. In particular, he has dedicated a significant portion of his research program to understanding the interactions between nutrition and gut health in piglets. As a leading authority in the use of low-crude protein amino acid supplemented diets (LCP-AA), he and his team have shown that LCP-AA supplemented diets minimize the occurrence and severity of post-weaning diarrhea in piglets by promoting the proliferation of beneficial bacteria and by reducing the concentration of toxic proteolytic metabolites and proliferation of pathogenic bacteria. Additionally, his research group has determined the efficacy and mode of action of a wide range of additives, including anti-ETEC egg yolk antibodies, pro- and prebiotics, yeast culture extracts, organic acids and lysozyme. Nyachoti's laboratory was first to demonstrate the potential role of feed enzymes in modulating gut health in pigs through a prebiotic mechanism; enzyme hydrolysis products are now being commercially developed to support gut health.
Nyachoti has also characterized the nutritional and functional properties of feed ingredients to improve feed efficiency, promote animal performance, and thus improve the profitability of North America's livestock sector, while concurrently reducing the environmental footprint of livestock production. He has worked at generating a large digestible nutrient content database for many conventional and non-conventional feed ingredients, applying enzyme technology and use of low-phytate feed ingredients to enhance nutrient utilization, and demonstrating that it is possible to successfully incorporate large proportions of heretofore marginal protein sources in pig diets. Working with his soil science colleagues, he also demonstrated that phytase addition to swine diets does not increase the labile phosphorus content in manure or in soil after manure has been applied, which is the main pathway for excess dietary phosphorus entering the environment.
BY THE NUMBERS
Nyachoti has published 256 refereed manuscripts (170 in the past 10 years), 10 book chapters and 215 abstracts and has recruited more than $13 million in research funding – almost $10 million in the past 10 years. He has trained 36 graduate students at the M.Sc. and Ph.D. level (26 in the past 10 years), in addition to supervising 13 post doctoral researchers; his lab currently includes 7 graduate students, 2 research technicians and 1 research associate.
His publications have been cited almost 12,000 times, generating an h-index of 48 and an i10-index on Google Scholar of 149. His number of citations has increased from the previous year in each of the past ten years; he now earns about 1300 citations per year. According to SciVal, an internationally-recognized research metrics tool based on the Scopus database, Nyachoti is the most highly cited author worldwide in the area of Broiler Chickens/Laying Hens/Swine (topic cluster: 202). Overall, Nyachoti has been invited to give 90 presentations in 16 different countries across 5 continents – 69 of which were in the past 10 years.
In 2013, he received the Canadian Society of Animal Science Award for Excellence in Nutrition and Meat Sciences, and in 2005 the Canadian Society of Animal Science Pfizer Young Scientist Award. Nyachoti also received Merit Awards for Research excellence from the University of Manitoba in 2006, 2010, and 2013.