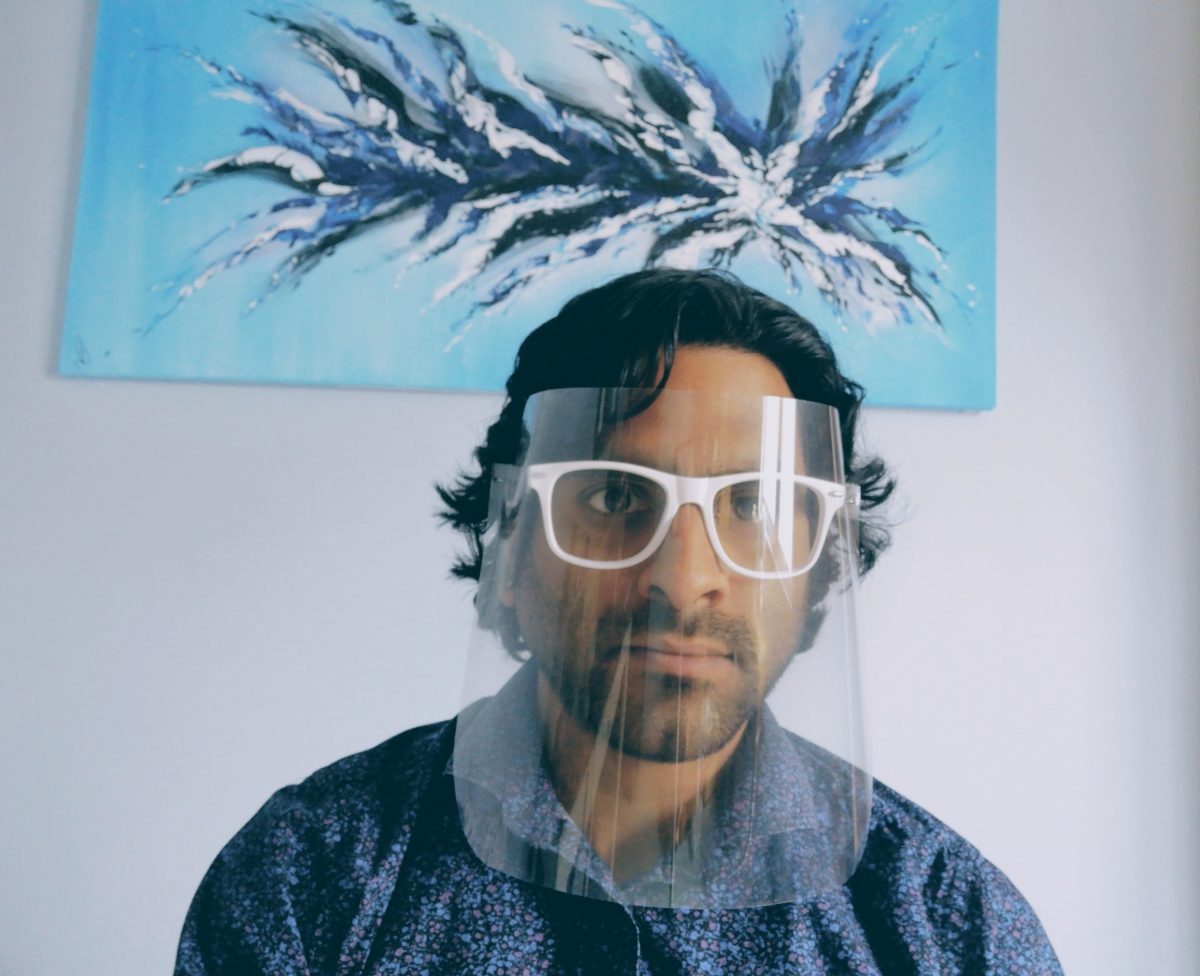 An ingenious invention in need of a maker
UM engineer designs simple clips to help more people have protective gear during COVID outbreak
April 17, 2020 —
Shortages of personal protective equipment (PPE) during the COVID-19 crisis has led to some people using 3D printers to produce gear using widely available open-source designs.
These designs, however, are problematic on a few counts and are not a viable solution to the shortage problem, which is why UM engineering instructor Nishant (Nish) Balakrishnan took it upon himself to design something that could help many more people, and quickly.
"My colleague Jason Hare from the [Faculty of Architecture's] Fablab and I were getting contacted to print the commonly available designs: 3D printed headbands that each take about an hour and a half to print and then they hold an overhead transparency"—a piece of flimsy plastic normally used on projectors in classrooms but now used as a protective face shield by many—"or a similar sheet of plastic over the user's face."
But accounting for cost, reliability, and availability of raw materials, Balakrishnan and Hare realized 3D printing these items, though urgently needed, is not a good solution.
"What we need is beyond a few hundred masks and there have to be solutions to mass-produce these emergency-use items," says Balakrishnan, an instructor in the Price Faculty of Engineering. "And then it occurred to me that since I teach engineering design and fabrication, I should design something for that."
"What he created is ingenious," says Darren Fast, director of Partnerships and Innovation for the University of Manitoba.
Balakrishnan created two small clips that attach to one of the most ubiquitous fashion products: any sunglasses shaped like Ray-Ban Wayfarers, which is likely the most popular frame in history. The user would pop out the lenses, snap in the clips, and slide a transparency into place.
"The headband people are printing now does not provide any rigidity to the transparency, and it's uncomfortable," he says. "Most people can wear sunglass frames for hours without any discomfort, and there are so many Wayfarer-style frames, almost anyone could use this."
The Partnership and Innovation office has shown Balakrishnan's design to some manufacturers and posted on industry bulletin boards because 3D printing is not a long-term solution to creating protective gear. An industrial manufacturer could produce a pair of Balakrishnan's clips for cents; printing a full headband design costs substantially more.
"His design is inexpensive and easy," Fast says. "You could crank out tens of thousands of these in a couple of days. But it's a question of getting this design front of the right manufacturer and it's frustrating we haven't done that yet because it's a really good idea."
The design is not currently approved for use in health care settings, and Balakrishnan and Fast are unsure if it would be because the rules surrounding approval right now are confusing and in flux. But the current need for protective equipment is so great, this invention could alleviate pressure on the marketplace by providing an easy alternative for people who need protective gear while, say, working cash registers.
Balakrishnan and Fast are making his design freely available to any manufacturer, or home user.
"It just doesn't seem right to profit off this," Fast says. "It's not time to be greedy. We just want to get it out into the public."
Balakrishnan is just happy to use his talents to help stem the spread of the virus.
"It feels good to find a way to make changes and help out others."
Anyone interested in pursuing the design or accessing details should contact Darren Fast, Director of Partnerships & Innovation, Darren [dot] Fast [at] umanitoba [dot] ca
Research at the University of Manitoba is partially supported by funding from the Government of Canada Research Support Fund.