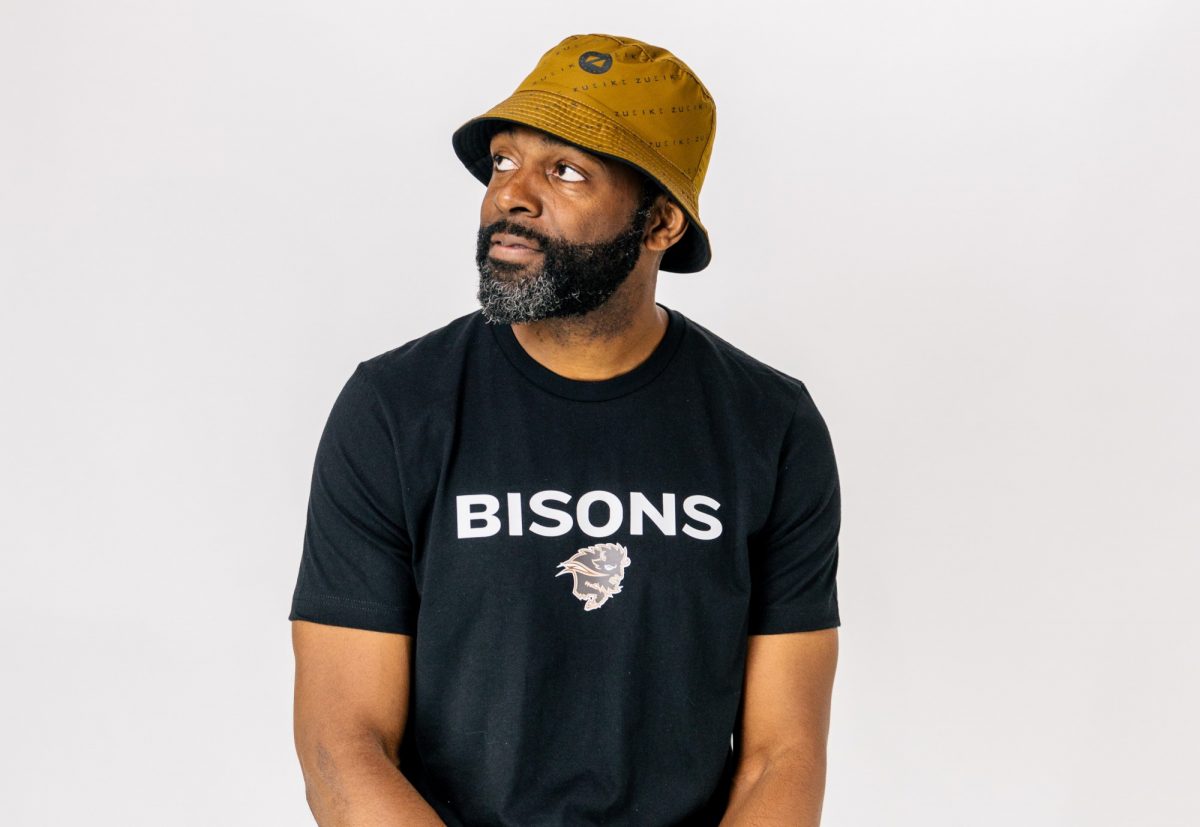 An Entrepreneur's Journey: Ogo Okwumabua
Asper alum and Zueike co-founder talks community and slowing down
January 30, 2023 —
"There were just so many stories to tell about how unity occurs."
Ogo Okwumabua [BComm/01], co-owner of the Winnipeg-based, premium athletic apparel brand Zueike, discusses the stories that inspired their "Olympic Stand" t-shirt. The design features a linework illustration of Olympic medalists Tommie Smith (USA), Peter Norman (AUS), and John Carlos (USA) on the podium during the Summer Games in 1968. Smith and Carlos' fists are raised in salute—in protest—and are complemented by stylized splashes of the Pan-African flag's red and green.
Okwumabua is fond of this piece from Zueike's B. History 2022 Collection, crediting the story behind the design for this sentiment. Acknowledging the impact and bravery of Smith and Carlos, two Black athletes making a bold political statement on a global stage, he also emphasizes Norman's solidarity with his competitors during this historic moment and suggests how meaningful change comes from small actions made for and within a community.
Zueike's B. History collection is about inviting people to be a part of history, not only by learning and understanding the stories behind these larger moments, but also by leaving a mark with their small, kind actions. "Don't think it has to be some big, grand thing," he says. "It can also be something that touches the community you're in and makes it move forward."
Community is at the heart of Okwumabua's vision for Zueike. The brand, which he and co-owner Bryan Salvador launched in 2018, frequently partners with community organizations in Winnipeg and across Canada, including the B. History Fund and their recent mental health awareness collaboration with Stacia Franz, "Check on the Strong Ones."
This dedication to giving back is part of Zueike's purpose, and Okwumabua believes in the importance of leaving your mark on history in small, simple ways.
His appreciation for the little things brought Okwumabua to entrepreneurship in the first place. An I. H. Asper School of Business alum with majors in Entrepreneurship and Marketing, he shares how his entrepreneurial drive was sparked not by the big picture, but by its smaller parts. Reminiscing about his classes with Dr. Robert Warren [BComm(Hons)/85], he describes how he hadn't ever imagined owning a business before, but that he discovered the joy in smaller projects and case studies. "That was kind of how my journey of entrepreneurship jumped off, and that kind of sparked my love for it," he says.
And so, in 2018 Okwumabua and Salvador launched Zueike Inc., a premium athletic apparel brand whose designs blend comfort and style. The brand name Zueike means "relax," and the brand carries a reminder to slow down, reflect and appreciate life.
Okwumabua elaborates on the meaning of the name and speaks to the tension between the pressures of entrepreneurship or high-level athletics and Zueike's reminder to slow down. A seasoned basketball player himself, he describes how he and Salvador developed the concept behind the brand:
"We're both from athletic backgrounds, and everything is about go, go, go. Push harder. Be stronger. Be the fastest. Be the absolute greatest human being in the world. Just keep going. But you start to realize when you train that your biggest growth actually happens when you're resting. Your mind becomes clearer. Your muscles become a little bit stronger. We need to recover to move forward."
As a brand—an idea—Zueike offers an important reminder to slow down, to learn, to take the time to really see the communities and histories of which we are a part and to find ways to positively contribute to them.
Sitting at headquarters, Okwumabua points out the small public gallery on display in the Zueike lounge, featuring art by University of Manitoba students. He describes his love of art and the potential for customers to come in and purchase these student pieces. It is a detail that demonstrates a lot about Ogo Okwumabua: an entrepreneur who values creativity, who creates opportunities for his community, who graciously shares stories, who slows down, and who makes all of it seem like a small thing.
__________
Ogo Okwumabua will recount his entrepreneurial journey at Asper in February thanks to the Stu Clark Centre for Entrepreneurship.
Carine Bado, Strategic Partnerships & Venture Support Lead, and Debra Jonasson-Young, I. H. Asper Executive Director of Entrepreneurship, explain the value of elevating stories like Okwumabua's:
"There is no better way to learn about entrepreneurship than hearing the stories of successful entrepreneurs themselves! To amplify BIPOC voices is to advocate for diversity and inclusion within the entrepreneurship space. Sharing these stories not only democratizes entrepreneurship for the UM BIPOC population but also provides customized resources and programs available to support them in their entrepreneurial journey."
Okwumabua will share his story alongside Felicita Ovadje at "An Entrepreneur's Journey—Black, Indigenous and People of Colour (BIPOC) Focus," presented by the Stu Clark Centre for Entrepreneurship Webinar Series on Wednesday, February 8 at 11:30 AM.