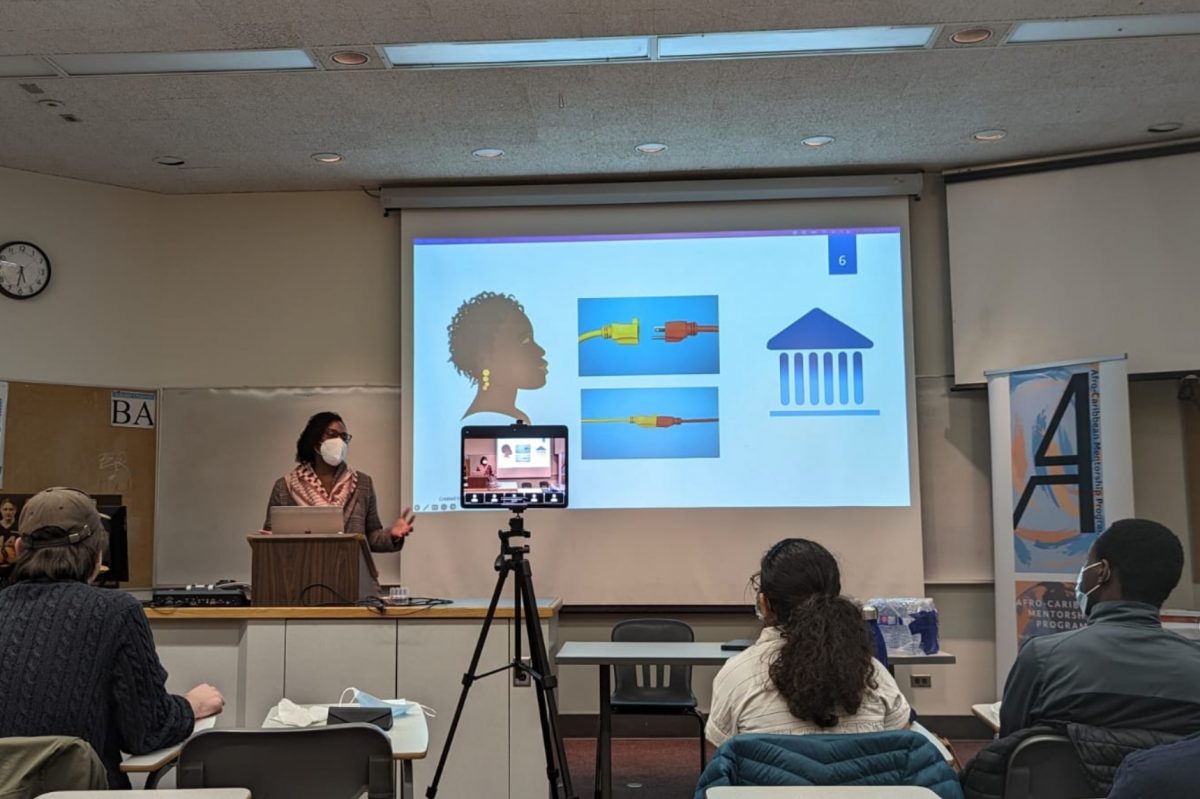 Amplifying Black voices and creating a unique legacy
Shining a new light on UM Black Alliance (UMBA)
December 7, 2022 —
At a time where unique stories of Black people are being elevated and reflected in popular culture, we see the powerful impact of characters like Black Panther or the Woman King. Relating to an audience through storytelling and dialogue is a classic form of communication in many communities. It's also a way that UM Black Alliance (UMBA) members and leaders are bringing their legacy and journey of growth and outreach to the forefront.
The story of UMBA
The story of UMBA is one rooted in pride for a diverse community. Officially formed in 2019 in part to coordinate and promote Black History Month events, UMBA addresses challenges and honours the important history, people and experiences of UM's Black communities throughout the year.
UMBA is founded on the equity, diversity and inclusion of its membership and reflects the university's Black community. Its success is directly correlated to the willingness of its members to participate in and engage with its committee and UM's Black community.
The team: Creating pathways for positive outcomes, challenging anti-Black racism
UMBA team members and leadership are enthusiastic and eager to create energy and grow the community. Its current leadership consists of co-chairs Dr. Warren Clarke, assistant professor, Department of Anthropology, and Dr. Leisha Strachan, professor, Faculty of Kinesiology and Recreation Management.
Clarke describes himself as a Black male scholar who focusses on the experiences faced by Black youth due to anti-Blackness. "I continue to work towards creating pathways to education for Black youth so that they can experience positive outcomes during their life journey, particularly in education," says Clarke.
Strachan notes that her personal foundations contribute to her leadership within UMBA. "Personally, as a Black scholar who is also the Associate Dean, Research and Graduate Studies in my faculty, and as someone who has watched my parents engage with the Black community in Winnipeg my whole life, these experiences have shown me that leaders are needed. Everyone leads with a different lens, but those diverse perspectives can create something great," says Strachan.
Both individuals are also active in the broader Manitoba Black community, but consistently make UMBA a priority.
"Our goal is to encourage UM staff, faculty and students to join our events and initiatives and to work with us to recognize that anti-Blackness is a lived reality on our campus. All of us need to work together to challenge anti-Blackness," says Clarke.
The work: Black voices sharing strategies, collaborating and creating space, mentoring and engaging
The work of UMBA requires dedication, vision and a clear understanding of its goals — one of which is creating a network of Black voices that gather and share information about the role and status of Black people in all aspects of UM. The network also fosters community engagement and promotes initiatives that demonstrate a commitment to diversity in the UM community.
UMBA seeks to be a place where important and unique issues related to African, Caribbean and Black (ACB) audiences are identified. When concerns arise, strategies for change are formulated and implemented, with recommendations shared broadly.
Creating a space for open discourse among Black students, faculty, staff and alumni is a foundational aspect of UMBA. With tools such as an upcoming campus-wide survey, Recognizing Anti-Black Racism, UMBA provides an outlet to improve the climate for UM's distinct Black groups.
UMBA's ongoing collaboration and mentorship with student groups, such as the Black Student Empowerment Society and the UM Black Student Union, are additional ways to connect and represent the range of Black experiences.
In addition to these connections, the group continues to host events that recognize, celebrate and honour Black leaders, Black history, and their UM relationship. A recent event, "How to get into grad school" was organized in partnership with the Afro Caribbean Mentorship Program (ACMP). It provided mentorship and guidance on the academic and professional steps required when applying to Canadian graduate studies programs for Black and racialized students of varying ethnicities.
UMBA goals, and growing the UMBA community
UMBA plans to engage as many Black students, staff, and faculty as possible — both current and new — and also invite them to attend UMBA meetings and events, with the intent to provide support and mentorship for them to be successful at UM.
Clarke states that, "Our programs will be community-driven and feedback from attendees will help us understand how to respond to the concerns Black UM community members are experiencing."
Moving forward, UMBA aims to increase its visibility through additional community events and initiatives, while also addressing anti-Black racism.
Increasing its visibility is a step towards working in solidarity with the larger UM community, says Strachan, "so keep an eye out for more events and opportunities to be activists and advocates within UM."
Writing the ongoing story of UMBA
The story of UMBA and UM's Black community overall is still being written. The story continues through the further development of UMBA programming, continued education of our university body and the desire to create a lasting and impactful legacy, so that "we can find real-life heroes and leaders amongst our students and alumni, staff, faculty, researchers, student athletes, undergrads and graduate students," adds Strachan.
Read more about UM Black Alliance.
Upcoming event: The Woman King screening and discussion
Coming up is an event where attendees will view and discuss the film The Woman King. The outing will feature a group discussion, giving an opportunity to encourage learning and solidarity among young Black people. Through the discussion of themes such as Black femineity and masculinity, the African slave trade and African descent and kinship, the event will demonstrate to high school students attending that UMBA offers support at UM for Black students if they choose to continue their studies at our institution.
The free event is scheduled for 11:30 a.m., Friday, January 20 at St. Vital Cineplex theatre.
Black History Month
The January outing will build momentum for the busy Black History Month in February. Save the date of February 15, 2023 for a virtual discussion about the Scarborough Charter.