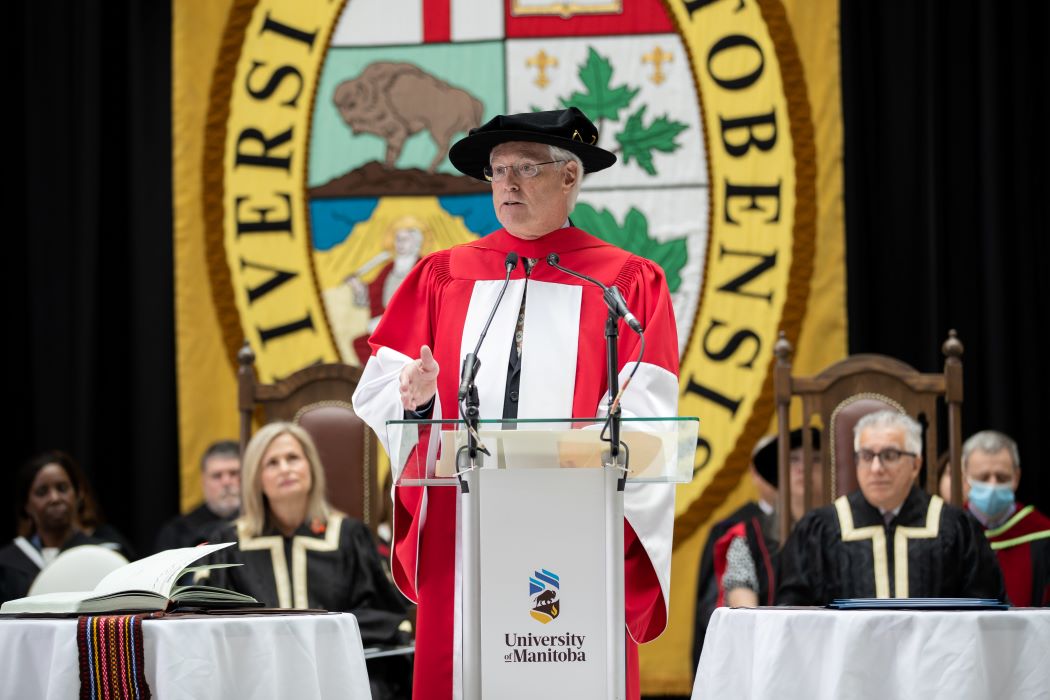 Always keep learning – even from failure, esteemed physician tells medical grads
May 19, 2023 —
A physician-scientist who is renowned for his groundbreaking HIV/AIDS research urged the newest crop of UM medical graduates to be perpetual learners and to use failure to fuel discovery.
"Embrace the continual process of learning," Dr. Thomas Quinn told the Max Rady College of Medicine Class of 2023 at Convocation on the morning of May 18.
"You have the potential to do almost anything. Keep an open mind. Do not shy away from dreaming the impossible dreams and seizing the unanticipated opportunities that come before you."
Quinn, a professor of medicine and pathology at Johns Hopkins University in Baltimore, Md., was one of the first researchers to identify the AIDS epidemic and its cause, the HIV virus. He has been a leader in the world's response to the HIV/AIDS pandemic and is the founding director of the Center for Global Health at Johns Hopkins.
UM conferred an honorary doctor of science degree upon Quinn at the Convocation ceremony in the Brodie Centre on the Bannatyne campus.
The honoree noted that the graduates, who started medical school in the fall of 2019, have had to navigate through a different deadly pandemic, COVID-19. That has required resilience, resolve and strength of character, he said.
Quinn recalled that he faced failure for 20 years as he and other scientists struggled to find treatments and other strategies to control HIV/AIDS.
Those failures ultimately led to important discoveries, he said. "The lesson … is not to let failures dissuade you from pursuing your passions or quest for more knowledge.… Believe in yourself and your ability to find success, no matter how many failures you endure."
The Medicine Class of 2023 was made up of 106 graduates, 77 of whom will complete their residencies in Manitoba. The class included nine students of Indigenous ancestry and three French-speaking students who graduated in the college's bilingual stream. Forty-three graduates are from rural Manitoba or have rural attributes.
Class valedictorian Dr. Anthony Wightman, 28, is heading to Dauphin, Man. to do his residency in rural family medicine. In his speech, he described how the members of the class relied on one another.
"[When] COVID emerged … we adapted to crisis and we showed selflessness," Wightman said. "Even when it was tough, we could reach out to each other, lean on each other and support each other.…
"What we share is that we see people suffering and [see] where our system fails all too often, and we devote our time, our learning and our lives to helping."
One of the graduates, Dr. Jayelle Friesen-Enns, is Cree and Métis from Rosenort, Man. She co-founded the Indigenous Medical Students' Association of Canada during her studies.
Friesen-Enns, 27, is headed to Calgary for a residency in emergency medicine. She said it was "really incredible" to receive her degree wearing the purple stole that formally identifies Indigenous UM graduates.
"[Indigenous] people who are looking for role models, like kids who want to be doctors when they grow up, or undergraduate students, can see those of us with the purple stole and realize that this is something attainable for them," she said.
Graduate Dr. Tegan Turner, 26, grew up in Winnipeg. She was a gymnast before competing nationally as a sprinter for the UM track and field team. Graduating as a doctor, she said, "You just feel really proud of what you've accomplished. It's a big moment."
Turner is staying at UM for her residency in emergency medicine. She is interested in working on the medical team at motorsport races such as the Formula 1 Grand Prix. "I plan to do some work on the track," she said.
Graduate Dr. Fredy Mansour, 25, grew up in Morden, Man., and is excited to be heading home to do his residency in family medicine in the Morden/Winkler area. "I get to go back and return the favour to the community that raised me and look after the people there," he said.
As for receiving his MD, "I'm just trying to soak in the moment," he said. "It still doesn't feel real."