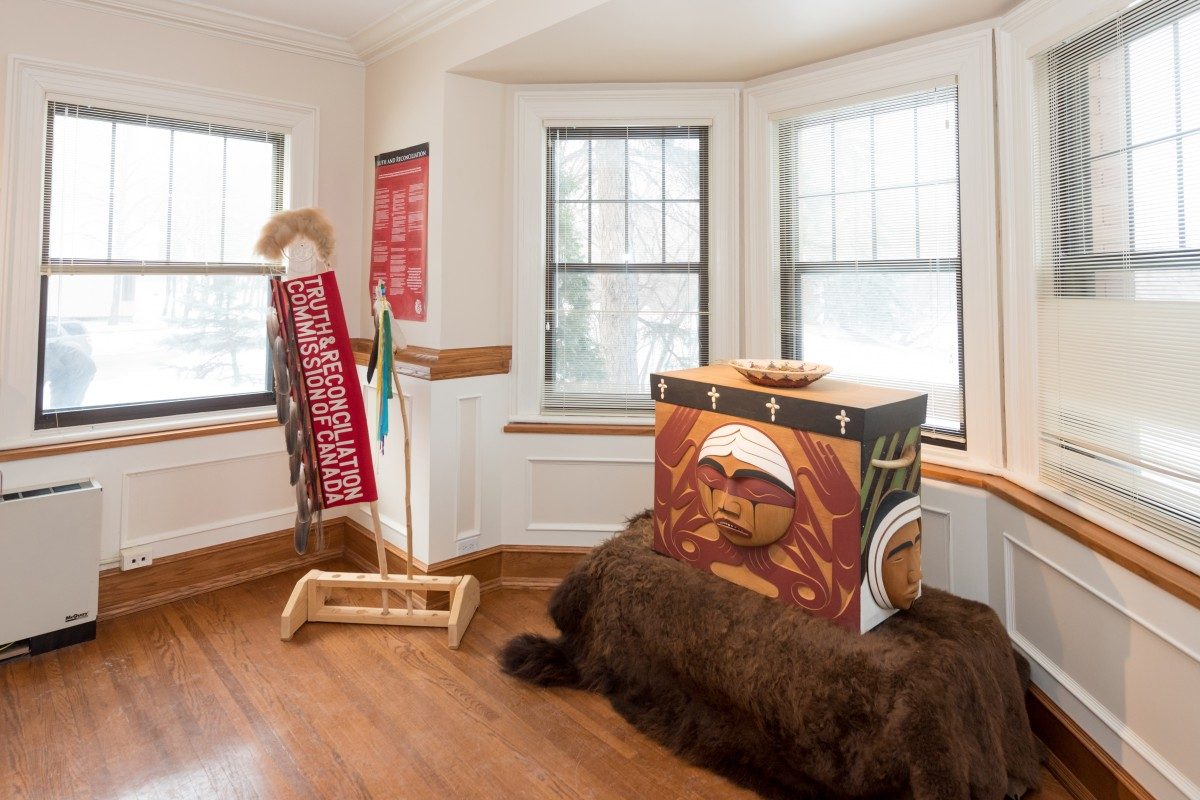 Alumni, staff receive Governor General's Indigenous leadership awards
January 8, 2018 —
On behalf Gov. Gen. Julie Payette, Lt.-Gov. Janice Filmon presented honours in recognition of outstanding Indigenous leadership to 15 Manitobans on Jan. 9 at Government House. The list includes six University of Manitoba alumni and one staff member.
The ceremony recognizes recipients with one of two awards, the Meritorious Service Decoration and the Sovereign's Medal for Volunteers. These awards honour some of the provinces most dedicated Indigenous and non-Indigenous leaders who work to strengthen urban and rural Indigenous communities and create an environment in which reconciliation is possible.
The University of Manitoba would like to congratulate:
Meritorious Service Decorations
Ry Moran, Director of the National Centre for Truth and Reconciliation
Moran led the team that amassed thousands of statements and millions of documents for the Truth and Reconciliation Commission of Canada, collecting testimony and creating a sensitive environment for individuals affected by the Indian Residential School System. As the director of the National Centre for Truth and Reconciliation, he is now ensuring that those historical records are honoured and kept safe for future generations.
Mitch Bourbonniere [BSW/87, MSW/95]
Bourbonniere, a social worker, has devoted his career and his personal time to mentoring, counselling and supporting at-risk youth in Winnipeg. He has changed the lives of hundreds of young people leaving the foster care and the criminal justice systems, dealing with addiction or struggling to cope with mental health challenges by combining Indigenous traditions and the doctrine of helping yourself through helping others.
Larry Morrissette [BSW/86] (posthumous)
The late Morrissette was a leader in establishing the Bear Clan Patrol, a grassroots outreach group in north Winnipeg. Trained volunteers patrol the streets at night, handing out food packets and hygiene items to the homeless, helping people under the influence of drugs or alcohol to safety and, when needed, searching for missing people. Their presence is imbuing the neighbourhood with a stronger sense of community and security.
Diane Roussin [BSW/96]
Roussin's leadership at the helm of the Winnipeg Boldness Project has resulted in innovative projects benefitting children and families living in Winnipeg's Point Douglas neighbourhood. Through programs celebrating Indigenous culture, she offers teachers tools to encourage young people to proudly explore their roots.
Sovereign's Medal for Volunteers
Lucille Bruce [BEd/86, PBCertEd/93]
Bruce has worked with Winnipeg's Indigenous population for more than 25 years. A resourceful and collaborative leader, she has a proven record of producing results and is greatly admired for her dedication to ensuring community development.
Philip Chiappetta [BA/80, Extended Ed/89, 92]
For more than 35 years, Chiappetta has worked with Rossbrook House, an inner-city drop-off centre for at-risk youth. His dedication to helping troubled adolescents has saved many lives and inspired others to volunteer.
Harold Westdal [BA/68, MA/71]
Westdal became a board member with the Trans Canada Trail (TCT) in 2004, while also serving as president of the Manitoba Recreational Trails Association. His dedication to connecting Canadians through both organizations has contributed to the success of the TCT in Manitoba.
About the Meritorious Service Decorations
The Meritorious Service Decorations are given for contributions in any field of endeavor. Its recipients excel in a broad range of areas, from advocacy activities to healthcare or research, and from public service to humanitarian aid. Past recipients have tackled poverty in their community, improved education opportunities for children in Canada and abroad, or raised awareness of important causes and issues bringing considerable benefit or honour to Canada. The decorations are separated into military and civil divisions, with two levels each: a cross and a medal.
About the Sovereign's Medal for Volunteers
The Sovereign's Medal for Volunteers recognizes the exceptional volunteer achievements of Canadians from across the country in a wide range of fields. As an official Canadian honour, the Medal for Volunteers incorporates and replaces the Governor General's Caring Canadian Award, created in 1995 by former governor general Romeo LeBlanc. The medal builds on the legacy and spirit of the Caring Canadian Award by honouring the dedication and commitment of volunteers.